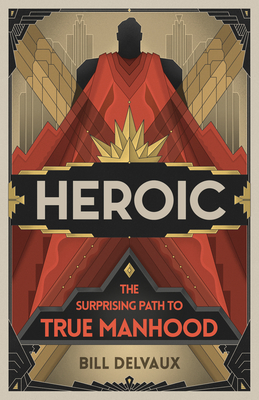 Heroic
The Surprising Path to True Manhood
Paperback

* Individual store prices may vary.
Other Editions of This Title:
Digital Audiobook (4/1/2019)
Compact Disc (4/2/2019)
MP3 CD (4/2/2019)
Description
It's in the movies we see. It's in the news we hear. It's in the stories we tell. Every man is stirred by the heroic.

From boyhood, we search for heroes, starting with our fathers. But somewhere along the way, all our heroes disappoint us. And our attempts to be a hero fair no better, leaving us confused and unsure. Yet the heroic longing never leaves us.

We want to be that heroic man, but we do not know how. Jesus does.

He is the great Hero of all time. And He calls men to follow Him. As we follow, we will quickly realize that the path is surprising. He will first lead us into a place of fear and trembling. He will lead us into death. It is our initiation as men into the new life of the heroic. But the death will be followed by a stunning resurrection. We will find out our true names before Him and be given a heroic quest for His kingdom. And most importantly, we will discover the secret of true greatness, letting our lives go to serve others.

In the end, we become most heroic in the silence of His presence. Here we will feel His love, as he remakes us into His heroic image, uniting us to Himself.
Praise For Heroic: The Surprising Path to True Manhood…
Praise for Bill Delvaux, his ministry, and his previous books
"I've known Bill as a great teacher with a passion for Truth, God's word, and authentic faith at the school my children attend. What I never really knew before reading his book was the rich story that's shaped him and his heart to make him the man that he is and is becoming. It is a rare gift when someone opens the book of themselves to share their deepest stories as Bill has done, and I believe those who read his story will be grateful as I am."
–Steven Curtis Chapman, Grammy and Dove Award-winning singer and songwriter
"If you want to keep stuffing your unmet desires, and keep ignoring your ongoing anxieties, and keep settling for your unsatisfying connection to God and those around you, then be sure you don't read this book. But if you want to find a balm for your unhealed wounds, insight into your unhealthy obsessions, and courage to pursue your unfulfilled dreams, then take a sit and read."
–Nancy Guthrie, author of Holding on to Hope, The One Year Book of Hope, Hoping for Something Better, Dinner Table Devotions, Hearing Jesus Speak Into Your Sorrow, and When Your Family's Lost a Loved One and the Seeing Jesus in the Old Testament Bible Study series
"Over the years, I have encountered countless men, young and old, whose lives intersected at some point with Bill Delvaux. The common denominator is that each one of them can trace back to that intersection, and talk about a shift that took place. That shift involved something he said, or some kind of experience with Bill where they were stirred, invited into something bigger and changed in some way. You are about to experience that intersection. Prepare to be invited, stirred and disrupted in the best of ways."
–David Thomas, Therapist and Author of Wild Things: The Art of Nurturing Boys
"To me, Bill is something of an evangelical exotic: the rare male who is genuinely willing to be transparent and authentic in light of the gospel and its invitation to be transformed. 
–Ashley Cleveland, Grammy and Dove Award Winning Recording Artist
"I gladly commend Bill Delvaux's new work Landmarks to you. I have the privilege of serving as pastor to the church where Bill and Heidi are members and have witnessed first-hand the impact of this book's concepts on hundreds of people. Bill has a unique ability to draw out people's stories and in this helping them to see how their stories intersect with THE Story of God's grace and redemption. Take this book up, read it, and share it with others. You'll be glad that you did.
–Scott Sauls, Senior Pastor of Christ Presbyterian Church, Nashville TN
"What a gift Landmarks is! With his first book, Bill Delvaux has given us the beauty of God's redemptive story; the fruit of his own well-stewarded pain; and a path for each of us to follow into a journey of grace, healing and freedom. I could not be more proud of my brother and friend—for his courage in trusting the One who is making all things new, and his faithfulness to invite others, like myself, onto the dance floor of the Father's love. I cannot wait to see how God is going to use this book in the lives of countless men—to help them find their place in God's story. "
–Scotty Smith, Founding Pastor, Christ Community Church; author of Every Day Prayers: 365 Days to a Gospel Centered Faith, Objects of His Affection, The Reign of Grace and Restoring Broken Things.
"Bill Delvaux has incredible insight into the journey we need to take. I recommend this book as one that is filled with wisdom and profound encouragement. Read it with an open heart and an expectation that God will use it mightily to transform you."
–Carter Crenshaw, Sr. Pastor of West End Community Church
"The abyss between who we are and who we should be is both deep and wide. Too often we allow fear or lies to stand in the way of God's plans for our lives. In this book, Bill offers wisdom and insight that will help give you courage to walk more closely with Jesus."
—Dr. Reggie Anderson, author of Appointments with Heaven
"One thing is sure. Bill tells the truth about himself and invites you to explore the mysterious contradiction of Jesus, 'Lose your life if you wish to find it.' What will you lose? Only that which keeps you divided and half alive. Don't be afraid! Bill knows the path of life and writes about it so eloquently!"
—Wes Yoder, author of Bond of Brothers: Connecting with Other Men beyond Work, Weather and Sports
"Bill Delvaux addresses one of the most foundational issues in life— identity. It is not too far reaching to say that many of us have no idea who we are. We know our title, our role, and the expectations others have of us, but we wander into church, the workplace, and our homes without a solid understanding of our eternal value. Dividedreminds me that I am a treasured possession of God, and it is from that platform that all of life has its true meaning."
—Dr. Craig Fry, president, Christian Leadership Concepts
B&H Books, 9781535939447, 224pp.
Publication Date: April 2, 2019
About the Author
Bill Delvaux taught Men of the Bible classes for two decades at Christ Presbyterian Academy in Nashville, Tennessee. He holds degrees from Duke University and Trinity Evangelical Divinity School and is now a full-time speaker and retreat minister. Landmarks is his first book.
or
Not Currently Available for Direct Purchase