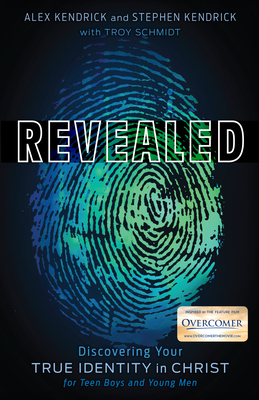 Revealed (Paperback)
Discovering Your True Identity in Christ for Teen Boys and Young Men
B&H Kids, 9781535949880, 176pp.
Publication Date: August 6, 2019
* Individual store prices may vary.
Description
Who am I? It's a question you might ask yourself a lot, and this book for teen guys and young men will lead you through an investigation to find the answers. You'll learn that your identity is much more than your grades, your looks, or your athletic skills. The only One who truly knows you and defines you is the One who created you. Revealed will give you answers about who you are and where you're going, leading you to uncover your true Christ-shaped identity.
 
About the Author
Alex Kendrick es pastor asociado de misiones cinematográficas de la Iglesia Bautista Sherwood. Es también actor, escritor y director cinematográfico ,Él y su esposa, Christina, tienen seis hijos.

Alex Kendrick is associate pastor of movie outreach for Sherwood Baptist Church. He is also an actor, writer, and director whose film credits include Facing the Giants, Fireproof, and Courageous. He and his wife, Christina, have six children.
Stephen Kendrick is a speaker, screenwriter, and producer whose film credits include Flywheel, Facing the Giants, Fireproof, and Courageous.  Stephen co-authored the New York Times bestsellers The Love Dare and The Resolution for Men. He is an associate pastor of preaching and prayer at Sherwood Church and serves on the board of the Fatherhood CoMission. Stephen and his wife, Jill, have six children.
Troy Schmidt has writing and video production credits ranging from assignments with Disney (The Mickey Mouse Club) and Nickelodeon to Max Lucado's Hermie franchise. He is currently the lead writer for The American Bible Challenge hosted by Jeff Foxworthy on the Game Show Network. Troy and his wife have three sons.