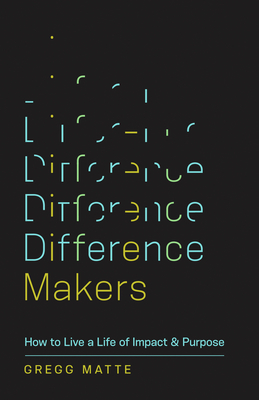 Difference Makers (Paperback)
How to Live a Life of Impact and Purpose
B&H Books, 9781535951166, 192pp.
Publication Date: June 1, 2019
* Individual store prices may vary.
Description
Have you ever wondered if you were made for more?
 
What is our purpose in this life? Can we really make a difference? Pastor and author Gregg Matte believes we can.
 
You were made for more than watching. You have a history-changing, difference-making, life-giving, Spirit-empowered legacy to leave. As Jesus works deeply in you and clearly through you, you will be a difference maker.
 
The first step to being a difference maker is having a difference made in you. Once God has made the gospel difference in your life, you will be ready to go in His name and play your part in changing the world. Are you ready to jump in? Are you ready to make the Difference Maker Declaration?
About the Author
Gregg Matte is the senior pastor of First Baptist Houston and the founder of Breakaway Ministries at Texas A&M University, one of the largest college Bible studies in the nation. Gregg holds a marketing degree from Texas A&M and a master's degree from Southwestern Baptist Theological Seminary. He is the author of numerous books, including Unstoppable Gospel. Gregg has been married to his wife, Kelly, since 1997, and they have a son and daughter, Greyson and Valerie.