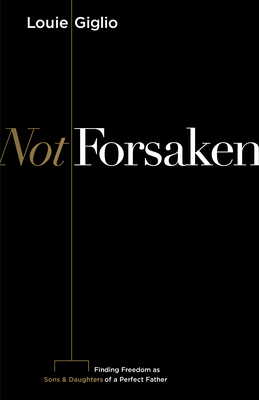 Not Forsaken (Paperback)
Finding Freedom as Sons & Daughters of a Perfect Father
B&H Books, 9781535956956, 256pp.
Publication Date: May 7, 2019
* Individual store prices may vary.
Description
The Bible tells us again and again that we are children of God, but for many, the idea of "God the Father" is confusing at best and painful at worst.
Not Forsaken introduces readers to a God who desperately wants to know them and be the healing, steadfast presence in their life they may be missing.
What makes us feel forsaken by God? Is it because we feel broken and unworthy of God's love? Maybe we've suffered deep wounds from those who were supposed to love us unconditionally. Bestselling author and pastor Louie Giglio shines a light on how flawed relationships of our past can ultimately affect how we see God - and ourselves.
What do you think of when you think about God? What do you think God thinks about you?
The answers to these questions inform everything about who you are and who you are becoming. It is vital we understand this; because if we have a flawed view of God, we'll have a flawed view of our own life story.
To live fully and embrace all that God has for us, we must understand who He is, free from the baggage we have accumulated over a lifetime of broken relationships with broken people.
You are what God says you are. Beautiful. Valuable. Whole.
Order Not Forsaken right now, and begin your journey toward understanding what it means to find your identity in Christ and a relationship with a Father in heaven who loves you.
"In Not Forsaken, my friend, Pastor Louie Giglio brilliantly and beautifully helps us form a freeing, scriptural image of God. Don't put this important and timely resource down."
- David Crowder
Grammy-nominated artist, musician, and author 
About the Author
Louie Giglio is Pastor of Passion City Church and the Founder of the Passion movement, which exists to call a generation to leverage their lives for the fame of Jesus. Since 1997, Passion has gathered collegiate-aged young people in events across the US and around the world. Notably, in 2017, more than 55,000 students gathered for Passion 2017 in Atlanta's Georgia Dome for one of the largest Jesus-focused collegiate events in history. Each year, Passion continues to see 18-25 year olds fill venues across the nation in pursuit of lives lived for God's glory. In addition to the collegiate gatherings of Passion Conferences, Louie and his wife Shelley lead the teams at Passion City Church, sixstepsrecords and the Passion Global Institute. Louie is the national-bestselling author of Goliath Must Fall, The Comeback, The Air I Breathe, I Am Not But I Know I Am, and Indescribable: 100 Devotions about God & Science. As a communicator, Louie speaks at events throughout the US and across the globe. He is widely known for messages like Indescribable and How Great is Our God. An Atlanta native and graduate of Georgia State University, Louie has done post-graduate work at Baylor University and holds a master's degree from Southwestern Baptist Theological Seminary. Louie and Shelley make their home in Atlanta. 
 
Praise For Not Forsaken: Finding Freedom as Sons & Daughters of a Perfect Father…
"One of the greatest heartbreaks of my life was watching my dad walk away from our family. And I know I'm not alone.
Not Forsaken
is one of the most important books of this generation. It will help you reclaim your identity as a fully loved child . . . of God! Louie Giglio shows us how to know God in a brand new, empowering way. I give this book my highest recommendation."
Lysa TerKeurst, #1 New York Times bestselling author, President of Proverbs 31 Ministries
"The thought that any one of us, no matter who we are or what we've done, can be children of God, called by God, loved by God, and never, ever, ever forsaken by God Himself is mind-boggling, breath-taking, and life-changing. Read this book and be encouraged by a glimpse of who God is that changes everything about who you are and how you live."
David Platt,
Lead Pastor, McLean Bible Church, Founder, 
Radical.net
"Much of our worry stems from the fact that we don't view God as a loving Father.
Not Forsaken
will help you realize how much God cares for you and is committed to taking care of the details of your life—you'll learn to trust God more."
Pastor Rick Warren, Senior Pastor of Saddleback Church, Author of The Purpose Driven Life and The Purpose Driven Church
"The unprecedented impact of 
Not Forsaken
 originates as a direct reflection of Louie's life. His radical awareness of God as the Perfect Father is the key to unlocking the freedom and influence of the Christian life. It's time to clear the fog on our view of God, uncovering the truth and beauty of His nature and walking in the fullness, authority, and intimacy we have been granted."
Lisa Bevere, New York Times bestselling Author
"When I first became a Christian, I had a lot to learn. Truth is, I still do. Thankfully, God has been patient with me through the years and shown me what it's really like to be His child. But here's the thing: He wants you to discover that same truth in your own life. And I firmly believe Not Forsaken is a great place to start."
Dave Ramsey, Bestselling author and nationally syndicated radio show host
"Olympic Gold medals, WNBA titles, and undefeated seasons could easily be described as the most important part of my identity. But it's not! Knowing that I am a beloved daughter of a perfect Father literally changed my life years ago and it's what I count on every day as a professional athlete. Louie's Not Forsaken connects with each one of us as he so clearly points us back to our perfect Father. Open your heart and dive into Not Forsaken . . . you won't be the same!"
Maya Moore, Four-time WNBA Champion, Two-time Olympic Gold Medalist, WNBA All-Star and all-time leading scorer
"Some communicators speak to the heart. Others speak to the head. A choice few are able to speak to both. My friend Louie Giglio is one of these. He is both pastor and teacher. He certainly has pastored and taught me. His new book
Not Forsaken
addresses a deep need. May God use it to heal and help us all."
Max Lucado, Pastor and New York Times bestselling author
"It's been said that what comes to mind when you think of God is the most important thing about you. In
Not Forsaken
, my friend, Pastor Louie Giglio brilliantly and beautifully helps us form a freeing, scriptural image of God. Don't put this important and timely resource down."
Crowder, Grammy-nominated artist, musician, and author
"To know the love of our heavenly Father is both liberating and empowering. The message of this book is both timely and timeless. It will help to heal the wounds and fill the deepest longings of a generation."
Christine Caine, Founder, A21 and Propel
"If you add 
Not Forsaken 
to your current reading list you'll walk away with truth that will leave a significant impact on your life for years to come." 
Andy Mineo, RIAA Certified Gold Recording Artist and ESPN Whammy Award Winner
"I believe that God will use
Not Forsaken
to heal hurts in your heart you didn't even know you had."
Levi Lusko, Pastor of Fresh Life Church and author
"It's all too easy to under-recognize, under-celebrate, and under-utilize some of the wonderful blessings we have as Christians. The amazing privilege that we get to call God 'Father' is likely toward the top of the list. Louie's brilliant teaching in
Not Forsaken
is therefore such an important one—reminding us who we are as children of God, and reorienting us in our relationship with Him. This wonderful book is a celebration of the Father heart of God, and of the life-changing identity we have as His sons and daughters. You'll love it!"
Matt Redman, Global worship leader, Grammy-winning songwriter, and author
"If you're looking for freedom from something done to or withheld from you,
Not Forsaken
will set your eyes on the One who redeems every wrong and stands ready to shower you with every blessing."
Roma Downey, Actress, author, and producer
"Having lost my father when I was younger, I know how powerful it is to know that God will be my perfect Father and that I'll never live a day without Him. My heavenly Father filled every void and never missed a ball game, graduation, or birthday. I believe this book,
Not Forsaken
, will bring hope and healing to us all."
Travis Greene, Musician and pastor of Forward City Church
"
Not Forsaken
is a powerful book that offers a revolutionary promise to us all. Louie beautifully describes a God who is for you and not against you, and he invites us to live as a loved son or daughter of the King."
Scott Harrison, New York Times bestselling author of Thirst: A Story of Redemption, Compassion, and a Mission to Bring Clean Water to the World
"
Not Forsaken
is a powerful book. An important book. My friend Louie is right—what you believe about God is not only the most important thing about you but is absolutely crucial to how you live. Sadly, one of the most misunderstood roles of God is as our Father. I lost my own dad when I was only nine months old and know what it's like to lack a healthy comprehension of who He is in that respect. But I have also discovered that embracing God as your heavenly Father can transform your life—filling you with the abiding reality that you are loved, wanted, secure, have a significant purpose in this world, and have an unshakable eternal hope. So I am grateful to Louie for writing such a thoughtful and timely book about the fatherhood of God. My prayer is that through Louie's wise and powerful words, your eyes will be opened to the awesome, sacrificial love God has for you so you can comprehend who you are as His beloved child. Because in this truth is healing, freedom, overflowing hope, and all the eternal blessings God has for you."
Dr. Charles Stanley, Senior Pastor, First Baptist Atlanta, President, In Touch Ministries