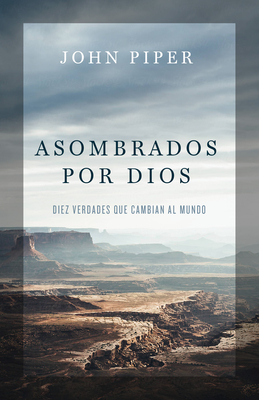 Asombrados por Dios (Paperback)
Diez verdades que cambian al mundo
B&H Español, 9781535957168, 208pp.
Publication Date: October 1, 2019
* Individual store prices may vary.
Description
Por más de treinta años, John Piper ha sido pastor en la dura realidad del centro de Minneapolis, predicando a  las personas sobre los altos y bajos de la vida cada domingo.
Cuando se trató de capturar una generación de alegría en una ultima serie de sermones,  recurrió a diez verdades importantes para dejar capturados los oídos de su congregación. Estas son verdades que sacuden al mundo, cada una asombrosa a su modo.  Primero, estas verdades pusieron el mundo de John al revés, luego a su iglesia y luego ellos continuarán poniendo el mundo al revés a medida que el evangelio de Cristo crece en  distancia y profundidad. Estas doctrinas, como Piper las define, son "tremendamente indomables, explosivamente incontenibles y eléctricamente visionarias".
Acompañen a este autor, pastor y líder cristiano , mientras el captura estas diez  verdades asombrosas, compasivas,  llenas de vida, llenas de gozo y esperanza que lo han sostenido.

When it came to capturing a generation of joy in one final sermon series, he turned to ten trademark truths to leave a ringing in his peoples' ears. These ten are world-shaking truths—each astonishing in its own way. First, they turned Piper's own world upside down. Then his church's. And they will continue to turn the whole world upside down as the gospel of Christ advances in distance and depth. These surprising doctrines, as Piper writes, are "wildly untamable, explosively uncontainable, and electrically future-creating." Join a veteran author, pastor, and Christian leader as he captures the ten astonishing, compassionate, life-giving, joy-awakening, hope-sustaining truths that have held everything together for him.
About the Author
John Piper
 es consejero del Seminario Bethlehem, profesor y fundador de desiringGod.org. Ha servido como pastor por 33 años a la iglesia Bautista Bethlehem en Minneapolis, Minnesota. Es autor de más de 50 libros y en su sitio web deiringGod.org, hay mas de 30 años de predicaciones disponibles para bajar gratuitamente. Piper es el editor general de este libro, con la colaboración de otros autores clave.
John Piper
 is founder and teacher of 
desiringGod.org
 and chancellor for Bethlehem College & Seminary in Minneapolis, Minnesota. For 33 years, he pastored Bethlehem Baptist Church. He is author of more than fifty books, including 
Desiring God: Meditations of a Christian Hedonist
.