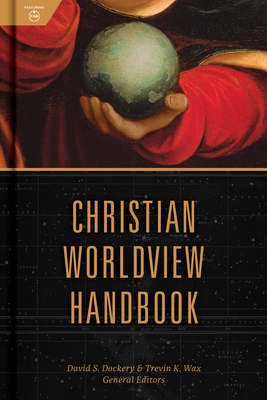 Christian Worldview Handbook (Hardcover)
Holman Reference, 9781535968959, 412pp.
Publication Date: November 1, 2019
* Individual store prices may vary.
Description
The Christian Worldview Handbook features over 100 articles by notable Christian scholars to help Christians better understand the grand narrative and flow of Scripture within the biblical framework from which we are called to view reality and make sense of life and the world. Guided by general editors David S. Dockery and Trevin K. Wax, this handbook is an invaluable resource and study tool that will help you to discuss, defend, and clearly share with others the truth, hope, and practical compatibility of Christianity in everyday life.
Contributors include: Jason K. Allen, Bruce Riley Ashford, Darrell L. Bock, Ted Cabal, Graham A. Cole, C. John Collins, Paul Copan, Choon Sam Fong, Gregory B. Forster, Timothy George, Douglas Groothuis, George H. Guthrie, Thomas S. Kidd, Steve Lemke, Jennifer A. Marshall, R. Albert Mohler Jr., Russell D. Moore, Christopher W. Morgan, David K. Naugle, Mark A. Noll, Karen Swallow Prior, Mary J. Sharp, Kevin Smith, Robert Smith Jr., John Stonestreet, Carl R. Trueman, Malcolm Yarnell III, Christopher Yuan, and more.
 
About the Author
Trevin Wax is managing editor of The Gospel Project at LifeWay Christian Resources, a pastor, contributing editor to Christianity Today, and the author of previous books including Counterfeit Gospels and Holy Subversion. Trevin lives with his wife and children in Nashville.

Praise For Christian Worldview Handbook…
"I know no other book that attempts to introduce the range of worldview topics covered by the writers gathered by editors David Dockery and Trevin Wax. They take care to sketch out the foundations of a Christian worldview grounded in revelation, who God is, and the nature and work of Jesus Christ and the pattern of truth in which he is embedded. Then they carefully and respectfully survey a wide array of competing worldviews, and survey numerous topics (e.g., science, education, government), some of them currently disputed (e.g., marriage, slavery, creation care). Cast as a handbook, this volume will not be read right through by many people, but it is one that we will turn to again and again."

—D. A. Carson, President, The Gospel Coalition
"In recent years we have become increasingly aware of the deepening struggle between the Christian understanding of reality and various religions and ideologies that oppose it. All too often Christians fail to understand how far-reaching this battle is. This timely Christian Worldview Handbook explores the fundamental questions at stake — the importance of objective truth, the structure of creation, the nature of sinfulness and the uniqueness of the saving grace of God revealed in Jesus Christ. The editors and authors have given us a much-needed manual for the spiritual warfare that our generation is being called to wage and its lessons should be pondered and absorbed by all who profess and proclaim the Christian gospel today."

—Gerald Bray, Research Professor of Divinity, Beeson Divinity School
"I heartily recommend the Christian Worldview Handbook that David Dockery and Trevin Wax have put together. It covers a very wide range of topics with brief essays by an excellent team of contributors. It is precisely what it advertises itself to be — a handbook. It's a very effective, though brief by necessity, introduction to almost everything 'under the sun' that relates to developing a Christian worldview in today's culture."

—Scott B. Rae, Ph.D., Professor of Christian Ethics, Dean of Faculty Talbot School of Theology, Biola University
"We live in a day routinely bombarded by assorted and often entangled perspectives. Apart from a sound Christian worldview, believers are not immune from being driven and tossed by the incomings of any given hour. The Christian Worldview Handbook arms believers to discern, embrace, and live biblical responses to varied encounters. David S. Dockery and Trevin K. Wax offer access to current and authentic Christian thinkers from whom readers are certain to be helped and strengthened for both life and service."

—Michael A. Ortiz, President, International Council for Evangelical Theological Education
"This handbook is just the ticket for Christians who find themselves in a turbulent world, assailed by challenges on every side. Such an impressive and thorough collection of resources will prove itself useful, time and time again."

—Frederica Mathewes-Green, Author, www.frederica.com