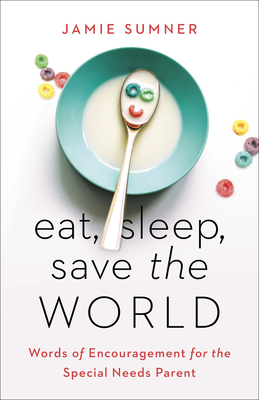 Eat, Sleep, Save the World (Paperback)
Words of Encouragement for the Special Needs Parent
B&H Books, 9781535971096, 256pp.
Publication Date: March 3, 2020
* Individual store prices may vary.
Description
An encouraging and empowering read, Eat, Sleep, Save the World reminds every parent of a child with special needs that they are, in fact, superheroes.
 
Parenting is hard—for everyone. And it takes a lot of inner pep talk and prayer to be the kind of parent your child needs. Eat, Sleep, Save the World is the rallying voice for the parenting special needs community. It highlights the exceptional qualities God has gifted you with, so that you can take care of your exceptional children. It is a celebration, a hallelujah, a high five for what you are doing right. And it offers peace in God for what you feel you lack.
 
With a mixture of humor, honesty, and hope, Jamie Sumner brings comfort to other parents like herself who need to hear that God has made them more than capable to raise their special kids.
 
About the Author
Jamie Sumner has written for the New York Times and the Washington Post among many other publications. She is the author of the nonfiction book on motherhood, Unbound, and the middle-grade novel, Roll with It. She is also mom to a son with cerebral palsy and she writes and speaks about disability in literature. She loves stories that celebrate the grit and beauty in all kids. She and her family live in Nashville, Tennessee. Visit her at www.jamie-sumner.com.