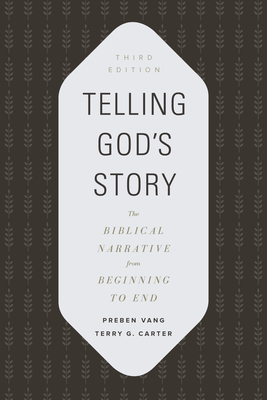 Telling God's Story
The Biblical Narrative from Beginning to End
Paperback

* Individual store prices may vary.
Description
Telling God's Story looks closely at the Bible from its beginning in Genesis to its conclusion in Revelation. By approaching Scripture as one purposefully flowing narrative, emphasizing the inter-connectedness of the text, veteran college professors Preben Vang and Terry G. Carter reinforce the Bible's greatest teachings and help readers in their own ability to share God's story effectively with others.

Updated to include more interaction with biblical theology and a new section on the intertestamental period, this third edition of Telling God's Story is ideal for Christians seeking to grow in their understanding of God's Word.
 
Praise For Telling God's Story: The Biblical Narrative from Beginning to End…
"For over a decade I taught a bible survey class, and for over a decade Telling God's Story was my textbook of choice. As they unpack the narrative of Scripture, veteran professors Preben Vang and Terry Carter adroitly balance the necessary ingredients for each story with the poignant theological implications thereof. Consequently, my students were biblically and theologically informed without being overwhelmed or bored."
—Joseph R. Dodson, associate professor of New Testament, Denver Seminary
 
"Simple but not simplistic. Sweeping without sweeping issues under the rug. A grand introduction for readers who are new to the Bible or have only read the Bible in disconnected Sunday snippets. Like Goldilocks, readers will find this book 'just right,' not too much and not too little."
—Randy Richards, provost and chief academic officer, Palm Beach Atlantic University

"The Bible is a very large book, and it's easy for readers to miss the forest for the trees. Just as a hiker needs a map to guide them along their way, so Bible readers need 'terrain maps' to set each story, law, prophecy, psalm, and letter in its proper context. Telling God's Story, by Preben Vang and Terry Carter, is a clear, accurate, and engaging guidebook for God's story. Its readable narrative and helpful photos, maps, and charts will lead readers through the twists and turns of the grand drama—from creation to new creation. In this third and expanded edition, a great book gets even better."
—Mark Strauss, university professor of New Testament, Bethel Seminary

 
B&H Academic, 9781535991582, 480pp.
Publication Date: February 1, 2021
About the Author
Preben Vang (PhD, Southwestern Baptist Theological Seminary) is professor of Christian Scriptures and director of the professional doctoral program in ministry at Baylor University's George W. Truett Theological Seminary in Waco Texas.  

Terry G. Carter is associate dean, Pruet School of Christian Studies; W. O. Vaught professor of Christian History and Ministry; and chair, department of Christian Ministry at Ouachita Baptist University in Arkadelphia, Arkansas.