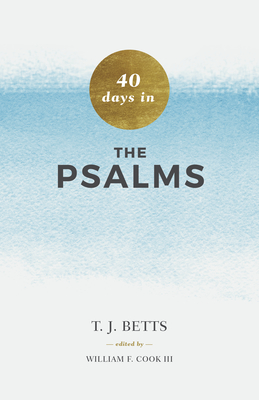 40 Days in Psalms
Paperback

* Individual store prices may vary.
Description
40 Days in Psalms is part of a series of devotionals written for any Christian desiring to deepen his or her understanding of Scripture.

The Holy Spirit uses God's Word to grow believers in their faith and increase their passion for Jesus. As each volume focuses on a particular book in the Bible, believers will find the study useful for the enrichment of daily devotional reading or as the basis for small group Bible study discussion.

In this volume, readers will be led through a daily study of the Gospel of Mark. 40 Days in Psalms breaks down the book of Psalms into chunks that present the "Big Picture" of the passage, then "Digging Deeper" into that section, and then moving to help the reader into "Living Out" the lessons that are taught in each section.
B&H Books, 9781535993500, 176pp.
Publication Date: March 2, 2021
About the Author
T. J. Betts is Professor of Old Testament Interpretation at Southern Seminary. Before joining Southern's faculty, he pastored churches in Ohio and Indiana for over fourteen years altogether and today is a frequent preacher and teacher. He has authored Ezekiel the Priest: A Custodian of Tora, Amos: An Ordinary Man with an Extraordinary Message, and Nehemiah: A Pastoral & Exegetical Commentary. Along with other publications, he writes for Lifeway's Explore the Bible and has been a regular contributor to Stand Firm and Biblical Illustrator.