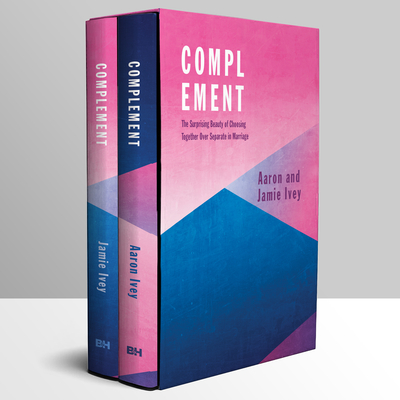 Complement
The Surprising Beauty of Choosing Together Over Separate in Marriage
Hardcover

* Individual store prices may vary.
Description
Does your marriage feel stuck in a rut? Do you feel like you and your spouse are never on the same team? Do you want a flourishing and vibrant marriage, but wonder how in the world to get there?
 
Bestselling authors Jamie Ivey (host of the Happy Hour podcast) and Aaron Ivey have asked these tough questions too, and by God's grace and a lot of elbow grease, they've come out on the other side with a strong and healthy marriage. In Complement, you'll learn how you can too, as they walk you through the keys to building a satisfying and lasting marriage. With funny, real-life stories and key insights from Scripture, the Iveys can help you unite with your spouse, cheer each other on, respond the right way when you fail each other, and serve one another well—even in conflict or tough times! If you want a strong marriage (or simply to be a better better-half!), the Iveys will show you the way in Complement.
 
Praise For Complement: The Surprising Beauty of Choosing Together Over Separate in Marriage…
In true Aaron and Jamie style, this book is real, raw, hilarious, and full of wisdom. They do not sugar coat the challenges of marriage yet invite married couples to discover the beauty and adventure God has purposed for our marriages. We need this book in this time and culture. 
 
Nick and Christine Caine, founders of A21
 
Today's culture often alludes to marriage as a monotonous, contractual agreement that can easily be undone and reversed. Aaron and Jamie have delightfully intertwined their firsthand experiences to expound upon God's deepest desires for marriage. This book is for every couple who wants to do the hard work and intentionally live out their covenant.
 
Gabe and Rebekah Lyons, bestselling authors and cofounders of Q Ideas
 
As in all of life, the best marriage mentors are the ones who not only have a compelling message, but also a compelling life to share. Our friends Aaron and Jamie Ivey are such mentors who offer us their marriage "message" through the lens of Scripture. For who can tell us more about healthy, life-giving marriage than the Maker of marriage himself? As Aaron and Jamie take us on this journey, they do so in a way that reveals their own life together. In the sharing of their lives as an illustration of their message, they provide a compelling path for other husbands and wives to follow. We cannot recommend Complement highly enough!
 
Scott and Patti Sauls, Christ Presbyterian Church, Nashville, Tennessee
 
The Colliers believe that in marriage, if you're not having fun, you're doing something wrong. Aaron and Jamie are having the most fun and teaching couples how to press through the messy middles of marriage to create a continual flow of synergy, together. In this incredible book, the Iveys are showing us how to be who we each were created to be while leaning on the power of Jesus to help us draw nearer to our spouses for a life of connection, clarity, and screaming-at-the-top-of-our-lungs cheering for the one you share forever with. 
 
Sam and Toni Collier, lead pastors of Hillsong Atlanta 
 
As this book says, "No one stumbles into marriage. It has to be built." We can so relate to this, and we wish we had this book in our hands a decade ago! What Aaron and Jamie do in Complement is point us to a biblical perspective of marriage that is centered on the faithful work of Jesus. They dig deep into their own marriage and into the Bible to give us winsome and vital truth that comes to life and can be lived out every day. This isn't a book to be read "some day"; you should read it today. As you do, you're going to be challenged, encouraged, and filled with hope
 
Joel and Brittany Muddamalle, Proverbs 31 Ministries | Transformation Church 
B&H Books, 9781535996693, 320pp.
Publication Date: March 2, 2021
About the Author
Aaron Ivey is the Worship Pastor at The Austin Stone in Austin, Texas where he pastors a church he absolutely loves in the heart of the city he absolutely loves. He is a songwriter, shepherd, artist, author, elder, father, husband, and mentor and has a deep love for his family and community.

Jamie Ivey is creator and host of the popular podcast The Happy Hour with Jamie Ivey, a central gathering place for talking about life and Jesus. Jamie told the raw, redemptive story that brought her to this place in her debut book, If You Only Knew. Now she's telling the story that keeps her going and frames her God-empowering message to women today. Jamie and her husband, Aaron, make their home for six, plus guests—come anytime!—in Austin, Texas.
 
or
Not Currently Available for Direct Purchase