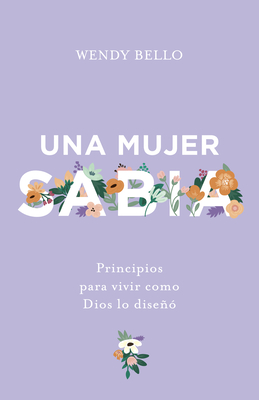 Una mujer sabia
Principios para vivir como Dios lo diseñó
Paperback

* Individual store prices may vary.
Description
¿Quieres tomar buenas decisiones en tu vida? El ingrediente número uno será actuar con sabiduría. Podemos ser inteligentes, pero no sabias. De eso trata justamente Una mujer sabia. Basado en principios del libro de Proverbios, aquí encontrarás una herramienta para vivir la vida de la mejor manera, como Dios la diseñó, y poder tomar decisiones sabias en los aspectos prácticos del día a día. En este libro encontrarás temas prácticos, entre ellos: Cómo hablar y escuchar con sabiduría, aprender a bendecir a tu esposo, cuidar de tu hogar para edificarlo y no destruirlo, cómo planificar y manejar mejor las finanzas, etc. Una mujer sabia puede puede usarse de manera individual o como material para estudio en grupo. Cada capítulo termina con una sección de preguntas para profundizar. La meta de alcanzar la sabiduría pudiera parecer difícil, pero en este libro descubrirás que con la ayuda de Dios, y la disposición a seguir Sus principios, sí puede lograrse.

Based on principles found in the book of Proverbs, Una mujer sabia offers tools for living the best possible life as God designed it. Here is concrete help for making wise decisions in the practical aspects of day to day living. Una mujer sabia can be used individually or as material for group study. Each chapter ends with a section of questions to deepen thinking and enrich discussion. The goal of reaching wisdom may seem difficult, but in this book you will discover that with God's help and the willingness to follow His principles, this can be achieved.
B&H Español, 9781535997171, 168pp.
Publication Date: June 1, 2020
About the Author
Wendy Bello es bloguera y profesora de conferencias. Viaja por los Estados Unidos enseñando a mujeres la importancia del estudio de la palabra de Dios. 
Escribe para iDisciple Spanish, Bibliavida.com, Crosswalk.com y Whole Magazine. Es casada hace veinte años y tiene dos hijos. 

Wendy Bello is a blogger and conference teacher. She travels the country teaching women the importance of studying God's Word. She has been married for 20 years and has two kids. She also writes for iDisciple Spanish, Bibliavida.com, Crosswalk.com and Whole Magazine.