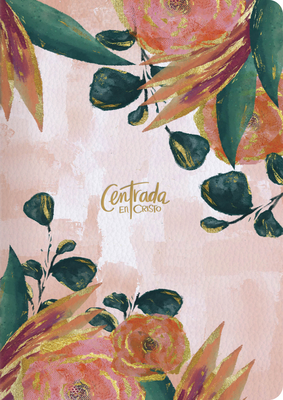 RVR1960 Centrada en Cristo, floral símil piel
Biblia devocional para mujeres
Leather / fine binding

* Individual store prices may vary.
Other Editions of This Title:
Hardcover (2/1/2021)
Leather / fine binding (2/1/2021)
Description
Conocemos el relato del Mesías, que nació en un pesebre en Belén, pero ¿sabías que podemos encontrar las profecías sobre Jesús en todo el Antiguo Testamento? Patricia Namnún y Cathy Scheraldi de Núñez junto a un equipo de mujeres latinas, han creado un hermoso viaje de un año para mujeres, para que se sumerjan en la Escritura y puedan ver a Jesús en cada uno de los libros de la Biblia. Desde el jardín del Edén hasta la eternidad, esta Biblia provee herramientas, conocimientos y sabiduría para que continuen su caminar junto a Cristo.

We know Luke's account of the Messiah being born in a manger in Bethlehem, but did you know that prophecies about Jesus are also found throughout the Old Testament? Patricia Namnún and Cathy Scheraldi de Núñez, along with their team of Latin American women, have created a beautiful, year-long journey for women for diving into Scripture and seeing Jesus in every book of the Bible. From the Garden of Eden to eternity, this Bible will provide women with tools, knowledge, and wisdom for continuing on their walk with Christ.
B&H Español, 9781535998000, 1784pp.
Publication Date: February 1, 2021
About the Author
Patricia es coordinadora de iniciativas femeninas en Coalición por el Evangelio, desde donde escribe, contacta autoras y adquiere contenidos específicos para la mujer. Trabaja para los ministerios de mujeres y matrimonios de su iglesia y es diaconisa en la Iglesia bautista internacional, República Dominicana.  Tiene un certificado en ministerio del Southern Baptist Theological Seminary, a través del programa del instituto para esposas del seminario y un Diplomado en Estudios Bíblicos a través del Instituto Integridad y Sabiduría. Ama enseñar la Palabra a otras mujeres y proveerles de herramientas que les ayuden a manejarla con precisión. Está felizmente casada con Jairo Namnún desde el 2008.

Catherine Scheraldi de Núñez es la esposa del Pastor Miguel Núnez y es doctora con especialidad en endocrinología. En la iglesia bautista internacional trabaja con el ministerio de mujeres y en la radio "Eternidad" conduce un programa llamado "Mujer para la gloria de Dios".

Patricia is the coordinator for Spanish women's initiatives at The Gospel Coalition (Coalición por el Evangelio) from where she writes, contacts authors and acquires specific content for women. She serves in the women's and couples' ministries at her local church and is a deaconess at the International Baptist Church in Dominican Republic. She has a certificate in ministries from the Southern Baptist Theological Seminary through the Seminary Wives Institute´s program and a Certificate in Bible Studies from the Integrity and Wisdom institute (Instituto Integridad y Sabiduría). She loves to teach the Word of God to other women and equipping them with tools to help them handle it with precision. She is happily married to Jairo Namnún since 2008.

Catherine Scheraldi de Núñez is the wife of Pastor Miguel Núñez, and is a medical doctor, with specialty in endocrinology. She is involved in the Women's ministry, Ezer of la Iglesia Bautista Internacional. Cathy conducts the program, Mujer para la gloria de Dios ,in Radio Eternidad.