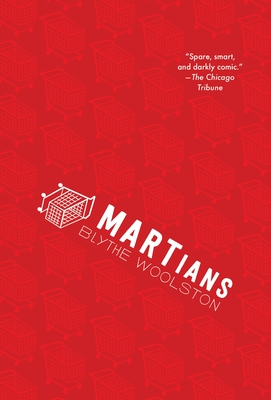 MARTians
Paperback

* Individual store prices may vary.
Other Editions of This Title:
Hardcover (10/13/2015)
Description
"A gorgeous and gut-wrenchingly familiar depiction of the entropic fragmentation of society." — Kirkus Reviews (starred review)

Last girl Zoë Zindleman, numerical ID 009-99-9999, is starting work at AllMART, where "your smile is the AllMART welcome mat." Left behind by AnnaMom, Zoë moves to the Warren, an abandoned strip-mall-turned-refuge for Zoë and a handful of other disaffected, forgotten kids. In a near-future world of exurban decay studded with big box stores, daily routine revolves around shopping (for those who can). For Zoë, the mission is simpler: live.
Praise For MARTians…
Subtle callbacks to Ray Bradbury's The Martian Chronicles enhance the mood of eerie devastation for those who catch the references but don't detract for those who don't. Cheery commercial scripts, news transcripts, and other ephemera of this plastic society punctuate Zoë's narration, bearing witness to her grim environment, which, heartbreakingly, has no defeatable villain. A gorgeous and gut-wrenchingly familiar depiction of the entropic fragmentation of society.
—Kirkus Reviews (starred review)

Woolston, author of the Morris Award–winning The Freak Observer (2010), does a superb job creating a world that is part Kafka and part Orwell, while the regular integration into the narrative of quotes from Ray Bradbury's The Martian Chronicles further lends an otherworldly quality. Told in Zoe's flat, affectless first person voice—one that is beautifully articulated—the novel has an increasingly ominous tone that invites anxious speculation about the future of the three young people in a soulless world. The one is both haunting and unforgettable.
—Booklist (starred review)

Zoë's flattened narration reflects the disjointed, disconnected nature of her existence, and while Woolston keeps the focus on Zoë, offhandedly mentioned details about her world ("I'm not an Otakusexual—although I respect toonophilia as a sexually responsible choice") and chilling corporatespeak ("Your smile is AllMART's welcome mat") will set imaginations spinning. It's a terrifying extrapolation of the here-and-now and, like much of Woolston's fiction, far too close for comfort.
—Publishers Weekly (starred review)

It is excellent, excellent, excellent, the sort of book that challenges and possibly changes a reader's worldview.
—Kirkus Reviews

Zoë's voice is utterly distinctive...It's not hard to have affection for Zoë.
—Chicago Tribune

The parody of media manipulation, commercialism and retail psychology (as parroted by the savvy, order-seeking Zoë) is often laugh-out-loud funny, but underneath the satire of MARTians is the story of girl in search of love and family wherever she can find it.
—Shelf Awareness for Readers

Readers [will] feel for Zoë, who has been abandoned and had her future co-opted by corporate greed.
—Bulletin of the Center for Children's Books

Readers will be quick to make comparisons to contemporary society. They will also root for Zoe to break free. Pair this with Marie Lu's Legend (G.P. Putnam's Sons, 2011) and Cory Doctorow's Little Brother (Tom Doherty Associates, 2008).
—School Library Connection

Readers interested in thought-provoking stories set in unusual environments will enjoy.
—School Library Journal
Candlewick, 9781536200560, 224pp.
Publication Date: August 14, 2018
About the Author
or
Not Currently Available for Direct Purchase