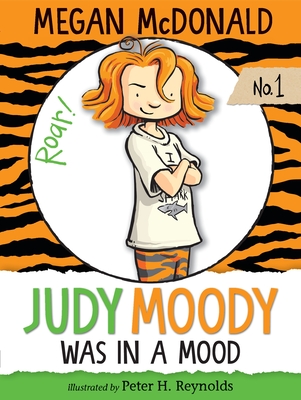 Judy Moody (Paperback)
Candlewick, 9781536200713, 176pp.
Publication Date: April 10, 2018
Other Editions of This Title:
Library Binding (8/1/2019)
Prebound (1/26/2010)
Paperback (1/26/2010)
Paperback (7/22/2002)
Prebound (4/10/2018)
Prebound (4/1/2000)
Hardcover (11/5/2001)
Prebound (8/1/2002)
Audio Cassette (12/1/2003)
MP3 CD (6/10/2011)
* Individual store prices may vary.
Description
"Judy Moody was in a mood. Not a good mood. A bad mood. A mad-faced mood."

To start, Judy Moody doesn't have high hopes for third grade. Her new desk won't have an armadillo sticker with her name on it. Her new classroom will not have a porcupine named Roger. And with her luck, she'll get stuck sitting in the first row, where Mr. Todd will notice every time she tries to pass a note to her best friend, Rocky. An aspiring doctor, Judy does have a little brother who comes in handy for practicing medicine, a cool new pet, and a huge Band-Aid collection. 

Judy also has an abundance of individuality and attitude, and when Mr. Todd assigns a very special class project, she really gets a chance to express herself! Megan McDonald's spirited text and Peter Reynolds's wry illustrations combine in a feisty, funny first chapter book for every kid who has ever felt a little out of sorts.
About the Author
Megan McDonald is the author of the award-winning Judy Moody series as well as a companion series starring Judy's brother, Stink. She is also the author of the novel The Sisters Club, as well as Ant and Honey Bee, illustrated by Brian Karas. She lives in Sebastopol, California.

Peter H. Reynolds is the illustrator of all the Judy Moody and Stink books. He is also the author-illustrator of the picture books The Dot, Ish, So Few of Me, and The North Star. He lives in Dedham, Massachusetts.
Praise For Judy Moody…
The book itself has a look as fresh as its heroine . . .The book opens . . . with a hilarious spread in pen-and-ink wash . . . the dialogue is spot-on . . . It's hard to imagine a mood Judy couldn't improve.
—Publishers Weekly, starred review

...[T]his beginning chapter book features large type; simple, expressive prose and dialogue; and plenty of child-appealing humor. Children will enjoy lively Judy and her diverse hobbies and adventures with best-friend Rocky. They'll also like the witty, detailed drawings (especially the picture of Judy's unique collage, a nice activity idea) . . . An entertaining story that portrays challenges and pleasures from a kid's perspective, and shows how making the best of things can have surprising rewards.
—Booklist

Changeable skies arch over a third-grader's moodscape in this easy-reading chapter book . . . Reynolds's black-and-white washes are perfectly placed to track Judy's ups and downs . . . Surefire fare for Cleary, Kline, and Hurwitz fans.
—Kirkus Reviews

McDonald's offbeat humor coupled with expressive black-and-white cartoonlike illustrations make Judy, her family, and her friends both appealing and realistic.
—The Horn Book Guide

Fans of Beverly Cleary and the Amber Brown books should appreciate this fresh, energetic series about an irresistibly willful third grader.
—FamilyFun

Judy is just, well, intense, in that at-odds-with-the-whole-world way typical of third graders . . . this large-type chapter book is immensely funny . . . Fuming all the way, Judy Moody rules.
—FamilyFun