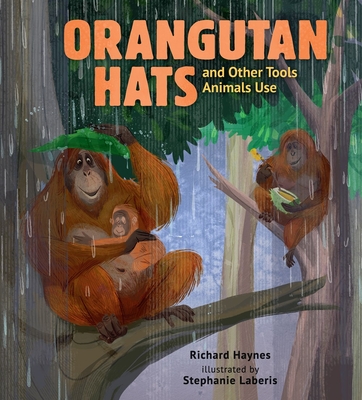 Orangutan Hats and Other Tools Animals Use
Hardcover

* Individual store prices may vary.
Description
Elephants that remove ticks with sticks? Otters that crack open their lunch with rocks? Crows that slide down a roof on a jar lid—over and over? Take a fascinating look at the use of tools by animals around the world.

Move over, humans! We're not the only creatures who can invent and use tools to keep ourselves fed, warm, safe, healthy, comfortable—even entertained. Thanks to the careful observations of biologists working in the field, we now know that elephants use sunscreen, long-tailed macaques floss their teeth, assassin bugs use bait to lure their prey, orangutans make pillows, and crows will go sledding just for fun. Who's the clever one now, eh? Join writer Richard Haynes and illustrator Stephanie Laberis for a walk on the wild side and get ready to be astonished, delighted, and amused by this jam-packed exploration. Interested readers will find a map, an introduction, a glossary, an index, and a bibliography for further investigation.
Praise For Orangutan Hats and Other Tools Animals Use…
Animal behavior and ingenuity on full display... an excellent choice for research or pleasure reading that will likely lead children to observe the animal world on their own. Readers will devour this dynamic and informative explanation of the inventiveness to be found within the animal world.
—Kirkus Reviews (starred review)

Humans aren't the only ones who use tools to secure food, safety, shelter, comfort, health, and recreation. Many animals have found innovative solutions across continents. . . Informational paragraphs written by Haynes are accompanied by colorful digital art rendered and illustrated by Laberis. The gentle yet realistic illustrations flow with the text, giving readers time to absorb each particular tool type. . . An informative and entertaining exploration of each category of tool animals use.
—School Library Journal

Stephanie Lebaris's comic illustrations are presented in both full and partial page spreads as well as in small circular vignettes that emphasize the types of tools the animal uses. . . the book provides an amusing browsing opportunity and could serve as a springboard to more in-depth research.
—School Library Conenction
Candlewick, 9781536200935, 48pp.
Publication Date: April 13, 2021
About the Author
Richard Haynes grew up on a farm in Pennsylvania, one of nine children. Every day of his boyhood was filled with adventure, much of it in the great outdoors. He is the author of the early chapter book Slingshot and Burp. Richard Haynes lives in Northern California with his wife, author Megan McDonald.

Stephanie Laberis is a character designer and illustrator who specializes in creating art for animation and children's publications. She is the illustrator of Prudence the Part-Time Cow by Jody Jensen Shaffer as well as the Grumpy Cat books and many other Little Golden Books. Stephanie Laberis lives in the San Francisco Bay Area.