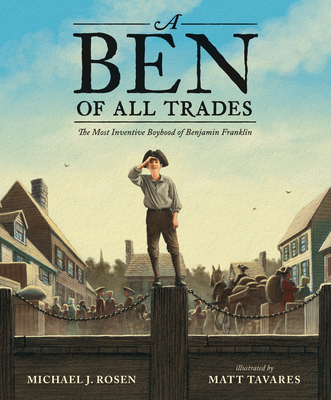 A Ben of All Trades
The Most Inventive Boyhood of Benjamin Franklin
Hardcover

* Individual store prices may vary.
Description
A rousing biography from Michael J. Rosen and Matt Tavares reveals how Benjamin Franklin's boyhood shaped his amazingly multifaceted life.

Young Benjamin Franklin wants to be a sailor, but his father won't hear of it. The other trades he tries — candle maker, joiner, boot closer, turner — bore him through and through. Curious and inventive, Ben prefers to read, swim, fly his kite, and fly his kite while swimming. But each time he fails to find a profession, he takes some important bit of knowledge with him. That tendency is exactly what leads him to become the astonishingly versatile genius we remember today. Inspired by The Autobiography of Benjamin Franklin, Michael J. Rosen's wry tale captures Ben's spirit in evocative yet playful language, while illustrations by Matt Tavares follow Ben from the workbench to the water in vivid detail. A love story to the value of variety, A Ben of All Trades sheds light on an unconventional path to greatness and humanizes a towering figure in American history.
Praise For A Ben of All Trades: The Most Inventive Boyhood of Benjamin Franklin…
Rosen (The Horse's Haiku) expands a segment of Benjamin Franklin's childhood to reveal his early motivations and character traits...A brief bibliography concludes this detailed view of a Renaissance man whose young tenacity and eventual work at his sibling's print shop led to an extraordinarily varied adult life.
—Publishers Weekly

Tavares's illustrations bring the rich world of 18th-century dockside to life and include details such as the colonial style of dress (bonnets and tricorn hats), tall ships docked in Boston Harbor, and Union Jack flags rippling in the breeze...this book is an excellent resource for discussions of American colonial life in social studies classrooms and beyond. History lovers will relish this glimpse into the inquisitive childhood of Benjamin Franklin.
—School Library Journal

Inspired by Franklin's memoirs, Rosen recreates young Ben's path to finding a suitable trade in this picture-book biography...Tavares' photo-realistic illustrations offer charm and fine details to this blend of history and technology.
—Booklist

History class has taught us that Benjamin Franklin was an inventor, politician, and statesmen, yet what drove him to these careers? As detailed in the Author Notes, this book is inspired by Franklin's own autobiography...The illustrations are colored drawings that provide the visual details needed to help fill in the storyline.
—School Library Connection

Before the bifocals, the lighting rod, the ambassadorship, and all the rest of his many accomplishments, Ben Franklin knew precisely what he wanted to be when he grew up: a sailor. As a child, he spends his time reading and improving his swimming skills in the nearby Mill Pond and Charles River; Tavares's expansive illustrations show him testing his handmade paddles and even being pulled through the water by a wind-filled kite, like a human sailboat.
—The Horn Book
Candlewick, 9781536201215, 32pp.
Publication Date: March 17, 2020
About the Author
Michael J. Rosen has written or edited more than 135 books for children and adults, including The Tale of Rescue, The Horse's Haiku, and The Cuckoo's Haiku, all illustrated by Stan Fellows; The Hound Dog's Haiku, illustrated by Mary Azarian; and Chanukah Lights, a collaboration with pop-up master Robert Sabuda. Michael J. Rosen lives in the Appalachian foothills of central Ohio.

Matt Tavares is the author-illustrator of many books for children, including Crossing Niagara, Henry Aaron's Dream, There Goes Ted Williams, Becoming Babe Ruth, and Growing Up Pedro. He also has illustrated books, including Lady Liberty by Doreen Rappaport and Jubilee! by Alicia Potter. Most recently he wrote and illustrated a pair of Christmas stories, Red and Lulu and Dasher. Matt Tavares lives in Ogunquit, Maine.