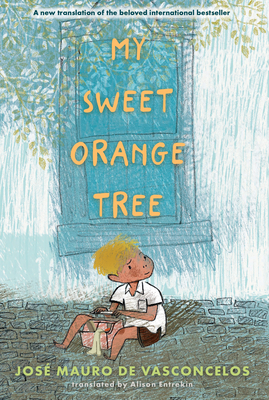 My Sweet Orange Tree
Hardcover

* Individual store prices may vary.
Description
Fifty years after its first publication, the multimillion-copy international bestseller is available again in English, sharing the heartbreaking tale of a gifted, mischievous, direly misunderstood boy growing up in Rio de Janeiro.

When Zezé grows up, he wants to be a poet in a bow tie. For now the precocious young boy entertains himself by playing clever pranks on the residents of his Rio de Janeiro neighborhood, stunts for which his parents and siblings punish him severely. Lately, with his father out of work, the beatings have become harsher. Zezé's only solace comes from his time at school, his hours secretly spent singing with a street musician, and the refuge he finds with his precious magical orange tree. When Zezé finally makes a real friend, his life begins to change, opening him up to human tenderness but also wrenching sorrow. Never out of print in Brazil since it was first published in 1968, My Sweet Orange Tree, inspired by the author's own childhood, has been translated into many languages and has won the hearts of millions of young readers across the globe.
Praise For My Sweet Orange Tree…
A Brazilian classic with a whimsical and heart-rending essence.
—Kirkus Reviews (starred review)

Blending the tart hardship of poverty with the sweetness of finding things that make life worth living, De Vasconcelos' fictional work—a classic in Brazil—is based on his own difficult childhood in a suburb of Rio de Janeiro. Entrekin's new translation makes a good addition for collections in need of diversity.
—Booklist

Capturing the realistically fluid, unformed nature of childhood, the author presents a boy who might lovingly confide in an orange tree named Pinkie, then, moments later, execute mean-spirited pranks and hurl cutting insults. This moving Brazilian classic is rich with opportunities for contemplation and discussion.
—Publishers Weekly Online
Candlewick, 9781536203288, 272pp.
Publication Date: July 9, 2019
About the Author
José Mauro de Vasconcelos (1920–1984) was a Brazilian writer who worked as a sparring partner for boxers, a laborer on a banana farm, and a fisherman before he started writing at the age of twenty-two. He is most famous for his autobiographical novel, My Sweet Orange Tree.