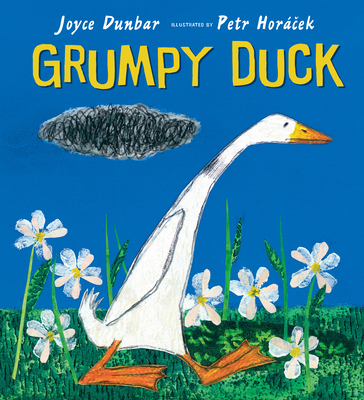 Grumpy Duck
Hardcover

* Individual store prices may vary.
Description
When Duck's grumpiness becomes contagious, what can possibly turn it around?

Duck is in a very grumpy mood. The pond is dry, and she doesn't want to roll in the mud with Pig, sing with Rooster, doze with Tortoise, eat laundry with Goat, or join any of the other animals in their pastimes. To make matters worse, the gray cloud that's following Duck is growing bigger by the minute, and now her friends are feeling gloomy as well. What will it take to cheer them all up? Two prolific picture-book creators look to the skies for a humorous tale of not-fair-weather friendship.
Praise For Grumpy Duck…
Horácek's bold, textured mixed-media illustrations pop.
—Kirkus Reviews

Horác?ek, usually a solo act, makes a winning team with Dunbar (Pat-a-Cake Baby), her brisk, direct prose providing sufficient personality and emotional momentum to match his gorgeously textured animal portraits: a radiantly pink pig wallows in brocadelike crimson mud; a rooster is a riot of copper and emerald feathers. A glorious, giddy group rain dance—and homage to "Singin' in the Rain"—closes the book, showing that no cloud or mood can stay dark forever.
—Publishers Weekly

The bold, vibrant art, boisterous animal sounds, exasperating main character, and enjoyably predictable storyline can work equally well for reading one-on-one or sharing with a group.
—The Horn Book
Candlewick, 9781536204247, 32pp.
Publication Date: March 5, 2019
About the Author
Joyce Dunbar has published more than eighty books, including Shoe Baby and Pat-a-Cake Baby, both illustrated by her daughter, Polly Dunbar. She lives in Norwich, England.

Petr Horácek grew up in Prague, where he trained at the Academy of Fine Arts before becoming a graphic designer, illustrator, and painter. Inspired by his two daughters, he has created numerous books for children, including Blue Penguin, Strawberries Are Red, and The Greedy Goat. Petr Horácek lives in England.