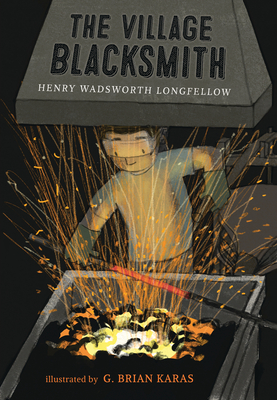 The Village Blacksmith
Hardcover

* Individual store prices may vary.
Other Editions of This Title:
Paperback (10/16/2018)
Paperback (10/11/2018)
Hardcover (11/13/2018)
Paperback (10/29/2018)
Hardcover (8/8/2015)
Hardcover (10/16/2018)
Paperback (11/13/2018)
Paperback (8/24/2017)
Paperback (8/21/2017)
Hardcover (10/11/2018)
Description
A contemporary envisioning of a nineteenth-century poem pairs artwork by G. Brian Karas with the Henry Wadsworth Longfellow classic.

His brow is wet with honest sweat;
He earns whate'er he can,
And looks the whole world in the face,
For he owes not any man.

The neighborhood blacksmith is a quiet and unassuming presence, tucked in his smithy under the chestnut tree. Sturdy, generous, and with sadness of his own, he toils through the day, passing on the tools of his trade, and come evening, takes a well-deserved rest. Longfellow's timeless poem is enhanced by G. Brian Karas's thoughtful and contemporary art in this modern retelling of the tender tale of a humble craftsman. An afterword about the tools and the trade of blacksmithing will draw readers curious about this age-honored endeavor, which has seen renewed interest in developed countries and continues to be plied around the world.
Praise For The Village Blacksmith…
In the mixed-media paintings, the blacksmith's work ethic and integrity shine as brightly as the glowing, orange-yellow embers in the hearth. An afterword provides more information on the artisanal methods used by blacksmiths and the tools of the trade. This outstanding reimagining of a classic poem will introduce and enchant a new generation.
—School Library Journal (starred review)

The textured illustrations deftly utilize cool, desaturated colors, making the reds, oranges, and yellows of the smithy pop. Backmatter explains the tools of the trade and offers a short history of blacksmiths. Dedicated to Karas' blacksmith son, the book beautifully parallels Longfellow's own familial inspiration for the original poem...A well-forged adaptation.
—Kirkus Reviews

Here Karas takes a rarely reprinted poem from the Norman Rockwell of American poets and sets it in a modern smithy (based on his own son's), showing a young artisan using both contemporary and traditional tools...Closing out with closer looks at a blacksmith's gear and a second iteration of the poem, this performs double duty as both a celebration of an ancient but still worthy craft and a reminder that there is far more to this poet than "Paul Revere's Ride" and "Song of Hiawatha."
—Booklist

Karas does not attempt to impose a new story upon the poem and respects its saddest moment, when the blacksmith remembers his late wife, showing us the man with his children in church, gazing out the window at the graveyard. It's all in the poem. At one time "The Village Blacksmith" was a standard recitation piece among schoolchildren; try it out for storytime and see if Longfellow's sonorous, rolling verse can win today's kids over. (I bet yes.)
—The Horn Book

The unabridged text of Longfellow's mid-nineteenth century poem sparks to life with G. Brian Karas' illustrations that set the verse in a present-day village. It's a sensitive and sensible reimagining, with the blacksmith a fit, but scarcely burly, father of three, who works out of his garage.
—Bulletin of the Center for Children's Books
Candlewick, 9781536204438, 32pp.
Publication Date: April 3, 2020
About the Author
Henry Wadsworth Longfellow was born in Portland, Maine, on February 27, 1807, and died on March 22, 1882. Longfellow moved to Cambridge, Massachusetts, in December 1836 and is one of the great American Romantic poets. "The Village Blacksmith" was first published in 1841 and was inspired by his ancestor, Stephen Longfellow, a village smithy, schoolmaster, and town clerk.

G. Brian Karas has illustrated more than ninety children's books, including two by Megan McDonald about Ant and Honey Bee; Tap Tap Boom Boom by Elizabeth Bluemle; Are You Going to Be Good? by Cari Best, a New York Times Book Review Best Illustrated Children's Book of the Year; and his most recent title, Night Job by Newbery Medalist Karen Hesse, a New York Times Notable Children's Book of the Year. G. Brian Karas lives in the Hudson Valley of New York.