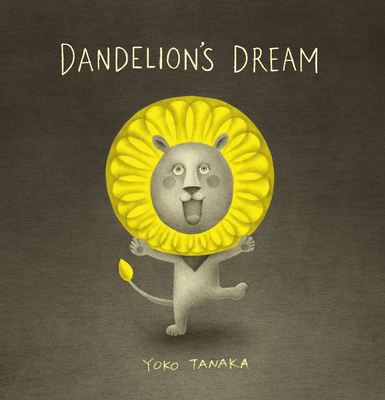 Dandelion's Dream
Hardcover

* Individual store prices may vary.
Description
What if a dandelion became a real lion? With enchanting, ethereal art, this wordless story shares a world where reality can be transfigured by imagination.

In a meadow filled with dandelion buds just about to flower, one dandelion blooms into a real lion. Roots and leaves unfurl into four tiny paws and a long tail with a fluffy yellow tuft. What a great, wide world there is to explore when you have paws instead of roots: there are fast trains to ride, regal ships to sail, and cities with lights as bright as Dandelion's field in full bloom. But will a real lion ever be content to go back to being a rooted dandelion? Yoko Tanaka's exquisite illustrations take us on an adventure where even the smallest seeds contain cosmic dreams.
Praise For Dandelion's Dream…
In this wordless picture book, a dandelion becomes a dandy lion before he goes to seed...The art produces such strong identification with Dandelion that it will encourage young listeners to verbalize as Dandelion. A subtle lesson in life cycles underlies a book that is gently humorous, engaging, and soothing. Stunning.
—Kirkus Reviews (starred review)

The landscapes and objects are perfectly shaded in charcoal grays and blacks, giving readers just enough detail to identify where the lion has landed. The yellow mane of the lion is reminiscent of a dandelion and acts as a frame of focus for the lion's face, which conveys the changing moods and tone of the story. A clever and beautifully rendered wordless tale that will captivate young readers as they float along with dandelions in the circle of life.
—School Library Journal (starred review)

Set free from the rules of the physical universe, Tanaka's solo debut plays with images and forms suggested by the natural world as the dandelion's dream comes to an end in this short, ethereal journey.
—Publishers Weekly

Digitally colored charcoal illustrations depict the wordless journey of a dandelion...Whether his roots ever truly leave the ground or if this is all his vivid imagination, readers will have fun deciding.
—Booklist

In her first outing without a collaborator, Tanaka works in charcoal enhanced by digitally applied flashes of dusky yellow that she reserves for Dandelion's mane, tail tuft and airplane. As she did with the titular mammal in Kate DiCamillo's The Magician's Elephant, Tanaka finds bottomless humanity in the animals of Dandelion's Dream...Tanaka's point seems to be that when someone is willing to lend a hand, a dream can really take flight.
—Shelf Awareness Pro
Candlewick, 9781536204537, 40pp.
Publication Date: February 11, 2020
About the Author
Yoko Tanaka has illustrated novels, including The Magician's Elephant by Kate DiCamillo, and picture books, including Princessland by Emily Jenkins and Sparrow Girl by Sara Pennypacker. Yoko Tanaka lives in London.