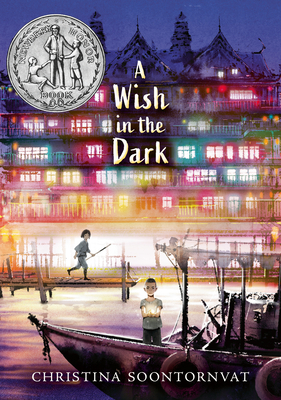 A Wish in the Dark
Hardcover

* Individual store prices may vary.
Other Editions of This Title:
Digital Audiobook (3/23/2020)
Paperback (9/7/2021)
Compact Disc (3/24/2020)
Library Binding, Large Print (8/10/2021)
MP3 CD (3/24/2020)
Spring 2020 Kids Indie Next List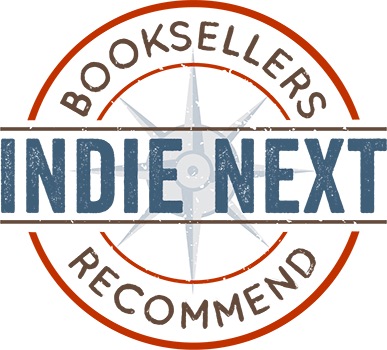 "In a world where light is a commodity, Pong has grown up seeking a way out of the darkness. A desperate escape from the prison where he was born leads him to a life on the run, and he will need the help of old friends, new enemies, a generous monk, and all the inner strength he can muster to find his way home. This incandescent novel will fulfill the wishes of many a middle-grade reader seeking something new and wonderful."
— Melissa Posten, The Novel Neighbor, Webster Groves, MO
View the List
Description
A 2021 Newbery Honor Book

A boy on the run. A girl determined to find him. A compelling fantasy looks at issues of privilege, protest, and justice.

All light in Chattana is created by one man — the Governor, who appeared after the Great Fire to bring peace and order to the city. For Pong, who was born in Namwon Prison, the magical lights represent freedom, and he dreams of the day he will be able to walk among them. But when Pong escapes from prison, he realizes that the world outside is no fairer than the one behind bars. The wealthy dine and dance under bright orb light, while the poor toil away in darkness. Worst of all, Pong's prison tattoo marks him as a fugitive who can never be truly free.

Nok, the prison warden's perfect daughter, is bent on tracking Pong down and restoring her family's good name. But as Nok hunts Pong through the alleys and canals of Chattana, she uncovers secrets that make her question the truths she has always held dear. Set in a Thai-inspired fantasy world, Christina Soontornvat's twist on Victor Hugo's Les Misérables is a dazzling, fast-paced adventure that explores the difference between law and justice — and asks whether one child can shine a light in the dark.
Praise For A Wish in the Dark…
It's a novel—a stand- alone, no less—that seems to have it all: a sympathetic hero, a colorful setting, humor, heart, philosophy, and an epic conflict that relates the complexity and humanity of social justice without heavy-handed storytelling. Soontornvat deftly blends it all together, salting the tale with a dash of magic that enhances the underlying emotions in this masterfully paced adventure. An important book that not only shines a light but also shows young readers how to shine their own. Luminous.
—Booklist (starred review)

Set in a fantasy analogue of Thailand, all characters are presumed Thai, and Thai life and culture permeate the story in everything from the mangoes Pong eats in prison to the monks he meets beyond the prison's walls. It's also a retelling of Victor Hugo's Les Misérables, and Soontornvat has maintained the themes of the original while making the plot and the characters utterly her own. Pong's and Nok's narratives are drawn together by common threads of family, loyalty, and a quest to define right and wrong, twining to create a single, satisfying tale. A complex, hopeful, fresh retelling.
—Kirkus Reviews

Soontornvat artfully builds up to a triumphant confrontation, weaving in important themes about oppression and civil disobedience along the way.
—Publishers Weekly

Nuanced questions of morality, oppression, and being defined by one's circumstances are compounded with exciting action in this novel inspired by Victor Hugo's Les Misérables. The characters are resonant, and the action is enhanced by the fantastical Thailand-like setting. The original storyline and well-developed characters make this a standout novel. ­Highly recommended.
—School Library Journal

Combining themes of coming-of-age, protest, and the power of freedom, this book will inspire young readers to stand up for their own beliefs as well as those of all people. This is a thought-provoking adventure that will cause readers to ask themselves whether being safe or having freedom is the better option, and if that needs to be a choice at all.
—School Library Connection

The rich, atmospheric Thai-inspired settings ground Pong and Nok's journeys toward self-understanding, from bleak Namwon to the peaceful temple Wat Singh to Chattana's bustling, colorful Light Market...The novel offers satisfying meditations on moral choices as well as age-friendly openings into conversations about prison pipelines, autocracy, and socio-political action.
—Bulletin of the Center for Children's Books

Alternating between Pong's and Nok's stories, Soontornvat tells a satisfyingly intricate tale of escape and chase while raising questions about institutionalized injustices of privilege and want. Her Thai-inspired world is fully engaging, but perhaps most winning is the innocence, hope, and humor she conveys in the context of the struggle for social justice and with respect to the children's growth.
—The Horn Book

A thrilling fantasy, set in a fresh, original world, with a vital message at its heart. A Wish in the Dark is incandescent.
—Adam Gidwitz, Newbery Honor–winning author of The Inquisitor's Tale

At once timeless and timely, Christina Soontornvat's A Wish in the Dark is a richly imagined portrait of the power of hope, courage, and compassion to shine a light in dark times and the ability of small people to effect great change. Ingenious, captivating, and utterly gorgeous.
—Anne Ursu, National Book Award–nominated author of The Real Boy

Do you hear the people sing? Christina Soontornvat's Les Misérables-inspired A Wish in the Dark will have readers cheering for Pong, the young boy who escapes a life of unfair imprisonment, discovers the powers of friendship and forgiveness, and raises his voice against oppression. I was swept away by the Thai setting, the Buddhist teachings of Father Cham, and the sheer grit and determination of these young characters. At the heart of this novel, like Victor Hugo's, are the struggle for justice and the power of marginalized communities to change our world for the better. Young readers will be rooting for Pong and his band of revolutionary friends and inspired to spread more light in their own communities.
—Sayantani DasGupta, New York Times best-selling author of the Kiranmala and the Kingdom Beyond books
Candlewick, 9781536204940, 384pp.
Publication Date: March 24, 2020
About the Author
Christina Soontornvat grew up in a small Texas town where she spent many childhood days behind the counter of her parents' Thai restaurant with her nose in a book. She is the author of many books for young readers, including The Blunders, illustrated by Colin Jack. She now lives in Austin, Texas, with her husband and two children.
1. "A monster of a mango tree" is introduced on the first page of the book. How is it significant? What part does it play in the story?
2. Pong and Somkit are best friends but are very different. How do they differ as young boys in prison? As young men at the end of the book?
3. On pages 7 and 8, Pong and Somkit debate the merits of standing up for what is right versus protecting oneself. Pong thinks it was worthwhile to fight for the mango that should have been theirs, whereas Somkit says, "Sometimes you have to go along with things if you don't want to get mashed into a pulp." Which point of view do you agree with? Why?
4. "Trees drop their fruit straight down" is a proverb that appears first on page 14. What does this mean? Do you think it's true?
5. The Governor of Chattana says, "Light shines only on the worthy" (page 23). What does he mean by that, both literally and metaphorically?
6. All prisoners in Chattana were tattooed on their wrist with the name of their prison. How did his tattoo affect Pong's life?
7. After Pong escapes from the prison, he meets Father Cham at the Buddhist monastery. Father Cham becomes many things to Pong: parent, teacher, spiritual leader. Describe Father Cham's teaching style. What does Pong learn from him?
8. Soon after Pong meets Father Cham, the monk ties one length of string after another around Pong's wrists, each time reciting a blessing. The blessings are oddly specific, such as "May you never step in a snake's nest," or "May you never get food poisoning from raw chicken" (page 57). What did you think when you read these blessings?
9. Father Cham repeats often to Pong, "You have a good heart." But Pong is not sure he does. What makes him unable to believe this?
10. We meet Nok Sivapan, the prison warden's daughter, several times throughout the book. What is she like at the beginning? How does she change?
11. On pages 83–85, we learn that Nok's family has a secret that concerns something shameful in Nok's past. What did you think it might be?
12. On page 93, Pong questions why Father Cham wishes for the baby to walk in peace. He wonders why Father Cham didn't bless her with wealth or a long life instead. Which of those three blessings (wealth, long life, or walking in peace) would you most want, and why?
13. Father Cham gives Pong a final blessing: "My wish for you is that you find what you are looking for" (page 111). What does Pong think he means by this? What do you think Father Cham meant?
14. Light is one of the main subjects of this book: the magic orbs, the different colored lights that are priced according to their brightness, the light that flows from certain people's fingers, and even inner light. Nok learns to use the light that is deep inside her to win at spire fighting. What do you think this inner light is?
15. Both Father Cham and Ampai, the woman who organizes the resistance to the Governor, are elders who guide the younger people who live with them. How are they alike? How are they different?
16. Ampai says, "It's the law, but it isn't what's right" (page 212). How do these two things, the law and what is right, differ? Can you think of laws that don't seem right to you?
17. The Governor says, "It was my destiny to bring Chattana back to the light. Every day since that first day has been a struggle to keep order, to keep the darkness at bay. Not just the darkness of the night, but the darkness in people's own hearts. But it has all been worth it. Forty years later, there have been no fires, no wars, no disasters" (page 258). How has he accomplished this? What kind of man is the Governor?
18. When Father Cham appears to Pong in a vision, he helps Pong clarify what it is he seeks. Pong first thinks it is freedom, but then sees that is only half the answer. He finally realizes, "You can't run away from darkness. It's everywhere. The only way to see through it is to shine a light" (page 324). What does this mean? Do you agree?
19. Nok remembers a conversation with her father when they discussed the differences between the lives of people on the East Side and the West Side. He told her, "Sometimes light shines on the worthy. But sometimes it just shines on the lucky ones" (page 242). What do you think Nok's father meant by that? How does luck or privilege affect the lives of the people who live on the West Side?
20. On the day of the march, there are a lot of ominous happenings, including the arrival of many police armed with long wooden staffs. "Behind them, Nok saw the shutters of the West Side windows swinging closed, one after another, shutting off all that pretty Gold light. Whatever happened on the bridge tonight, the people on the West Side didn't want to see it" (page 342). Why did they not want to see what happened?
21. After the Governor is gone, the people feel a little lost since there is no longer anyone telling them what to do. The author asks, "Which was better: being safe or having freedom? And did you have to choose?" (page 372). How would you answer this?