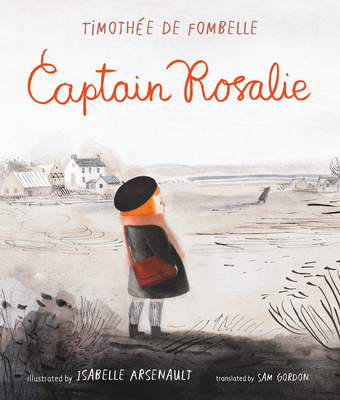 Captain Rosalie
Hardcover

* Individual store prices may vary.
Description
Timothée de Fombelle and Isabelle Arsenault capture the heart-wrenching cost of war for one small girl in a delicately drawn, expertly told tale.

While her father is at war, five-year-old Rosalie is a captain on her own secret mission. She wears the disguise of a little girl and tracks her progress in a secret notebook. Some evenings, Rosalie's mother reads aloud Father's letters from the front lines, so that Rosalie knows he is thinking of her and looking forward to the end of the war and to finally coming home. But one day a letter comes that her mother doesn't read to her, and Rosalie knows her mission must soon come to an end. Author Timothée de Fombelle reveals the true consequence of war through the experiences of small, determined Rosalie, while acclaimed artist Isabelle Arsenault illustrates Rosalie's story in muted grays marked with soft spots of color — the orange flame of Rosalie's hair, the pale pink of a scarf, the deep blue ink of her father's letters. All the more captivating for the simplicity with which it is drawn and told, this quiet tale will stay with the reader long after its last page is turned.
Praise For Captain Rosalie…
The bright red hair of Rosalie and her mother seems to glow in the gray, wintry light of Arsenault's village scenes, likewise offering hints of life and warmth even in the face of terrible loss...A spare tale likely to engender deep, complex responses.
—Kirkus Reviews (starred review)

De Fombelle (Vango) sublimely crafts a taut story with expansive spaces between words, inviting readers' creative interpretation. In similarly open-ended and emotion-charged art by Arsenault (Colette's Lost Pet), Rosalie's luminous, carrot-hued hair and determined expressions interject a promise of hope amid the darkness. A heartrending portrayal of resilience in sorrowful times.
—Publishers Weekly Online (starred review)

Isabelle Arsenault's watercolor, pencil and ink illustrations are stark, primarily black and white with small bursts of color, capturing the bleakness of Rosalie's village and the pain at the heart of the story. De Fombelle's brief tale is wildly successful in demonstrating that, when war is a reality of our lives, children can't be shielded from it; Captain Rosalie shows the heart-wrenching experience of a child growing up during war and the true cost of knowledge.
—Shelf Awareness for Readers (starred review)

Rosalie's innocent but determined narration is delicately supported by Arsenault's atmospheric gray-toned ink and watercolor illustrations touched with fiery rust orange that associates Rosalie's hair with quotidian items that affect her interior life. The tale, a version of which appeared in The Great War (BCCB 4/15), is ultimately about children's need for and resilience in the face of truth, and it should inspire thoughtful middle-grade discussion.
—Bulletin of the Center for Children's Books

Young Rosalie narrates this poignant story (which originally appeared in the 2015 short story collection The Great War) of war, loss, and resilience—and a child's need to know the truth, even if painful...The book's small, square format creates intimacy, reinforced by the open page design and frequent watercolor-and-wash illustrations. De Fombelle's (Vango, rev. 9/14) text is spare, allowing Rosalie's fierceness to shine through. Spots of color in Arsenault's (Louis Undercover, rev. 11/17) emotive art focus viewer attention on significant details: Rosalie's glowing red hair, the fateful blue envelope.
—The Horn Book

This eloquent, heart-wrenching story, of a little girl whose father is away fighting at the front in The Great War, comes from French playwright Timothée de Fombelle, author of acclaimed "Toby Alone" and its sequel and other novels for children.
—Buffalo News

De Fombelle quietly but movingly evokes the complicated emotions of both Rosalie, who's proud of and scared for her father, and her mother, who's struggling to keep it together...Arsenault's soft, shadowy illustrations, both spot and full-bleed pages, cultivate a rich sense of place and contribute to the thoughtful emotional tenor of this WWI story.
—Booklist

Captain Rosalie is an extraordinary story that deftly yet deeply conveys the tumultuous emotions of a child, family, community, loss, and the glimmer of hope for tomorrow.
—Reading Eagle (from Kendal A. Rautzhan's "Books to Borrow...Books to Buy")
Candlewick, 9781536205206, 64pp.
Publication Date: June 11, 2019
About the Author
Timothée de Fombelle is a French playwright and the author of many books, including Toby Alone, Toby and the Secrets of the Tree, Vango, A Prince Without a Kingdom, and The Book of Pearl. He lives with his family in Paris.

Isabelle Arsenault is the author-illustrator of Alpha and the illustrator of several other picture books, including the New York Times Best Illustrated Children's Book Jane, the Fox, and Me by Fanny Britt and Cloth Lullaby: The Woven Life of Louise Bourgeois by Amy Novesky. Isabelle Arsenault lives in Quebec.

Sam Gordon is a freelance translator based in London.