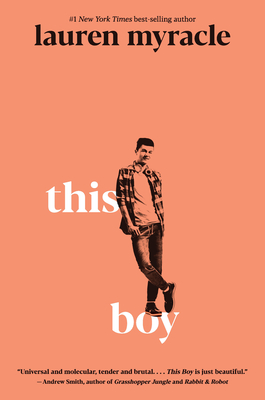 This Boy
Hardcover

* Individual store prices may vary.
Other Editions of This Title:
Compact Disc (4/14/2020)
MP3 CD (4/14/2020)
Description
Lauren Myracle brings her signature frank, funny, and insightful writing to this novel of a teenage boy's coming-of-age.

Paul Walden is not an alpha lobster, the hypermasculine crustacean king who intimidates the other male lobsters, beds all the lady lobsters, and "wins" at life. At least not according to the ego-bursting feedback he's given in his freshman seminar. But Paul finds a funny, faithful friend in Roby Smalls, and maybe — oh god, please — he's beginning to catch the interest of smart, beautiful Natalia Gutierrez. Cruising through high school as a sauced-out, rap-loving beta lobster suits Paul fine, and if life ever gets him down? Smoke a little weed, crunch a few pills . . . it's all good.

But in the treacherous currents of teenage culture, it's easy to get pulled under. With perfect frankness, Lauren Myracle lays bare the life of one boy as he navigates friendship, love, loss, and addiction. It's life at its most ordinary and most unforgettable.
Praise For This Boy…
Myracle's depiction of Paul, his deep friendship with Roby, his relationship with his mom, and his first love with Natalia (a strong and multidimensional young woman) will snag readers, both reluctant and voracious, as they root for each of them to make it through the difficult realities of life, high school, and love.
—School Library Journal

Through well-crafted dialogue and prose, the narrative highlights the ordinary, everyday moments and conversations that take up Paul's life. Paul's intimate first-person narration holds nothing back...A gritty and powerful story.
—Kirkus Reviews

Divided into four sections, each representing one high-school year, this coming-of-age novel chronicles teenage Paul Walden's progression from naive freshman to senior navigating crisis and addiction...Myracle (Under the Moon) gives a frank depiction of Paul's grief, rapid physical decline, and arduous journey to recovery that casts a new light on Paul's previously carefree adolescence, offering a universality to the cautionary tale.
—Publishers Weekly

Myracle does a superbly vivid job of handling Paul's friendship with Roby, his love for Natalia, and his later addiction. More than a simple cautionary story, this is a deeply felt, highly empathetic exercise in survival and a celebration of friendship.
—Booklist

This Boy is at once universal and molecular, tender and brutal; a graceful, engaging four-year journey through friendship, love, and life that will rough you up with honesty while quietly etching its characters deeper and deeper into your heart. Lauren Myracle has done it again.
—Andrew Smith, author of Grasshopper Jungle and Rabbit & Robot

This is Lauren Myracle at her best! No punches pulled. A funny, true, rugged story about love and family and jealousy and chance: the chaotic mess that is teenage life. Paul, Roby, and Natalia could be — would be — your friends, and just like your friends, they soar with you and they break your heart.
—Chris Crutcher, author of Staying Fat for Sarah Byrnes and Losers Bracket
Walker Books US, 9781536206050, 288pp.
Publication Date: April 14, 2020
About the Author
Lauren Myracle is the author of numerous novels for middle-grade and young adult readers, including the Internet Girls series (ttyl; ttfn; l8r, g8r; and yolo), the Winnie Years series, the Wishing Day trilogy, and others. She lives with her family in Fort Collins, Colorado.
1. Describe Paul and how he changes during the story's four years. What are the most important events of those years, and how does he respond to those events? What are some of the mistakes that he makes? What does he learn along the way?
2. Why do you think the author chose to spread the book over four years? What are the advantages of a long time span for this story? What difference would it make if the book covered only senior year? Discuss the title and the opening quote: "There is a monster at the end of this book."
3. Paul's relationship with his mother is central to his life. What is his mother like? How does Paul feel about her? How does their relationship change? Discuss the role of Paul's father in his life, past and present, and how Paul feels about him.
4. How does Paul meet Roby? What is significant about their first meeting, which Paul describes in the opening pages? How does that scene foreshadow the rest of the story and set the tone for it?
5. Summarize the scene in the classroom when Stevie reports on lobsters. What does he say about male lobsters? How does he apply it to teenage boys? How do Roby and Gertrude respond? Why doesn't Paul stick up for Roby?
6. The lobster discussion brings up the topic of males and sex, which continues throughout the novel. What is Paul's attitude toward girls and sex? What about pornography? Does his attitude change? How is he influenced by his mother?
7. Describe Roby and his friendship with Paul. What do they do together? Why do they like each other? Discuss their similarities and differences. How do they influence each other?
8. Natalia becomes increasingly important to Paul and Roby during their sophomore year. What is she like? Why does Roby already know her? How does he feel about her? How does Paul feel about her during sophomore year?
9. At the beginning of junior year, Paul and Natalia become romantically involved. How does it start? Describe their growing intimacy, including the role sex plays in their relationship. Natalia says to Paul, "Odds are your relationship with Roby's going to last longer than your relationship with me" (page 142). Why does she say that? How does Paul react?
10. After Paul and Natalia start their romance, why does Paul delay telling Roby about it? How does the romance come between them? How does Roby handle it when Paul finally tells him? What does that show about Roby and about their friendship?
11. Even once Paul has apologized and Roby has accepted the apology, the relationship between Paul and Natalia affects Paul's friendship with Roby. Describe what happens the night of the party in chapter twentyfive. Where is Natalia? What would she like Paul to be doing? Why does he choose to stay with Roby? Discuss what makes the situation a "champagne problem"—or at least a "Pabst Blue Ribbon problem" (page 185).
12. Paul is more drawn to drugs than Roby or Natalia is. What are some of the drugs he tries? What does he continue to use? What does he like about using drugs? What role does Monty have in Paul's drug use? Where else does Paul get drugs?
13. Describe Paul's reaction to Roby's death and why he says "the seesaw fell out of balance" (page 215). How does he use drugs to deal with Roby's death? What effect does the drug use have on his relationships with his mother and Natalia? How does the loss of Roby affect his drug use?