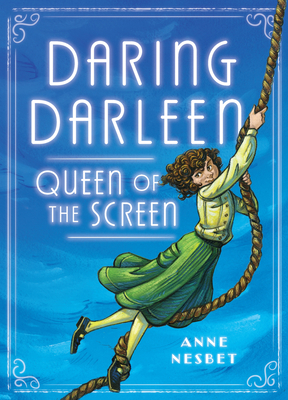 Daring Darleen, Queen of the Screen
Hardcover

* Individual store prices may vary.
Other Editions of This Title:
Digital Audiobook (4/13/2020)
Paperback (4/12/2022)
MP3 CD (4/14/2020)
Compact Disc (4/14/2020)
Description
When a publicity stunt goes terribly wrong, twelve-year-old Darleen Darling, star of the silent film era, must defeat villains both on screen and off in this edge-of-your-seat adventure.

Lights! Camera! Kidnapping?

It's 1914, and Darleen Darling's film adventures collide with reality when a fake kidnapping set up by her studio becomes all too real. Suddenly Darleen finds herself in the hands of dastardly criminals who have just nabbed Miss Victorine Berryman, the poor-little-rich-girl heiress of one of America's largest fortunes. Soon real life starts to seem like a bona fide adventure serial, complete with dramatic escapes, murderous plots, and a runaway air balloon. Will Darleen and Victorine be able to engineer their own happily-ever-after, or will the villains be victorious?
Praise For Daring Darleen, Queen of the Screen…
In fittingly episodic chapters packed with smart dialogue, plucky characters, and dastardly villains, the girls must continuously save themselves from kidnappers out to steal Victorine's fortune at any cost. As Darleen continues to uphold her acting duties throughout the shenanigans, readers learn early tricks of the trade, with an appearance by groundbreaking filmmaker Alice Guy Blaché adding to the fun...Just like Darleen—a spunky blend of darling and daring.
—Kirkus Reviews (starred review)

Film studies professor Nesbet writes her intrepid heroine with swashbuckling verve and sweet familial affection, incorporating extensive knowledge of early-20th-century filmmaking into a well-paced, gripping tale of staying true to oneself while stretching limitations.
—Publishers Weekly (starred review)

Nesbet's new novel has all of the elements of classic old-fashioned adventure tales...A rollicking vintage adventure. Recommend to movie fans and readers who enjoy escapades of the past, with lots of twists and tangles.
—School Library Journal (starred review)

Nesbet's (The Orphan Band of Springdale, 2018) deftly researched historical novel, set against a seldom-featured backdrop, has a comforting, old-fashioned feel. Spunky Darleen's story is buoyed by lively prose and crisp characterizations, and readers will be thrilled to join the adventure.
—Booklist (starred review)

Nesbet, a University Professor of Film and Media Studies, draws from her research a wealth of historical detail about film production at the time. An excellent suggestion for precocious readers and film history buffs alike.
—School Library Connection

Fabulous female characters, tender friendships, a fascinating setting, and a page-turning plot, all in one. Anne Nesbet has a brilliant lightness of style that makes the whole book sparkle.
—Ann Braden, author of The Benefits of Being an Octopus

"Daring Darleen, Queen of the Screen has that rare combination of rich historical detail, page-turning action, and engaging (vibrant! ebullient!) voice that keeps you up way past your bedtime. Come for the fascinating window into early silent films; stay for narrow escapes, family secrets, nefarious villains, and a deep, authentic friendship between two resourceful girls who bond over lost mothers, the promise of the future, and good cocoa."
—J. Anderson Coats, author of The Green Children of Woolpit and R Is for Rebel

This charming romp will delight discriminating readers who appreciate narrow escapes, true blue friendships, and the restorative properties of butterscotch.
—Bulletin of the Center for Children's Books

Nesbet re-creates the pace and melodrama of early films in her prose: "Oh, do be cautious! I'm afraid they're dangerous, desperate men." The strong character development and rich historical setting elevate the novel beyond period froth...By the end, Darleen discovers that she really is brave and that she can take control of her future.
—The Horn Book
Candlewick, 9781536206197, 368pp.
Publication Date: April 14, 2020
About the Author
Anne Nesbet is the author of the historical middle-grade novels Cloud and Wallfish and The Orphan Band of Springdale, as well as three fantasy novels for middle-graders. Her books have received numerous accolades, including multiple starred reviews and appearances on many best book and notables lists. A professor at the University of California, Berkeley, Anne Nesbet lives with her family in the San Francisco Bay Area.
1. Describe Darleen, her background, and her personality using details and incidents from the novel. What is her work in the movies like? How does she feel about it? How has it changed over the years?
2. What is Darleen's father like? How do his actions reveal his values and personality? What is his work, and why is he good at it? How does he feel about Darleen's work in the movies? How does he treat Victorine?
3. Explain what happened to Darleen's mother and how she is still a presence in the novel. What does Darleen remember about her mother? How does the girl feel similar to her? What is the connection between Madame Blaché and Darleen's mother? If possible, watch the short film Annabelle, Butterfly Dance, mentioned in the Author's Note (page 354) and relate it to Darleen's mother.
4. How did Darleen's extended family end up making movies? Describe their business and the Matchless studio. What role does each member of the family, including Darleen's uncles and aunt, play in the movie business? How does the financial situation of their business figure in the plot?
5. What's your impression of Jasper from the opening scene of the story? Why do you think he's so mean to Darleen? Why don't Darleen's aunt and uncles notice how Jasper treats Darleen? What is his family background? What role does he play in the kidnapping?
6. Together Darleen and Victorine face a series of dangers. How do the girls survive each peril? What does each girl fear most? How do they handle their fears? Victorine says that her grandmother respected fear (as "an instinct meant to save us") but warned Victorine that "when our rational brains are telling us one thing, and irrational fear is shouting something else, it is usually best to listen to the quieter voice of reason" (page 120). Is that wise advice, do you think? When is fear helpful, and when is it dangerous?
7. According to Victorine, "lying always matters" (page 68). Why does she have such strong feelings about telling the truth? Does Darleen agree with Victorine's belief? Give examples of when this becomes a problem in the story and how the girls deal with it.
8. Who is Madame Blaché in the novel, and how is she important to the story? What is going on when the girls first meet her? When does she appear again? Why do you think she is so willing to help them? What does the Author's Note tell you about the real-life Madame Alice Guy Blaché?
9. Victorine's grandmother described her as "an onion sort of person" (page 160). What did her grandmother mean by that? What kind of vegetable or fruit does Victorine compare Darleen to, and how does Darleen react? What vegetable or fruit are you like, and why?
10. What does Fort Lee look like to Darleen when she takes Victorine there? What makes it different from other small towns? What does the Author's Note add to your knowledge about Fort Lee? Describe the different sections of the Matchless studio and what goes on in each section. How does Victorine respond to the studio and to Darleen's home?
11. Compare what you know about today's movies with what you learn about early movies in this novel. What are some major differences? In what ways are they similar? How does Aunt Shirley try to generate publicity for the photoplays? How is publicity created now for movies and movie stars?
or
Not Currently Available for Direct Purchase