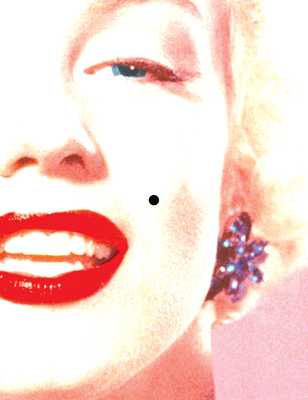 Beauty Mark
A Verse Novel of Marilyn Monroe
Hardcover

* Individual store prices may vary.
Other Editions of This Title:
Digital Audiobook (9/7/2020)
Description
In a powerful novel in verse, an award-winning author offers an eye-opening look at the life of Marilyn Monroe.

From the day she was born into a troubled home to her reigning days as a Hollywood icon, Marilyn Monroe (née Norma Jeane Mortenson) lived a life that was often defined by others. Here, in a luminous poetic narrative, acclaimed author Carole Boston Weatherford tells Marilyn's story in a way that restores her voice to its rightful place: center stage. Revisiting Marilyn's often traumatic early life—foster homes, loneliness, sexual abuse, teen marriage—through a hard-won, meteoric rise to stardom that brought with it exploitation, pill dependency, and depression, the lyrical narrative continues through Marilyn's famous performance at JFK's birthday party, three months before her death. In a story at once riveting, moving, and unflinching, Carole Boston Weatherford tells a tale of extraordinary pain and moments of unexpected grace, gumption, and perseverance, as well as the inexorable power of pursuing one's dreams. A beautifully designed volume.
Praise For Beauty Mark: A Verse Novel of Marilyn Monroe…
In a series of spare and precise first-person poems narrated by Norma Jeane, Weatherford captures her iconic contradictions and, by doing so, reveals traumas, professional successes, and moments of authentic joy. This searing, aching love poem to a widely known but often misunderstood icon will speak even to young readers who may not be familiar with her films. A window into a uniquely magnificent and terrifying life.
—Kirkus Reviews (starred review)

Grounded in verified historical details, Weatherford's story conveys Monroe's vulnerability as a young girl (then known as Norma Jeane Baker) who bounced between dysfunctional households until she married for the first time at 16...With images throughout and back matter that points readers to more information on Monroe, Weatherford's lyrical ode humanizes a woman who was a living legend long before she became a tragic one.
—Shelf Awareness for Readers (starred review)

Weatherford's intimate writing style will make readers feel like they're accessing Marilyn's private journals. The story is dedicated to anyone who has ever felt mistreated, disrespected, underestimated, or misunderstood, and will resonate with young adults...A highly enjoyable title recommended for reluctant readers and students intrigued by fame and stardom.
—School Library Journal

Though she has been dead for nearly 60, this biographical novel-in-verse attests to the continued fascination surrounding the Hollywood film star known as Marilyn Monroe...This psychologically nuanced biography portrays an intelligent, vulnerable woman who was profoundly troubled by a plethora of insecurities.
—School Library Connection

In fictionalized first-person free verse, Weatherford explores Marilyn's career and her marriages but focuses, especially, on her difficult relationship with her mother and her unfulfilled longing for children of her own...this book, with its exquisite page design, meticulously incorporated research, and magnetic subject won't lack in the slightest for readers.
—Booklist

The now-legendary story of Norma Jeane Mortenson's transformation from a child craving parental love and stability into a typecast dumb blonde sex goddess spins out in in fictionalized first-person verse. As readers speed through the compact biographical musings, they are periodically confronted with passages of arresting sensitivity and insight...and verses shaped into a variety of poetic forms; nearly transparent photographs, to be in two color in the bound book, background the poems and provide atmosphere.
—Bulletin of the Center for Children's Books

"Writing with poetic grace and raw candor, Carole Boston Weatherford creates a poignant story about love, longing, and the sorcery of beauty that will linger long after its cover is closed."
—Candace Fleming, author of The Family Romanov, winner of the Los Angeles Times Book Prize

"Beauty Mark is a sensitive portrayal of a profoundly tragic life. Filled with unusual images of an intelligent yet stereotyped woman, this verse novel offers mature readers a glimpse of one of Hollywood's most unique personalities."
—Margarita Engle, Newbery Honor–winning author of The Surrender Tree and Young People's Poet Laureate Emerita

"Was Marilyn Monroe a hardworking entrepreneur or an opportunistic seductress? Finally given voice by award-winning verse biographer Carole Boston Weatherford, Monroe guides us through the pivotal episodes of her life as if sharing snapshots from a photo album. This intimacy makes it painfully clear how the forgotten Norma Jeane Mortenson and the famous Marilyn Monroe were one and the same—from their first fearful night alone in an LA orphanage to their last fateful night alone in their LA home."
—Allan Wolf, author of Who Killed Christopher Goodman?

"In Beauty Mark, Carole Boston Weatherford gives us the raw, heart-wrenching story of Marilyn Monroe. From a fatherless childhood filled with abandonment, foster homes, sexual abuse, failed marriages, and dependency, she traces Marilyn's hard-won rise to Hollywood stardom. A gem of a biographical novel that celebrates through Weatherford's lyrical verse one woman's determination to find and be herself."
—Larry Dane Brimner, Sibert Medal–winning author of Twelve Days in May
Candlewick, 9781536206296, 192pp.
Publication Date: September 8, 2020
About the Author
Carole Boston Weatherford, a New York Times best-selling author and poet, was selected as the Children's Book Guild 2019 Nonfiction Award Winner. Her numerous books for children include the Coretta Scott King Author Award Honor Book Becoming Billie Holiday, illustrated by Floyd Cooper; the Caldecott Honor Books Moses: When Harriet Tubman Led Her People to Freedom, illustrated by Kadir Nelson, and Voice of Freedom: Fannie Lou Hamer, Spirit of the Civil Rights Movement, illustrated by Ekua Holmes; and the critically acclaimed Schomburg: The Man Who Built a Library, illustrated by Eric Velasquez. Carole Boston Weatherford lives in Fayetteville, North Carolina.
1. Before reading this book, what did you know about Marilyn Monroe?
2. The author often speaks about Norma Jeane and Marilyn Monroe as if they were two different people. What does she mean by that?
3. The poem "Mom Never Smiled" says, "After I was born, June 1, my mother / first held me with her eyes closed, / not gazing at my face / but plunging into darkness" (page 4). What can you surmise about her mother from this? Does it give you an idea about what Marilyn's life would be like?
4. How did not having a father impact Norma Jeane's life?
5. Aunt Grace is a complicated character. How did she in influence Norma Jeane's life? What do you think about the decisions she made about Norma Jeane's life—encouraging her to work at becoming a star, placing her with a British family while her mother figured out how to buy a house, putting her in an orphanage, and sending her to her aunt Olive, among other things?
6. When Norma Jeane was only twelve, she learned the power of having "the body of a seventeen-year-old" (page 54). What did you think about the way she behaved?
7. Norma Jeane agreed to get married so she wouldn't have to go back to the orphanage. She left high school in the middle of her sophomore year "to learn to be a wife" even though she "had never seen a marriage that worked" (page 60). Do you think she expected her marriage to be successful? What do you think she wanted out of the marriage, aside from avoiding being sent back to the orphanage?
8. Even though Norma Jeane and Aunt Grace had dreamed of Norma Jeane's becoming a star, it was totally by chance that she caught the eye of a photographer when she was working in the Radioplane factory while her husband Jim was in the army. Do you think she would have become a star if that photographer hadn't spotted her?
9. After Norma Jeane started modeling, she became self-con fident and was no longer the child bride whom Jim had married. In fact, she was not his idea of a wife at all. What, exactly, did he want in a wife? Do women still have problems juggling careers and families? Is it better now, or about the same?
10. Norma Jeane had "always aimed to please but eventually gave up hope / of being loved," but when she found success modeling, "for the first time [she] realized where [she] belonged / and who [she] belonged to: the public" (page 73). What does this mean? How do you feel about this idea?
11. Like her mother and grandmother, Norma Jeane suffered from depression. The poem used to describe her depression, "The Doldrums Passed Down from Della and Gladys" (pages 82 and 83), is like no other in the book. Read the poem aloud. What do you think about it? Is it effective?
12. Natasha Lytess was Marilyn's first drama coach, and they worked together for seven years, even living together for two of them. In the poem "Ladies of the Chorus: Natasha, My First Acting Coach," Marilyn says, "In a way, I owe Natasha everything. / She not only shaped me; she set me free" (page 90). What does she mean by this?
13. Marilyn was hardly the only young woman who found she had to use sex to advance in Hollywood. Do you think that these days things have changed?
14. In the poem "Gentlemen Prefer Blondes: Lorelei, My Die Is Cast," Marilyn declares, "Knowledge is a girl's best friend" (page 109). Do you agree? What does she mean by that?
15. A lot of Marilyn's life centered around appearance versus reality. Marilyn Monroe was a manufactured personality, and even her body was changed by cosmetic surgery to fit the image. Few people knew the real Marilyn, or knew how she suffered from Ménière's disease, colitis, and depression. Does this book make you realize that what you can see of a person may be very different from who they really are?
16. When Marilyn was married to Arthur Miller, she desperately wanted a baby, but her only pregnancy ended in a miscarriage. What kind of a mother do you think she would have been?
17. No one is just one thing, but Marilyn was even more than most. The poem "Who Is Marilyn Monroe?" on page 178 enumerates many of her descriptions and personalities. Do you think it is possible to know anyone totally? Can you name several ways that you think of yourself?
18. Think about the title Beauty Mark. Is there more than one meaning for that?
19. Do you think the fame and money that Marilyn Monroe attained made up for the horrible things in her life? If becoming rich and famous meant being unhappy, would you still want those things? What about the meaning of success? Was Marilyn Monroe a success?