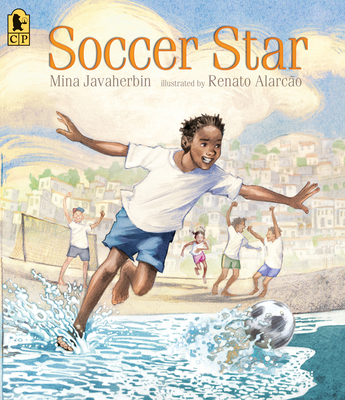 Soccer Star (Paperback)
Candlewick, 9781536207132, 40pp.
Publication Date: March 12, 2019
Other Editions of This Title:
Hardcover (4/8/2014)
* Individual store prices may vary.
Description
An inspiring story of a Brazilian boy who dreams of being a soccer star — and the sister who steps in to help his team win a game.

When Paulo Marcelo Feliciano becomes a soccer star, crowds will cheer his famous name! Then his mother won't have to work long hours, and he won't have to work all day on a fishing boat. For now, Paulo takes care of his little sister Maria (she teaches him reading, he teaches her soccer moves) and walks her to school, stopping to give his teammates cheese buns as they set out to shine people's shoes or perform for the tourist crowd. At day's end, it's time to plan the game, where Givo will bounce, Carlos will kick, and Jose will fly! But when Jose falls on his wrist, will the team finally break the rules and let a girl show her stuff? Set in a country whose resilient soccer stars are often shaped by poverty, this uplifting tale of transcending the expected scores a big win for all.
About the Author
Mina Javaherbin is the author of Goal!, illustrated by A. G. Ford. She was born in Iran and immigrated to the United States, where she is a practicing architect. She lives in Southern California.

Renato Alarcão has illustrated many children's books, including Roberto's Trip to the Top by John B. Paterson Sr. and John B. Paterson Jr. He lives in Brazil.
Praise For Soccer Star…
In Alarcão's illustrations, the bright-white sunshine of Brazil takes on a soft edge, and the high roofs of the favelas offer the perfect perch for kite-flying. It's a child's-eye view of poverty, well suited to this story narrated by Paulo Marcela Feliciano, a determined, optimistic boy of about 11 who lives in one of the shanties. ... Javaherbin gives her readers plenty to think about, but intimations of hardship can't dim the children's infectious pleasure in the game.
—The New York Times Online

[I]t's downright refreshing to see illustrations that realistically relay the diversity of shades found among Brazilians. Javaherbin deftly handles Paulo and Maria's poverty with honesty while simultaneously refraining from sugarcoating, overemphasizing or romanticizing it. Perhaps most importantly, Javaherbin shows that being poor doesn't stop people from having lives and dreams. A lovely story about soccer, gender and hope.
—Kirkus Reviews

Alarcão's luminous digitally colored sepia-ink illustrations elegantly portray the setting. The joyful expressions of the players as they dribble, knee, and bicycle kick the ball around the sandy soccer field reinforce the story's positive and inspiring tone. Readers who love the game will cheer on Felino and his team of hopeful soccer stars.
—School Library Journal

Paulo's enthusiasm for soccer is infectious, but the story also reveals a Brazilian poverty in which boys must work rather than attend school. Alarcão, himself from Brazil, provides scenes of modest homes stacked on a hillside, narrow passageways, and children at work more than at play. Still, the energetic art, rendered in sepia ink with digital coloration, also reflects Paulo's passion and exuberance, and views of fishing boats in the ocean and the hillside homes at twilight are especially dramatic. With the 2016 Olympics coming to Brazil, this is a timely story, but Paulo's dream will resonate with soccer fans long before and after that event.
—Booklist

Javaherbin follows Goal! with another moving story drawn from the world of soccer... Paolo's sense of hope is almost tangible in Alarcão's cinematically lit ink drawings, which show Paolo visiting his friends (like Paolo, they are all working to support their families). During the team's big match, Paolo finally allows his sister to join the team, a decision that's both a small-scale victory and a symbol of promise on a larger scale: "It's up to me, and my vote is for change."
—Publishers Weekly

The muted yet colorful and vivid illustrations and minimal text on each page make this book valuable both for reading aloud and for individual reading.
—Library Media Connection

Javaherbin's opening note states, "My story is an homage to all soccer stars who have risen and continue to rise up from poverty," and although fictional Paulo's tale is certainly purposive, it's not heavy-handed. ... Javaherbin and Alarcao offer young soccer fans a thoughtful and engaging look at a lively team of dreamers.
—Bulletin of the Center for Children's Books

This timely picture book, set [in Brazil] in a favela, underscores the fun of the game and its allure, especially for poor kids looking to stardom as a way out. ... A Brazilian illustrator offers spacious, digitally colored ink drawings to highlight play-by-play action and special skills. ... Without being weighed down, this winning tale hits the big themes of poverty, gender, national pride and aspiration.
—San Francisco Chronicle

Soccer Star keeps things real by showing kids living in poverty who need to work, and how overcoming sexism in sports takes determination and, if possible, a supportive older brother. Score!
—Palo Alto Weekly