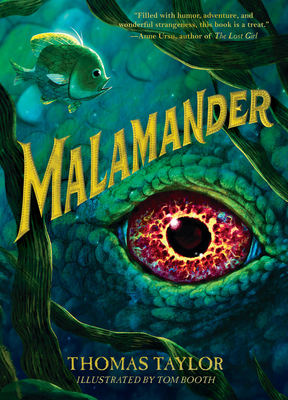 Malamander (The Legends of Eerie-on-Sea)
Hardcover

* Individual store prices may vary.
Other Editions of This Title:
Paperback (4/14/2020)
Compact Disc (9/10/2019)
MP3 CD (9/10/2019)
Description
A quirky, creepy fantasy set in Eerie-on-Sea finds a colorful cast of characters in hot pursuit of a sea monster thought to convey a surprising gift.

It's winter in the town of Eerie-on-Sea, where the mist is thick and the salt spray is rattling the windows of the Grand Nautilus Hotel. Inside, young Herbert Lemon, Lost and Founder for the hotel, has an unexpected visitor. It seems that Violet Parma, a fearless girl around his age, lost her parents at the hotel when she was a baby, and she's sure that the nervous Herbert is the only person who can help her find them. The trouble is, Violet is being pursued at that moment by a strange hook-handed man. And the town legend of the Malamander — a part-fish, part-human monster whose egg is said to make dreams come true — is rearing its scaly head. As various townspeople, some good-hearted, some nefarious, reveal themselves to be monster hunters on the sly, can Herbert and Violet elude them and discover what happened to Violet's kin? This lighthearted, fantastical mystery, featuring black-and-white spot illustrations, kicks off a trilogy of fantasies set in the seaside town.
Praise For Malamander (The Legends of Eerie-on-Sea)…
Taylor assembles the sort of supporting cast that makes anything seem possible...Odd encounters and narrow escapes set in motion by the arrival of Violet Parma, searching for parents who had disappeared on the beach 12 years before, lead her and half reluctant young Herbert Lemon, who had himself washed up as a baby in a crate of lemons, to a desperate climactic struggle. A lack of firm resolution hints at future visits to this winningly strange town.
—Booklist (starred review)

Herbie makes an excellent narrator, well versed in Eerie-on-Sea's strangeness but, ironically, clueless when it comes to Violet, and he manages both wit and vulnerability. Booth's black and white art gives full life to the characters, and fans of Lemony Snicket or Pseudonymous Bosch will find their next adventure here.
—Bulletin of the Center for Children's Books (starred review)

This creepy, quirky debut trilogy opener—think H.P. Lovecraft crossed with John Bellairs—is dank, misty fun.
—Kirkus Reviews

In Malamander, Thomas Taylor casts a spell over his readers as he welcomes us into the mysterious mist-covered town of Eerie-on-Sea, where magic infuses the air, monster legends haunt the shore, and secrets lurk in the shadows. Filled with humor, adventure, and wonderful strangeness, this book is a treat.
—Anne Ursu, author of The Lost Girl

Malamander is the kind of book I dreamed about as a kid: a magical blend of oddball folklore and humor about two peculiar and plucky kids who puzzle out some local secrets in a town that is a character in its own right. And everything is wrapped in the off-season mystery of the seaside when the tourists have gone. This book is so much fun, I'm already dreaming of my next visit to Eerie-on-Sea.
—Kate Milford, best-selling author of the Greenglass House series

In this endearingly strange middle grade adventure set against the backdrop of a seaside resort town during the off-season, two orphans are caught up in a local legend...Taylor (Haunters) combines atmospheric descriptions with tongue-in-cheek humor, off-kilter concepts (a mechanical mermonkey that "prescribes" books), and quirky characters to create an unusual series opener. Meanwhile, exaggerated, stylized illustrations from Booth (This Is Christmas) bring both cast and setting to life, capturing the feel of this fantastical, energetic mystery.
—Publishers Weekly

The fast-paced narrative includes subtle humor, clever plays on words, and rich cinematic details augmented by black-and-white illustrations and a map. Colorful characters, palpable atmosphere, close calls and some deliberately unanswered questions (how did little Herbie get washed up onshore in a lemon crate, and just what did happen to Violet's parents when they took a rowboat out to sea to find her?) will hook readers on this new British series and leave them eager for more. A crowd-pleasing fantasy.
—School Library Journal

A wonderfully imaginative and atmospheric adventure, rich in myth and legend, and with a delicious gothic edge. . . . Malamander confirms [Taylor] as a ferociously talented writer. . . . This really is one that deserves all the buzz.
—The Bookseller
Walker Books US, 9781536207224, 304pp.
Publication Date: September 10, 2019
About the Author
Thomas Taylor is an award-winning author-illustrator for children. He illustrated the cover for the very first British edition of Harry Potter and the Philosopher's Stone and has since gone on to write and illustrate several picture books and young novels, most recently the graphic novel Scarlett Hart: Monster Hunter by Marcus Sedgwick. He lives on the south coast of England.

Art director by day and author-illustrator by night, Tom Booth is a maker of acclaimed children's books, including Don't Blink!, This Is Christmas, and Who Wins? He made his earliest marks — sometimes on his parents' antique kitchen table — growing up in Pennsylvania. Now living in Brooklyn, New York, he is currently at work on several children's books on a table all his own.
1. How do you get the sense that the beach is dangerous for Herbie and Violet? Pick out key words and phrases.
2. Why is the name of the town, Eerie-on-Sea, effective in the context of the story? What are its connotations?
3. How does the author use imagery of light and dark to set the scene?
4. The author uses a variation of short and long sentences in this extract. Why do you think he does this?
5. Why does Eerie-on-Sea get a lot of tourists in the summer, according to the character Mrs. F?
6. What happened to all of the heroes in the legends, according to Mrs. F?
7. What is the Loch Ness Monster? How is the legend of the malamander similar to that of the Loch Ness Monster?
8. How old is the story of the malamander?
9. How does the author, Thomas Taylor, create a dreamlike quality in his writing? Why do you think he does this?