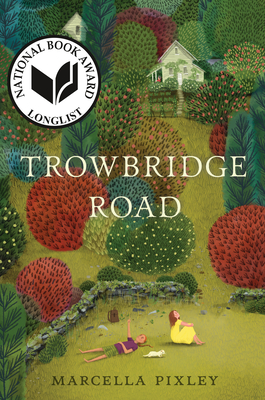 Trowbridge Road
Hardcover

* Individual store prices may vary.
Other Editions of This Title:
Digital Audiobook (10/5/2020)
Paperback (5/10/2022)
Compact Disc (10/6/2020)
Library Binding, Large Print (3/17/2021)
MP3 CD (10/6/2020)
Description
A 2020 National Book Award Long List Selection
A Shelf Awareness Best Book of 2020
A Reading Group Choices Best Book of 2020 
A Mighty Girl Best Book of 2020

In a stunning novel set in the 1980s, a girl with heavy secrets awakens her sleepy street to the complexities of love and courage.

It's the summer of '83 on Trowbridge Road, and June Bug Jordan is hungry. Months after her father's death from complications from AIDS, her mother has stopped cooking and refuses to leave the house, instead locking herself away to scour at the germs she believes are everywhere. June Bug threatens this precarious existence by going out into the neighborhood, gradually befriending Ziggy, an imaginative boy who is living with his Nana Jean after experiencing troubles of his own. But as June Bug's connection to the world grows stronger, her mother's grows more distant — even dangerous — pushing June Bug to choose between truth and healing and the only home she has ever known.

Trowbridge Road paints an unwavering portrait of a girl and her family touched by mental illness and grief. Set in the Boston suburbs during the first years of the AIDS epidemic, the novel explores how a seemingly perfect neighborhood can contain restless ghosts and unspoken secrets. Written with deep insight and subtle lyricism by acclaimed author Marcella Pixley, Trowbridge Road demonstrates our power to rescue one another even when our hearts are broken.
Praise For Trowbridge Road…
June Bug narrates this work of historical realism with a magical, poetic quality, turning the ordinary extraordinary. June Bug and Ziggy's fanciful adventures are likely to resonate with fans of Katherine Paterson's Bridge to Terabithia (1977)...An exceptional story for readers who feel deeply.
—Kirkus Reviews (starred review)

"Trowbridge Road is a luminous, heart-wrenching story that reminds us that love—maybe flawed, maybe messy—is what sustains us. Burbling over with lush details, Marcella Pixley's novel takes the ordinary stuff of life—steam from a bowl of warm pasta, summer sunlight, the bond between two kids burdened by family secrets—and makes it extraordinary."
—Esther Ehrlich, author of Nest

Told from the point of view of the two friends, the narrative is imaginative, flows smoothly, and has you routing for both characters by the end of the story...I truly enjoyed this well-written, plot-driven story and would recommend it for all middle schoolers. The book also reflects the lack of diversity that defined many communities in the 80s. Even though it is a work of historical fiction, there are many lessons in this book that all readers can learn from today.
—School Library Connection

Drawing comparisons to Bridge to Terabithia, this literary middle grade novel by Pixley (Ready to Fall) follows two lonely children awash in secrets and hurts...Heartbreaking and sometimes emotionally difficult, this novel will appeal to young teens looking for something serious to dig into.
—Publishers Weekly

A beautifully honest account of trauma and childhood friendship that takes place in the early 1980s...The text richly illustrates the inner lives of children, and the subject matter is handled in a way that is honest yet age appropriate. A solid choice for mature tweens who appreciate a story with literary and fantastical elements that also tackles realistic topics.
—School Library Journal

Fans of Kate DiCamillo's Raymie Nightingale (BCCB 4/16) and its followups will find this similarly emotional and ultimately satisfying. A brief author's note offers more information about AIDS and about mental illness.
—Bulletin of the Center for Children's Books
Candlewick, 9781536207507, 320pp.
Publication Date: October 6, 2020
About the Author
Marcella Pixley is the author of three highly praised books for young adults that have received multiple starred reviews, including Ready to Fall. She has been nominated for a Pushcart Prize for poetry and earned a master's from Bread Loaf School of English at Middlebury College. She teaches writing to middle-schoolers in Massachusetts, where she lives with her family.
1. The author has set this book in 1983. What details does she include that make you realize that it is not a contemporary setting?
2. June Bug and Ziggy both have someone in their lives who cares for them when their mothers can't. June Bug has her uncle Toby, and Ziggy has his grandmother, Nana Jean. Compare and contrast the ways in which the two take care of the children.
3. In the chapter "Rules for Staying Clean" (page 46), we learn about the rules that June Bug's mother follows to keep germs away from them. What did you think when you read them? If you were June Bug, what would you do?
4. When there is a neighborhood cookout at the house across from Nana Jean's, Ziggy and June Bug watch everyone eating, chatting, and playing. After watching the girl across the street, Heather Anne, having a great time on the swing, June Bug suddenly throws a rock at her. Why do you think she does this?
5. June Bug packs what she calls "necessaries" into her backpack so she can always keep herself clean enough for her mother. The backpack becomes very significant in her life, and she refers to it as if it were alive. What do you think it means to June Bug?
6. Nana Jean once told Ziggy, referring to his mother, "Sometimes they love you, but they don't know how to make it stick" (page 137). What does she mean by that?
7. The day after Jenny helps June Bug bury her mother's ruined clothes, we learn that Nana Jean had not had as smooth a life as we had assumed. Does this change what you think about Nana Jean? About Jenny?
8. Both Ziggy and June Bug have secrets they hold inside that are really too big for a kid to deal with alone. How do they determine which adults to trust?