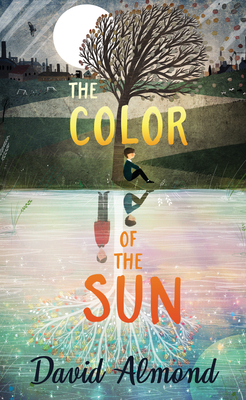 The Color of the Sun
Hardcover

* Individual store prices may vary.
Other Editions of This Title:
MP3 CD (9/24/2019)
Compact Disc (9/24/2019)
Description
Award-winning author David Almond pens the dreamlike tale of a boy rediscovering joy and beauty within and around him, even amid sorrow.

One hot summer morning, only weeks after his father's death, Davie steps out his front door into the familiar streets of the Tyneside town that has always been his home. But this seemingly ordinary day takes on an air of mystery and tragedy as the residents learn that a boy has been killed. Despite the threat of a murderer on the loose, Davie turns away from the gossip and sets off toward the sunlit hill above town, where the real and imaginary worlds begin to blur around him. As he winds his way up the hillside, Davie sees things that seem impossible but feel utterly right, that renew his wonder and instill him with hope. Full of the intense excitement of growing up, David Almond's tale leaves both the reader and Davie astonished at the world and eager to explore it.
Praise For The Color of the Sun…
Touches of humor, pithy words of Northern common sense, and moments of heightened tension and mystery provide grounding elements in the midst of the reverie...A haunting tale of embracing transformation and finding beauty in an imperfect world.
—Kirkus Reviews

Through economic prose expressing Davie's memories and keen observations, the book subtly shows the protagonist's grief over losing his father and childhood innocence. Spanning only one day, it evokes the mysteriousness of life, the power of imagination, and moments when childhood and adulthood intertwine.
—Publishers Weekly

Almond manages to craft deeply real stories touched by magic that itself feels true, being so well rooted in character and emotion—in this case, Davie's grief. Thematic and lyrical, colored by Newcastle slang and the English countryside, this is one for the deep thinkers and those who are dealing with grief.
—Booklist

In this piece of masterful storytelling, a small town offers its own brand of solace to a young teen struggling with loss. Recommended.
—School Library Journal

Almond's narrative is almost poetic in his descriptions of animals, sky, sun, and landscape, making it well worth the extra effort of trying to decipher the dialect. This poetic language would fit in well in an English classroom by having students study figurative language and the literary devices used to create it.
—School Library Connection

Taking place in a single day, this story works particularly well because of the authenticity of the setting; the dreamlike quality of the prose; and the specificity of one particular off-kilter, grieving, curious, sweet boy.
—The Horn Book
Candlewick, 9781536207859, 224pp.
Publication Date: September 10, 2019
About the Author
David Almond has received numerous awards, including a Hans Christian Andersen Award, a Carnegie Medal, and a Michael L. Printz Award. He is known worldwide as the author of Skellig, Clay, and many other novels and stories, including Harry Miller's Run, illustrated by Salvatore Rubbino; The Savage, Slog's Dad, and Mouse Bird Snake Wolf, all illustrated by Dave McKean; and My Dad's a Birdman and The Boy Who Climbed Into the Moon, both illustrated by Polly Dunbar. David Almond lives in England.
1. At the beginning of this novel, Davie's mother says, "Get yourself out into the sun, lad!" (page 1). On the face of it, she is urging her son to go outside, but what does she really want from him? By the end of the novel, how has Davie fulfilled his mother's wish?
2. Take note of what Davie packs in his haversack. What does his mother add to the bag? What do you think is the significance of each item?
3. The Killens are a fierce clan, as their name suggests. What pleasure do they take in fighting? Why are even the youngest of the Killens so eager to go into battle with the Craigs? Do you think it's possible for either the Killens or the Craigs to change their violent ways? Why?
4. "I hardly care if it's true or not," Letitia says of her story of a bird and a baby (page 104). "I care only for the strangeness and the beauty and the terror of it." What is your reaction to her tale? Do you find it strange or beautiful or terrifying? What is the significance of the flight that Davie takes later in the novel? Does the experience change him? Why?
5. Davie is a character in a novel, not an actual person, so he is right to wonder if "maybe he himself is living in a story" (page 43). What are the important differences between fictional characters and real people? Are fictional characters less important? More important? Why?
6. "I'm in the wrong tale," Paddy says to Davie (page 52). "I'm already writing a new life" (page 53). What do you think the priest is saying about himself? How can he be both a character in one story and the author of another?
7. The United States and England share the same language, but not all the same vocabulary. Keep track of unfamiliar British words and phrases that you encounter in this book. What does each mean?
8. Davie is at an in-between age: too young to be preoccupied by girls and too old to play with his collection of stuffed animals. How do you think this novel would have been different if he were a little bit older or a little bit younger?
9. Of all the people Davie encounters on his climb up the hill, who is your favorite? Why?
10. A strange, slobbering dog follows Davie for most of the day. "Why are you with me?" the boy asks (page 115). What is your answer to Davie's question? When does the dog finally leave? Why?
11. Davie's mother has recently been widowed, but she doesn't act like someone who has just suffered a great loss. Are you surprised by her behavior? How does she stay cheerful?
12. "Stop thinking," Davie thinks to himself (page 39). "Stop wondering about everything. Just walk." How would you rate Davie's advice to himself? What are the advantages of not thinking too much? What are the disadvantages?
13. "There's always secret places waiting to be found," Davie's father told him. "Even in a little town like this, where you can think you've seen everything there is to see" (pages 130–131). Have you found secret places in your own community? Where are they?
14. The border between life and death in this novel is hazy, maybe even nonexistent. Who are the important dead people in Davie's life? How do they guide him throughout his journey? Does it matter to him that they're deceased? Does it matter to you?
15. "What we doing? Where we going? Why are we here?" (page 155). Wilf doesn't have any answers. Do you? How would you respond to Wilf's questions?
16. Once you've finished the novel, go back and reread its first line. What did it mean to you when you first read it? What does it mean to you now? How does this opening sentence set the stage for the rest of the book?