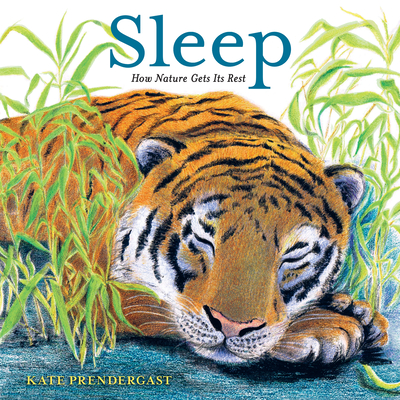 Sleep
How Nature Gets Its Rest
Hardcover

* Individual store prices may vary.
Description
All animals sleep. But do they dream? Facts inspire imaginations in a beautifully illustrated nonfiction picture book for curious young minds.

Some animals sleep alone. Others sleep in packs. Some slumber at night, and others prefer the daytime for getting some z's. Whether large or small, familiar or unusual, all animals must find a way to get some rest. Did you know that giraffes sleep standing up? That sloths sleep upside down? Or that fish sleep with their eyes open? Take a close look at the sleeping habits of meerkats, bats, horses, birds, and other animals around the world in a book for young nature enthusiasts that is certain to spark a sense of wonder.
Praise For Sleep: How Nature Gets Its Rest…
The majority of the book is a lovely bedtime story for the very young. Older readers will enjoy the backmatter, which expands on the earlier information and adds interesting tidbits, such as the fact that giraffes' necks have the same number of vertebrae as humans' necks (seven). Facts to precede sweet slumbering.
—Kirkus Reviews

The mixed-media illustrations feature soothing, muted colors and portray the animals in cozy, reassuring attitudes of repose. This basic introduction should get kids thinking about where and why animals sleep where they do, an often-overlooked aspect of habitats and life cycles.
—Booklist Online

The soft, realistic, mixed-media animal portraits radiate vintage warmth well-suited to the soporific mood with muted colors and gentle strokes. Fact-filled back matter adds depth for older readers. A soothing, informative offering to lull young creatures to sleep.
—Publishers Weekly Online

The illustrations, expressing the text faithfully, have a dreamlike quality achieved with soft curved brushes that invoke the different surroundings where animals slumber. This book can be used during a pajama storytime or at home during the nighttime routine...A classic-themed picture book that will connect children with animals while sharing some basic facts about them.
—School Library Journal
Candlewick, 9781536207989, 32pp.
Publication Date: September 10, 2019
About the Author
Kate Prendergast is the author-illustrator of Dog on a Digger. After working for years in the transportation industry and raising her children, she decided to get an MA in children's book illustration at Cambridge School of Art. She lives in London.