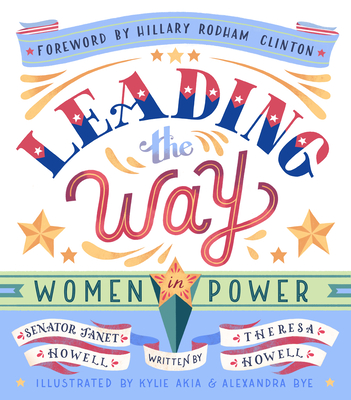 Leading the Way
Women In Power
Hardcover

* Individual store prices may vary.
Other Editions of This Title:
Paperback (1/2/2079)
Description
In this engaging and highly accessible compendium for young readers and aspiring power brokers, Virginia Senator Janet Howell and her daughter-in-law Theresa Howell spotlight the careers of fifty American women in politics — and inspire readers to make a difference. With foreword by Hillary Rodham Clinton.

Meet some of the most influential leaders in America, including Jeannette Rankin, who, in 1916, became the first woman elected to Congress; Shirley Chisholm, the first African-American woman elected to Congress; Sandra Day O'Connor, the first woman to sit on the Supreme Court; and Bella Abzug, who famously declared, "This woman's place is in the House . . . the House of Representatives!" This engaging and wide-ranging collection of biographies highlights the actions, struggles, and accomplishments of more than fifty of the most influential leaders in American political history — leaders who have stood up, blazed trails, and led the way.

Features:
Bella Abzug
Abigail Adams
Madeleine Albright
Tammy Baldwin
Mary McLeod Bethune
Hattie Wyatt Caraway
Soledad Chávez Chacón
Shirley Chisholm
Hillary Rodham Clinton
Elizabeth Dole
Tammy Duckworth
Crystal Bird Fauset
Dianne Feinstein
Geraldine Ferraro
Betty Ford
Ruth Bader Ginsburg
Ella T. Grasso
Nikki Haley
Fannie Lou Hamer
Kamala Harris
Patricia Roberts Harris
Carla Hayden
Mazie Hirono
Diane Humetewa
Kay Bailey Hutchison
Barbara Jordan
Clare Boothe Luce
Wilma Mankiller
Susana Martinez
Patsy Takemoto Mink
Carol Moseley Braun
Alexandria Ocasio-Cortez
Sandra Day O'Connor
Nancy Pelosi
Frances Perkins
Jeannette Rankin
Condoleezza Rice
Eleanor Roosevelt
Ileana Ros-Lehtinen
Nellie Tayloe Ross
Susanna Madora Salter
Lottie Shackelford
Margaret Chase Smith
Sonia Sotomayor
Elizabeth Cady Stanton
Mary Church Terrell
Elizabeth Warren
Ida B. Wells-Barnett
Edith Wilson
Victoria Woodhull
Praise For Leading the Way: Women In Power…
We learn and become inspired by example, and what better examples for girls than the brave and barrier-breaking women in Leading the Way: Women in Power? The women profiled here were once girls who not only dreamed big but went big. These women from different backgrounds, in different circumstances, chose to lead, and I hope the young readers of this book do the same!
—Former Secretary of Homeland Security Janet Napolitano

Inspiring more young women to be politically active makes this book important to our future!
—U.S. Senator Tim Kaine

It is so important that we inspire young people to become active in politics. The fifty women in this book are groundbreaking role models for our kids.
—U.S. Congresswoman Jennifer Wexton

Focusing more on each woman's achievements and major areas of interest than party affiliation or political lean, the authors offer a good mix of players on state and local as well as national stages, with a conscious eye to diversity...younger activists and public servants in search of courageous, tough-minded role models will be spoiled for choice even before they get to the concluding list of 30 "more leaders to discover." Makes a strong case that where "she persisted," others really can follow.
—Kirkus Reviews

A book that deserves to be read front to back. Girls will feel inspired by this diverse and accomplished group who made their voices heard in order to incite real change. Researchers will find a variety of heroes to study and admire.
—School Library Journal

There are many books today that deal with women's history, and this one...stands out for the breadth of its coverage, its attractive format, and the "power symbols" that accompany each two-page feature on each subject....the strong portraits of each woman, the crisp page layouts, and the wealth of information will draw in readers. The foreword by Hillary Clinton, which discusses "forging change and leading the way," makes for a strong entry to this inspiring book.
—Booklist

Virginia senator Janet Howell and...Theresa Howell offer a hearty tribute to American women leaders in this handsomely designed anthology published to coincide with the centennial anniversary of the passage of national women's suffrage in the U.S....effective visuals are the illustrators' expressive, lifelike portraits of each leader. A concise "Take-Action Guide" rounds up tips for readers inspired to act on their beliefs.
—Publishers Weekly Online
Candlewick, 9781536208467, 144pp.
Publication Date: October 8, 2019
About the Author
Senator Janet Howell has been a Virginia state senator since 1992. She is second in seniority in the state senate and the longest-serving female Virginia legislator. Credited with major legal reforms, she was also the first woman to serve on the powerful Senate Finance Committee and the first and only woman so far to be appointed as a senate budget conferee. A civil rights worker in college and a longtime community leader, she has been honored with many awards, including a Child Health Advocate Award from the American Academy of Pediatrics. She lives in northern Virginia with her husband Hunt.

Theresa Howell is the coauthor of the award-winning Maybe Something Beautiful with F. Isabel Campoy, illustrated by Rafael López. She is also the author of the picture book series Scout Moore, Junior Ranger. She lives in Colorado with her two daughters and husband, Brian.

Kylie Akia is a digital illustrator and painter. Her work creates a narrative of juxtaposition through the use of color, subject, and content. Leading the Way: Women in Power is her picture book debut. Kylie Akia lives in Chicago.

Alexandra Bye is an illustrator specializing in fun, colorful illustrations for a variety of media, such as editorial and children's publications. She lives in New Hampshire, where she enjoys backpacking, cross-country skiing, and mountain biking with her dog.
1. Many of the profiles describe incidents or conditions in the women's childhoods that influenced their lives later on. Discuss some of these influences and talk about the effects they had on the women. Have you had something happen in your life that makes you want to change society, or do you know another young person who has? Describe those situations and their consequences.
2. Identify activities the subjects did when they were children and teenagers, like Girl Scouts or student government, that gave them experience in organizing, working with other people, and being a leader. Talk about how these experiences translated into their careers and leadership skills.
3. Condoleezza Rice "believes sports are a great way to develop leadership skills" (page 79). Do you agree? Why? Which other women profiled here participated in sports?
4. Overcoming serious obstacles is a theme that runs through the profiles. Identify some of the barriers that the people in the book faced. How did they overcome them?
5. Kamala Harris's mother told her, "You may be the first to do many things, but make sure you're not the last" (page 44). What did she mean? Many of the women in this book were the first to do something important. Find examples of some of these firsts and discuss why they were significant. Figure out how long ago the women accomplished these things. Have other women followed in their footsteps?
6. While the biographies provide lots of basic facts and dates, they also weave in anecdotes and other interesting details. For example, Elizabeth Dole won a legal case by arguing that unless a lion involved in the lawsuit was present to testify, the prosecution couldn't prove their case. At one point, Kay Bailey Hutchison owned a candy company. Find other intriguing details in the profiles and discuss what they add to your knowledge and opinion of the subjects. How do such additions enhance the book's appeal?
7. "When people keep telling you that you can't do a thing, you kind of like to try it," said Margaret Chase Smith (page 91). What did she do that she was told she couldn't? What other women in the book defied advice and convention, and what were the results? Why do you think some people tell women to aim lower and be less ambitious?
8. Some of the people profiled are immigrants. Others are first-generation Americans, whose parents immigrated. Talk about the contributions of people in both categories and how the immigration experience—theirs or that of their parents—influenced and strengthened them. Discuss the diversity among the fifty leaders in the book and talk about why diversity matters.
9. "If they don't give you a seat at the table, bring a folding chair," advised Shirley Chisholm (page 20). What does that advice mean in terms of women's progress? Why don't some men want women to share power with them? What are the advantages to society of women being leaders? Discuss another of Chisholm's quotes: "Tremendous amounts of talent are being lost to our society just because that talent wears a skirt" (page 21).
10. No one is successful without the help of others. Talk about the people who helped and mentored the women in these profiles, including family, teachers, political figures, and others. What form did the help take? What was its significance in the mentored woman's life and career? Similarly, some of the women proved important to other people's careers. Find examples of this and discuss the importance to both people involved.
11. In the final section, "How to Stand Up, Speak Out, and Make a Difference," it says of the people profiled, "They are no different from you" (page 107). Talk about which of the leaders you think you most resemble and why. Then discuss which one you would most like to emulate and why. How might you do that? Is the person you are similar to the same as the one you want to be like?