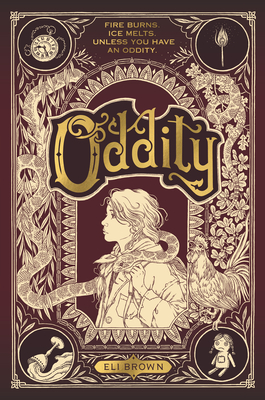 Oddity
Hardcover

* Individual store prices may vary.
Description
The daughter of a murdered physician vows to protect the magical Oddity he left behind in an alternate nineteenth century where a failed Louisiana Purchase has locked a young Unified States into conflict with France.

It's the early 1800s, and Clover travels the impoverished borderlands of the Unified States with her father, a physician. See to the body before you, he teaches her, but Clover can't help becoming distracted by bigger things, including the coming war between the US and France, ignited by a failed Louisiana Purchase, and the terrifying vermin, cobbled together from dead animals and spare parts, who patrol the woods. Most of all, she is consumed with interest for Oddities, ordinary objects with extraordinary abilities, such as a Teapot that makes endless amounts of tea and an Ice Hook that freezes everything it touches. Clover's father has always disapproved of Oddities, but when he is murdered, Clover embarks on a perilous mission to protect the one secret Oddity he left behind. And as she uncovers the truth about her parents and her past, Clover emerges as a powerful agent of history. Here is an action-filled American fantasy of alternate history to rival the great British fantasies in ideas and scope.
Praise For Oddity…
"A thrillingly original fusion of adventure, magic, and epic alternate history, Oddity zings with storytelling panache. Peopled by rich, strange, and delightful characters—both human and eerily otherwise—and featuring a superb heroine, it is inexhaustibly inventive, pouring forth new wonders with the marvelous ease of the magical Wineglass that never runs dry."
—Jonathan Stroud, author of the Lockwood & Co. series and the Bartimaeus Sequence

Set in an alternate version of early 19th-century America, where war is looming between a massive army led by Napoleon Bonaparte (the only actual historical figure mentioned in the book) and an assortment of fighters led by the ambitious Senator Auburn, this imaginative fantasy-adventure is packed with magical items. . . Rytter's striking black-and-white linocuts add to the book's dark, magical feel. This strikingly original, beautifully written fantasy novel will appeal to high-level readers seeking magical adventure.
—School Library Journal (starred review)

A determinedly offbeat historical American fantasy. Brown's first entry into children's literature preserves his peculiar brand of whimsy in an episodic, often perilous adventure enlivened by charming woodcut-style illustrations…a good choice for sophisticated readers."
—Kirkus Reviews

...reads like a richly imagined blend of Lloyd Alexander's The Black Cauldron and Philip Pullman's The Golden Compass, and it is fueled by Clover's desire to better understand her family's past and so herself. Matches that stop time, an evil witch, and a talking rooster are but a few of the wonders Brown has in store for his readers.
—Booklist

In an alternate 1822, the uneasy peace between America, the French-controlled Louisiana Territory, and the fictional Sehanna Confederation is on the verge of collapse....Carefully constructed settings, such as an intoxicating marsh derived from an endlessly refilling wine cup and the oddities at the tale's center—a perpetually freezing ice hook, time-stopping matches—mix the mundane and the impossible, driving a memorable adventure studded with light historical references and Rytter's woodcut-style illustrations.
—Publishers Weekly

From a dizzying allotment of intriguing pieces, Brown builds a strongly woven alt-history fantasy adventure that is equal parts violence and resilience, desperation and hope, with occasional doses of the grotesque. Clover makes for an admirable heroine, who builds strength through adversity and friendships through kindness. The richness of the imagined world shines through, a strength reinforced by detailed woodcut-style illustrations and a glossary of notable oddities at novel's end.
—Bulletin of the Center for Children's Books

Set in an alternate 19th century Unified States, this story begins with Clover discovering her first oddity. . . . Clover does what is needed to discover the truth. She is brave, smart, and loyal. The character's expressive dialogue, along with the vivid narration that establishes the setting, immerses the reader in this alternate 19th century world. The swift pace captures and draws the reader along. This first book in a planned duology will leave the reader longing to hear the conclusion to Clover's story.
—School Library Connection

Written with insouciant charm and ornamented by Karin Rytter's pleasantly severe woodcut-style pictures, 'Oddity' offers eccentric adventure that is true to its name.
—The Wall Street Journal

In this strange yet somehow familiar landscape, Brown offers a sweeping political backdrop of ambition, greed and the thread of endless war as his action-packed narrative races along.
—The Buffalo News
Walker Books US, 9781536208511, 368pp.
Publication Date: March 15, 2021
About the Author
Eli Brown is an acclaimed writer of adult novels. This is his first book for young people. He lives outside San Francisco.
1. The "Louisiana War" is mentioned early in the book, on page 9. Did you think this was a real war? Did you associate it with the Louisiana Purchase? This kind of writing is called "alternate history" and imagines a different past from the one that actually occurred. How would the US be different if the Louisiana Purchase had never occurred?
2. Clover has always wanted to know more about her mother—what she knew about oddities, what she did in her life, and how she died—but her father refused to tell her. Do you think he was right to withhold this information from her? Would you have wanted to know as a child?
3. Constantine, Clover's father, tells her that he kept only one oddity and that it is neobkhodimyy, which means necessary. She knows that he uses that word "only for things that really mattered. A heart was neobkhodimyy. An eye, a hand, even a kidney were not" (pages 14–15). When he is about to die, he presses his medical bag against Clover and tells her that it holds hope and that she must keep it safe. What did you think the oddity was?
4. The second oddity that Clover encounters is a rooster, known by the name of Colonel Hannibal Furlong. He is a rare "living oddity" and a military genius. Why do you think the author chose a rooster for this character? What would you have chosen?
5. "The Seamstress" is a seemingly nonthreatening nickname for the evil witch who is feared by all. She got the name because of her ability to animate dead creatures with inanimate objects and her magic thread. What do you think of these evil creatures, the vermin? What makes them scary? Why did the Seamstress create them?
6. Clover and Nessa are young women of about the same age. How are they similar? How are they different? Which one did you identify with more? Which one would you like to have for a friend, and why?
7. When Clover finds Mr. Agate, he is surrounded by boxes and packing up his oddities, preparing to flee. Clover absentmindedly opens one of the boxes, unwittingly letting out a doll who can wreak havoc. When Mr. Agate finally gets her back into her box, he tells Clover, "Susanna will not be played with" (page 106). That is not the only time that Clover encounters Susanna, nor is it the only time that Susanna brings about chaos. How and why do Susanna's personality and purpose change throughout the book?
8. On page 171, Clover says to Hannibal, "If I don't know where I come from, how can I know where I am supposed to go, what I'm supposed to be?" Do you think this is generally true?
9. Constantine and Miniver, Clover's parents, had very different ideas about how to do the most good. Constantine, the doctor, treats patients one by one, using the tools and knowledge that he has acquired, while Miniver looks at the bigger picture and dares to use magic to bring about change. She says, "How many elections, how many abolitionist meetings, how many clinics have we seen, and still: war, plague, slavery, corruption! And at the end, grinning death waiting to swallow all. Why should the innocent suffer generation after generation when we have the tools to change it?" (page 305) Which line of thinking would you follow?