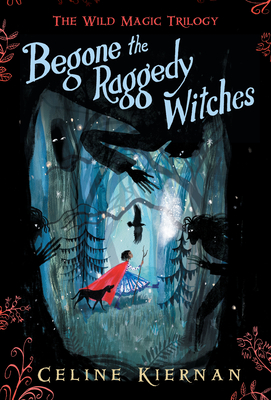 Begone the Raggedy Witches (The Wild Magic Trilogy, Book One)
Paperback

* Individual store prices may vary.
Other Editions of This Title:
Hardcover (9/11/2018)
Description
When witches kidnap her dad, Mup is swept up in a wild tide of magic that carries her to another world. Can she reunite her family and find her way back?

On the night that Aunty dies, the raggedy witches come for Mup's family. Pale, cold, and relentless, the witches will do anything for the tyrannical queen who has outlawed most magic and enforces her laws with terror and cruelty — and who happens to be Mup's grandmother. When witches carry off her dad, Mup and her mam leave the mundane world to rescue him. But everything is odd in the strange, glittering Witches Borough, even Mam. Even Mup herself. In a world of rhyming crows, talking cats, and golden forests, it's all Mup can do to keep her wits about her. And even if she can save her dad, Mup's not sure if anything will ever be the same again. First in a new trilogy by Irish author Celine Kiernan, this tale of family and forbidden magic charts a fresh path through the landscape of beloved fantasy tradition — and promises to bewitch any reader in search of stories to love.
Praise For Begone the Raggedy Witches (The Wild Magic Trilogy, Book One)…
Kiernan has crafted something at once familiar and delightfully surprising with this fantasy quest. Like biting into an unassuming brownie to discover it has a heart of Nutella, Mup's narrative has all the hallmarks of a traditional misadventure with the fairy folk, but the unusual deployment of the "chosen one" trope, a plot-driving interweave of magic and family tension, and ineffably Irish elements of worldbuilding and characterization deliver readers an unexpected twist of richness. It's fortunate a trilogy is planned, for readers will surely demand more of Mup.
—Kirkus Reviews (starred review)

Kiernan deftly weaves an enchanting tale delicately grounded in real life issues. The book subtly explores themes of dictatorship, ethical choices, and the complexity of family ties. Mup is a likable underdog whose vulnerable yet brave spirit will endear her to readers. While much familiar fantasy ground is covered, this is a solid entry featuring a strong female protagonist for younger middle grade readers.
—School Library Journal

From the author of Into the Grey (2014) comes this exciting first adventure in the Wild Magic trilogy...Kiernan finds magic in music, rhyme, and freedom of speech in this brilliant adventure into another world.
—Booklist Online

Kiernan writes with a beautiful lyricism, her narrative humming along like music.
—Buffalo News
Candlewick, 9781536208740, 288pp.
Publication Date: September 3, 2019
About the Author
Celine Kiernan is the award-winning author of several novels for young people, including Into the Grey, which won the Children's Books Ireland Book of the Year Award, and the Moorehawke trilogy. Celine Kiernan lives in Ireland.