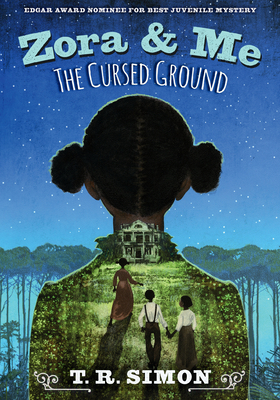 Zora and Me
The Cursed Ground
Paperback

* Individual store prices may vary.
Other Editions of This Title:
Digital Audiobook (9/10/2018)
Hardcover (9/11/2018)
Compact Disc (9/11/2018)
MP3 CD (9/11/2018)
Compact Disc (9/11/2018)
Description
A 2019 Edgar Award Nominee

A powerful fictionalized account of Zora Neale Hurston's childhood adventures explores the idea of collective memory and the lingering effects of slavery.

"History ain't in a book, especially when it comes to folks like us. History is in the lives we lived and the stories we tell each other about those lives."

When Zora Neale Hurston and her best friend, Carrie Brown, discover that the town mute can speak after all, they think they've uncovered a big secret. But Mr. Polk's silence is just one piece of a larger puzzle that stretches back half a century to the tragic story of an enslaved girl named Lucia. As Zora's curiosity leads a reluctant Carrie deeper into the mystery, the story unfolds through alternating narratives. Lucia's struggle for freedom resonates through the years, threatening the future of America's first incorporated black township — the hometown of author Zora Neale Hurston (1891–1960). In a riveting coming-of-age tale, award-winning author T. R. Simon champions the strength of a people to stand up for justice.
Praise For Zora and Me: The Cursed Ground…
"ZORA WAS BOLD and honest like a bumblebee asking to nectar on springtime flowers, and loud and fearless like a bobcat," says 12-year-old Carrie Brown, the narrator of the beautifully written ZORA AND ME: THE CURSED GROUND, by T.R. Simon…In "Zora and Me: The Cursed Ground," the two girls learn about the enslaved history of some of their town's inhabitants and the ongoing legacy of that bloody bondage.
—The New York Times Book Review

Raw depictions of slavery and its aftermath provide important context as the Eatonville community's resilience is tested in the face of injustice. The voices of Zora, Carrie, Lucia, and their families and friends make for powerful, unflinching storytelling, worthy to bear the name of a writer Alice Walker called a "genius" of African-American literature. An extraordinary, richly imagined coming-of-age story about a young Zora Neale Hurston, the long, cruel reach of slavery, and the power of community.
—Kirkus Reviews (starred review)

Simon keeps the plot moving briskly and sustains suspense even as she folds in truly profound, timely, and important themes; and one of the things Zora and Carrie have learned by book's end is that "history wasn't something you read in a book. It was everything your life stood on."
—The Horn Book (starred review)

This stunning sequel to Zora and Me is a fictionalized mystery based on Zora Neale Hurston's childhood and includes a biography of Hurston as well as a timeline of her life. T.R. Simon's writing does elegant justice to the grownup Hurston's genius as a writer as well as to the character she apparently was as a child.
—Shelf Awareness for Readers (starred review)

The story of a city separated by 48 years and a war—1903 Eatonville and 1855 Westin, as Eatonville was formerly known—is told in alternating chapters. Simon offers keen insight into how the past affects the present, no matter how many years between them. A worthy purchase for all upper middle grade and middle school collections.
—School Library Journal (starred review)

A sequel to Zora & Me (2010), which Simon coauthored with Victoria Bond, this story pays tribute to writer and anthropologist Hurston and weaves the basics of her life (she grew up in Eatonville, set many of her stories there, and, as an anthropologist, studied hoodoo practices in the Caribbean and American South) into a plausible fiction...this makes a satisfying read for historical fiction buffs.
—Booklist

In this compelling sequel to Zora and Me (both stories fictionalize the childhood of literary great Zora Neale Hurston), two best friends unearth a town's secret...Lucia's story exerts the stronger pull in much of the novel, until the two worlds collide powerfully to highlight the "unfinished business of slavery" and reveal why the town is cursed ground. The result is a thought-provoking look at racially motivated violence and the enduring wounds of slavery.
—Publishers Weekly

Zora's mischievous recklessness is a perfect foil for Carrie's more circumspect nature, leading the girls into trouble that is more exciting than dangerous; Hurston herself might well approve of this imaginative riff on her childhood.
—Bulletin of the Center for Children's Books

This is a powerful story that will stick with readers. The novel is followed by a brief biography and timeline of Zora Neale Hurston's career as an accomplished author. This stirring sequel to Zora and Me (Candlewick 2010) certainly stands on its own.
—School Library Connection

Slipping back and forth in time, layering stories and themes, the book is a lovely invocation of the idea that "however much we were each other's future, we were irrevocably one another's past." It builds to a suspenseful climax: a standoff between white landowners and the town's residents.
—Plain Dealer

Goose bumps, tears, smiles, and sighs: these were the rewards I took away from this exquisite read. I feel confident that my aunt Zora, the 'Zora of the Cosmos,' is quite delighted with the literary enchantment of T. R. Simon.
—Lucy Hurston, niece of Zora Neale Hurston and author of Speak, So You Can Speak Again: The Life of Zora Neale Hurston

A stunning work of imagination and a deeply necessary read. Young readers will not only learn about our history of slavery and Jim Crow; they will also ask themselves where they stand in American history. Zora and Me: The Cursed Ground will give rise to rich conversations about the positions we take in the unfinished business of our Civil War.
—Michael Eric Dyson, New York Times best-selling author of Tears We Cannot Stop: A Sermon to White America

Enough can't be said about the goodness of this novel—and readers will yearn for more adventures of these two girls—both young and old readers alike. A solid piece of literature, worth buying!
—YA Books Central (blog)

T.R. Simon offers a fascinating exploration of the idea of collective memory and the long shadows cast by the evils of slavery in this second, marvelous, fictionalized account of the childhood adventures of writer Zora Neale Hurston.
—Buffalo News

Here's a wise, poetic and galvanizing combination: historical fiction, mystery, and themes so current it's heartbreaking...Simon imagines the writer Zora Neale Hurston as a sleuth of a child in this fictional mystery, highlighting Hurston's capacious imagination and curiosity. Even more probingly, she invites her readers to think hard about the unfinished business of American slavery and today's racism. A thoroughly gripping story and a lively portrait of friendship.
—Toronto Star

In a riveting coming-of-age tale, award-winning author T. R. Simon champions the strength of a people to stand up for justice.
—YABookCentral.com
Candlewick, 9781536208887, 272pp.
Publication Date: May 12, 2020
About the Author
T. R. Simon is the co-author, with Victoria Bond, of the 2011 John Steptoe New Talent Author Award winner Zora and Me. She is also the co-author, with Richard Simon, of Oskar and the Eight Blessings, illustrated by Mark Siegel and winner of the National Jewish Book Award for Children's Literature. T. R. Simon lives in Westchester County, New York.