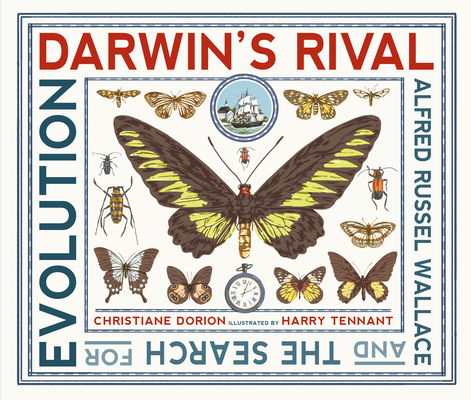 Darwin's Rival
Alfred Russel Wallace and the Search for Evolution
Hardcover

* Individual store prices may vary.
Description
A beautifully illustrated volume follows a lesser-known Victorian naturalist and explorer on his global journeys — and reveals how he developed his own theory of evolution.

Everyone knows Charles Darwin, the famous naturalist who proposed a theory of evolution. But not everyone knows the story of Alfred Russel Wallace, Darwin's friend and rival who simultaneously discovered the process of natural selection. This sumptuously illustrated book tells Wallace's story, from his humble beginnings to his adventures in the Amazon rain forest and Malay Archipelago, and demonstrates the great contribution he made to one of the most important scientific discoveries of all time.
Praise For Darwin's Rival: Alfred Russel Wallace and the Search for Evolution…
Tennant gives the slightly oversized volume the feel of a collector's album with ranks of accurately drawn tropical beetles, birds, and other specimens. These he intersperses with portraits of eminent colleagues, images of collecting gear, and verdant scenes of the white explorer at work either alone or with one or more Indigenous assistants (the latter only sometimes identified, or even mentioned, in the narrative). A case study of science at its idealistic and paradigm-changing best.
—Kirkus Reviews (starred review)

Many well-chosen quotes bring Wallace's lively voice into the narrative. Reminiscent of detailed linocut prints using several coordinated colors, the handsome digital illustrations are equally effective in creating maps, portraits, displays of collected insects, and panoramic scenes of Wallace crossing oceans, deserts, and rain forests. An absorbing introduction to a notable figure in science history.
—Booklist (starred review)
Candlewick Studio, 9781536209327, 64pp.
Publication Date: March 17, 2020
About the Author
Christiane Dorion's passion for writing children's books stems from the thousands of questions she asked as a child, many of which remained unanswered: How big is the universe? When did life begin? Originally from Canada, she moved to the United Kingdom to get a Ph.D. in environmental education before working for World Wildlife Federation, United Kingdom, and later becoming an educational consultant. Her award-winning books are intended to inspire children to explore the complex systems of the world we live in and help protect it. Christiane Dorion lives in Surrey, U.K.

Harry Tennant is London-born, but escaped to the coves of Cornwall to study illustration at University College Falmouth before returning to the capital of the United Kingdom once more. He now works as a freelance illustrator, using a mixture of hand-drawn and digital media to create his illustrations, and primarily produces artwork for magazines and book covers. Harry Tennant lives and works in Hackney, U.K.