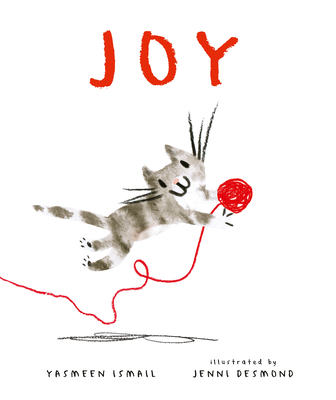 Joy
Hardcover

* Individual store prices may vary.
Description
Oh, boy! Oh, boy! A lively kitten is full of joy until she takes a tumble. Can a little comfort from someone special help her feel happy again?

A bouncy kitten loves to play. She scampers from the bed where her mother sleeps. She wriggles and races all through the room, chasing her ball of yarn, until — TRIP, TRIP, SLIP, FLIP! OH, NO! A romp with a big blue dog sends the kitten tumbling! Who can make things better again? Award-winning author-illustrator pair Yasmeen Ismail and Jenni Desmond celebrate the love between a parent and a little one with this buoyant, rhythmic read-aloud. Simple, playful language captures the kitten's irresistible energy, while cheerful mixed-media illustrations create a cozy world for all the adorable action. RUN, RUN, FUN, FUN. This story is pure joy.
Praise For Joy…
Uncluttered, white backgrounds; clear, colorful details; a buoyant protagonist; and a spirited text make this a perfect choice for one-on-one or group sharing. A satisfying, full-fledged story that deftly accommodates the short attention spans and kinetic needs of young listeners.
—Kirkus Reviews (starred review)

Rhyming text and onomatopoeia (like "Jingle jangle, wriggle wrangle, in a tangle") are fun to vocalize as readers cheerfully witness Joy's antics. Acting much like any toddler, the gray-and-black tabby knows no fear until she has a slight accident and requires a bit of comforting...After receiving just the right amount of cuddling, Joy's energy ramps right back up—"Oh, boy! Oh, boy!"—and she's back to her spirited explorations. This delightful kitten will charm readers of any age.
—Booklist (starred review)

Feather-light artwork by Desmond (The Elephant) comprises dashes of bright color (the laundry), feathery green leaves (of houseplants), and strong, simple forms (of big dog and cat), which invite readers to follow cause-and-effect trails while underscoring the healing power of parental attention.
—Publishers Weekly

Simple, adorable illustrations and rhythmic text engage readers from the start. Adults will certainly recognize the lovable toddler-like chaos the young kitten creates, and the aloof posture of the other two pets. This charming book will make its way into story hours, and is a recommended purchase for most libraries.
—School Library Journal
Candlewick, 9781536209341, 32pp.
Publication Date: June 9, 2020
About the Author
Yasmeen Ismail is an award-winning author, illustrator, and animator whose debut children's book, Time for Bed, Fred!, was named a New York Times Best Illustrated Children's Book of the Year and the V&A Illustration Award winner. She is the author-illustrator of Christmas for Greta and Gracie and many other books for children. Yasmeen Ismail lives in Bristol, England, with her husband, their toddler, and Betty the cat.

Jenni Desmond is an award-winning author and illustrator whose books have been translated into more than twenty languages. In 2016, she was a Maurice Sendak Fellowship recipient. She is the illustrator of On the Night of the Shooting Star by Amy Hest and the author-illustrator of Albert's Tree, among many other books for children. Jenni Desmond lives in East London with her husband and their daughter.