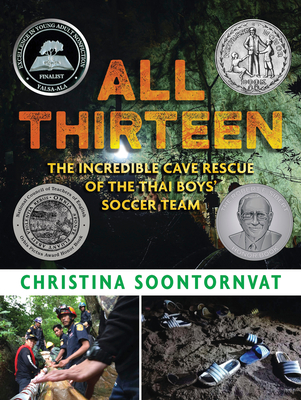 All Thirteen
The Incredible Cave Rescue of the Thai Boys' Soccer Team
Hardcover

* Individual store prices may vary.
Description
Winner of the 2021 Kirkus Prize for Young People's Literature
A 2021 Newbery Honor Book
A 2021 Robert F. Sibert Honor Book
A 2021 YALSA Award for Excellence in Nonfiction for Young Adults Finalist
A 2021 Orbis Pictus Honor Book

A unique account of the amazing Thai cave rescue told in a heart-racing, you-are-there style that blends suspense, science, and cultural insight.

On June 23, 2018, twelve young players of the Wild Boars soccer team and their coach enter a cave in northern Thailand seeking an afternoon's adventure. But when they turn to leave, rising floodwaters block their path out. The boys are trapped! Before long, news of the missing team spreads, launching a seventeen-day rescue operation involving thousands of rescuers from around the globe. As the world sits vigil, people begin to wonder: how long can a group of ordinary kids survive in complete darkness, with no food or clean water? Luckily, the Wild Boars are a very extraordinary "ordinary" group. Combining firsthand interviews of rescue workers with in-depth science and details of the region's culture and religion, author Christina Soontornvat—who was visiting family in Northern Thailand when the Wild Boars went missing—masterfully shows how both the complex engineering operation above ground and the mental struggles of the thirteen young people below proved critical in the life-or-death mission. Meticulously researched and generously illustrated with photographs, this page-turner includes an author's note describing her experience meeting the team, detailed source notes, and a bibliography to fully immerse readers in the most ambitious cave rescue in history.
Praise For All Thirteen: The Incredible Cave Rescue of the Thai Boys' Soccer Team…
The term page-turner gets tossed around a lot, but All Thirteen is the real deal. Even if you think you know this story, you won't be able to stop reading.
—Steve Sheinkin, award-winning author of Bomb and Undefeated

All Thirteen is one of the best middle-grade nonfiction books that I have ever read. Even though I knew how this story was going to end, I found myself captivated from beginning to end. Christina Soontornvat did a marvelous job bringing this inspiring rescue to young readers.
—Colby Sharp, cofounder of Nerdy Book Club

A nonfiction marvel.
—Minh Lê, award-winning author of Drawn Together

Soontornvat selects details and measures her pacing with the practiced hand of a master storyteller, and while everything is supported by meticulous research, the prose never suffers from information density; rather, every aside—whether on hypothermia, ketamine, or Navy SEAL training—adds tension through understanding. Readers who already know the outcome will nonetheless be enthralled by this singular tale that captures the importance of STEM education, the beauty of Thailand, and the best of humanity—collaboration, innovation, sacrifice, family, and love.
—Booklist (starred review)

In lucid prose written in third-person-present tense for a heightened sense of immediacy, Soontornvat gives readers a journalistic account of the difficulty and complexity of the rescue effort. Using interviews and other primary sources, she keeps a tight focus on the unfolding story, with its inherent edge-of-your-seat, heart-in-your-throat drama, adroitly juggling a parade of characters, clearly laying out the technical and engineering challenges, and judiciously parsing out expository information in the occasional sidebar.
—The Horn Book (starred review)

An in-depth account of a harrowing real-life mission that succeeds against all odds...Masterful storytelling fleshes out the complex human emotions behind key decisions, illuminates diplomatic and political negotiations, and underscores an unwavering faith—in maintaining hope and in harnessing powers of the mind. Thoughtfully researched, expertly crafted.
—Kirkus Reviews (starred review)

Soontornvat's narrative nonfiction account shares these events and those that led to the rescue along with intricate details about caverns, sump diving, and other scientific details that emphasize the harrowing conditions of the rescue. She also touches on Thai culture, immigration issues, Buddhism, and religion...This stellar nonfiction work reads like a heart-pounding adventure story. Every library should have a copy.
—School Library Journal (starred review)

Soontornvat masterfully chronicles this amazing undertaking, in which incredible ad hoc feats of engineering became commonplace. Her narration and the testimonies of the numerous figures she interviewed are suspenseful and deeply felt. Interspersed with All Thirteen's gripping account are fascinating, accessible analyses – supplemented by photos, diagrams, maps and more – of the cultural, technological, scientific and spiritual considerations that affected the rescue effort, from Buddhism to climate change to political protocol...All Thirteen is an inspiring testament to those 18 fateful days of communal empathy, determination and hope. In Soontornvat's talented hands, it's at once a nail-biter and a revelation: "This rescue was impossible, and they did it anyway."
—BookPage (starred review)

In her nonfiction debut, Soontornvat (Simon at the Art Museum) presents a well-researched, comprehensive look at the 2018 rescue of the Wild Boars juvenile soccer team from Thailand's flooded Tham Luang Nang Non cave...Soontornvat delivers humanizing coverage of a harrowing event, attempting to decenter Western media's lens with great success. Back matter includes an author's note and a bibliography
—Publishers Weekly Online (starred review)

Soontornvat's narrative moves smoothly between those stranded deep within the cave (which eventually included four rescuers who chose to stay with them), local and national officials whose competence and reputation were at stake, and diverse teams of recruits and volunteers, whose energy and goodwill sometimes exceeded their effectiveness...Most spreads feature at least one color photograph or a schematic of a cave or recovery system; well-placed insets add cultural and scientific notes. An author note remarks on Soontornvat's research and personal experiences, and annotated source notes, a bibliography, and index will also be provided.
—Bulletin of the Center for Children's Books
Candlewick, 9781536209457, 288pp.
Publication Date: October 13, 2020
About the Author
Christina Soontornvat is the author of several books for young readers, including The Blunders, illustrated by Colin Jack, and the middle-grade fantasy novel A Wish in the Dark. She holds a bachelor's in mechanical engineering and a master's in science education. Christina Soontornvat lives with her family in Austin, Texas.
1. What is your impression of the boys as a group? How do they interact with each other and with their coach? Does the time in the cave change their relationships? Describe a few of those trapped in the cave and how the author conveys their personalities.
2. Why did Coach Ek and the boys have reason to believe it would be safe to visit the cave? What unexpected forces of nature worked against them? What role might climate change have played in this? Explain geographical features and aspects of weather that made the rescue difficult. What made their days in the cave dangerous?
3. Different groups involved in the rescue had different opinions about how it should be done. At one point, the author writes, "Relationships between the diving team and the Thai authorities become tense." (p. 99) What are the different opinions? How is conflict resolved at this point and other times during the rescue?
4. Cultural differences crop up at various times in the rescue. In the situation in the previous question, the Thai military considered the divers rude. Later in the cave, the divers "seem stunned that the kids are so upbeat." (p. 140) Discuss these and other cultural differences. How would understanding each other's culture help in these situations?
5. Why was there resistance to a dive rescue? What were the other possible rescue solutions, and what were the problems with each alternative?
6. Even if you know before reading the book that the boys survived, the narrative is suspenseful. What is innately dramatic about the story? What emotions does it raise in you as a reader? What narrative techniques does the author use to intensify the suspense?
7. The author draws readers into the story through imagery and figurative language. She also uses words related to the senses to make scenes come alive. Find examples of these narrative devices and discuss their impact. Also discuss the use of the present tense and its effect on the narrative.
8. How do the visual aspects of the book help convey information, personalities, and emotions? How do the maps and diagrams make the rescue operation easier to understand? Discuss the use of sidebars and what they add to your understanding of technical topics and of Thai culture.