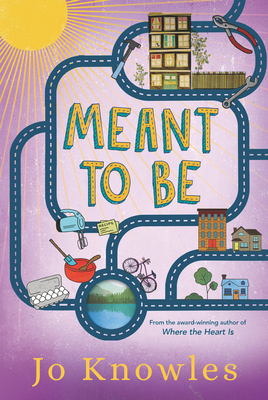 Meant to Be
Hardcover

* Individual store prices may vary.
Description
In a companion to Where the Heart Is, the lens turns to younger sister Ivy as she fields the joys and pitfalls of new friendship, hones her passion for baking, and resists the idea of change.

Ivy loves living in Applewood Heights. The family's apartment is tiny, and her older sister, Rachel, won't stop grumbling about sharing a room after their old house was lost to foreclosure. But for the first time, Ivy has friends. Lucas and Alice live close by, and every week all three watch their favorite cooking show and practice baking together (even if Ivy has to find creative substitutes for the pricey ingredients). But Ivy is a worrier, and this summer there's plenty to be anxious about. Her parents can't wait to move to a bigger, nicer place, which is the last thing Ivy wants. Then Alice receives devastating news, and Ivy somehow manages to say just the wrong thing. Will Alice ever stop being mad at her?

Ivy finds much-needed reassurance, and a boost of confidence, when she starts working with the building superintendent, who teaches her how to fix things. Ivy has a natural talent, but she comes to realize that some things—like hurt feelings—are harder to fix than others. Luckily, Ivy is pretty good at making up her own recipes as she goes along. In an honest, hopeful companion to Where the Heart Is, Jo Knowles puts quirky, tenacious Ivy in the spotlight—as she tries to figure out exactly where she's meant to be.
Praise For Meant to Be…
Strong-willed Ivy, introduced in Where the Heart Is (Candlewick Press 2021), returns with her spunky personality undiminished. . . Her nine-year-old viewpoint on experiences of friendship, baking, watching cooking shows, fixing things (her true forte), and her general worries are sure to resonate with young readers, especially fans of the Junie B. Jones series.
—School Library Connection

Knowles has again created a thoughtful, realistic story from multiple perspectives that illustrates how some problems can't be solved instantly. Ivy grows, as do her family and friends, and the narrative ends with a new future to tackle. Though a sequel, this novel stands strongly on its own.

—Booklist

Meant to Be shines a light on the wonderful, kindhearted kids who sometimes fall through the cracks. Ivy's voice—and her bike-fixing, pancake-making, friendship-mending determination—will stay with me for a long time.
—Kate Messner, award-winning author of The Seventh Wish

A wonderful, tender-hearted story of friendship, empathy, and baking lessons with vivid characters that will resonate with all those who long to have things stay the same in a world that is always changing.
—Christina Diaz Gonzalez, award-winning author of The Red Umbrella

Meant to Be will melt your heart like butter on a sunny day. Ivy is energetic, optimistic, and funny. We all need Ivy in our lives, especially now.
—Debbi Michiko Florence, award-winning author of the Jasmine Toguchi series

Jo Knowles has done it again! Meant to Be offers a touching portrait of a realistically imperfect kid trying her best to be a good person and a better friend.
—Megan Frazer Blakemore, author of the Frankie Sparks, Third-Grade Inventor series

With Ivy, young readers will find the perfect companion to trek through all the complex feelings that come with growing up. From the joy of new friendships to the reality of learning what it means to be truly empathetic, this book is an emotional gem.
—Kat Yeh, award-winning author of The Truth About Twinkie Pie

Utterly delicious! Ivy's a rare treat—a friend with an upbeat attitude who puts her whole heart into helping others.
—Lisa Papademetriou, author of the Confectionately Yours series
Candlewick, 9781536210323, 224pp.
Publication Date: April 12, 2022
About the Author
Jo Knowles is the award-winning author of the middle-grade novels See You at Harry's, Still a Work in Progress, and Meant to Be. She is also the author of the young adult novels Where the Heart Is and Read Between the Lines, among others. Jo Knowles lives in Vermont.