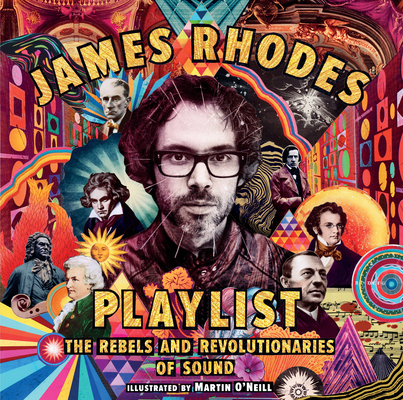 Playlist
The Rebels and Revolutionaries of Sound
Hardcover

* Individual store prices may vary.
Description
In a stunning and innovative performance, piano maestro James Rhodes introduces today's readers to seven of the greatest composers of all time.

Bach. Mozart. Beethoven. Old guys with curly wigs, right? But trust me: those composers were the original rock stars.

Open your mind to some of the most breathtaking and magnificent pieces of music ever created, and find out why the rebels and revolutionaries who wrote them are responsible for every track on your phone today. Discover their backstories and how each one shaped and defined classical music. Learn about the structure of an orchestra, the language of music, and the history of musical periods. With jaw-dropping artwork and avant-garde design, this visually exquisite celebration of classical music is a surefire hit for both first-time listeners and longtime fans. Budding aficionados will appreciate the online playlist featuring James Rhodes's favorite selections.
Praise For Playlist: The Rebels and Revolutionaries of Sound…
Using colloquial language, pop-culture references, and even an emoji, Rhodes makes history and music come alive. Surreal, psychedelic collages by artist O'Neill (Unthinkable, 2018, etc.) reminiscent of Monty Python intros make the book an eye-popping visual experience as well. This dynamic and infectious introduction to classical music is sure to capture a new generation of musicophiles.
—Kirkus Reviews (starred review)

When first approaching any art, nothing enhances the experience like encouragement from a friend in love with the work, and that's the role played here by concert pianist Rhodes in this vibrant introduction to classical music. His love is palpable, sure to infect anyone who gives classical music (and this book) a chance...More than just a gift book, this provides an easy and entertaining launchpad for music lovers curious about classical but unsure where to start.
—Booklist (starred review)

To counter the idea that 'classical music is... dull [and] irrelevant,' Rhodes, a pianist, constructed a guided introduction to a Spotify playlist featuring pieces by seven composers: Bach, Beethoven, Chopin, Mozart, Rachmaninoff, Ravel, and Schubert…[Rhodes]'s enthusiasm is infectious. O'Neill's pleasingly trippy Sgt. Pepper-esque collages slyly reposition bewigged men as psychedelic revolutionaries.
—Publishers Weekly (starred review)
Candlewick Studio, 9781536212143, 72pp.
Publication Date: October 8, 2019
About the Author
James Rhodes is a best-selling author, TV presenter, and celebrated concert pianist dedicated to bringing classical music into the twenty-first century. His sell-out concerts at pop music venues, with no coats and tails in sight, are bringing classical music to new audiences worldwide. He is the first core classical pianist to be signed to Warner Bros. Records, the world's largest rock label. Originally from London, he lives in Madrid.

Martin O'Neill is an artist and illustrator who creates unique handmade images using a vast collection of found ephemera and photography. He develops his images through a subtle alchemy of collage, silkscreen, and photocopies. A constantly moving array of processes and media fuel his practice, which includes writing and experimental filmmaking. Martin O'Neill lives in London.