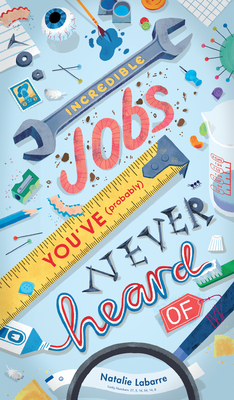 Incredible Jobs You've (Probably) Never Heard Of
Hardcover

* Individual store prices may vary.
Description
Do you know what you want to do when you grow up? Why not work as a babysitter . . . for sloths? Or become a farmer . . . of corpses? You might even grow up to be someone who gets paid to actually sleep on the job! From taste testers to dinosaur dusters, there are all kinds of incredible jobs that you've probably never heard of — and one of them might be just right for you!
Praise For Incredible Jobs You've (Probably) Never Heard Of…
From funeral clown to cheese sculptor, a tally of atypical trades. This free-wheeling survey, framed as a visit to "The Great Hall of Jobs," is designed to shake readers loose from simplistic notions of the world of work...the author closes with the perennial insight that it's essential to love what you do and the millennial one that there's nothing wrong with repeatedly switching horses midstream. The many adult figures and the gaggle of children (one in a wheelchair) visiting the "Hall" are diverse of feature, sex, and skin color. Chicken sexer? Breath odor evaluator? Cryptozoologist? Island caretaker? The choices dazzle!
—Kirkus Reviews

This fascinating exploration of different ways people make a living features more than 60 incredible occupations...From the adventurous (smoke jumper), creative (cheese sculptor), and even the slightly spooky (body farmer), there is a perfect job out there for everyone. This book is a playful reminder that everyone is unique, not only in their appearance and background, but also in the way they contribute to the world and workforce.
—School Library Journal

This oversize picture book suggests a variety of slightly off-the-beaten-path occupations for young readers...This might not seem like a first choice for the career section, but the important message about following your passion—breath odor evaluator? Imax screen cleaner?—comes through loud and clear.
—Booklist
Nosy Crow, 9781536212198, 48pp.
Publication Date: April 14, 2020
About the Author
Natalie Labarre has had many jobs — from scrubbing pots and selling dolls to exterminating rats and singing in Japan. Now Natalie is doing what she loves most: animating, illustrating, writing, and most importantly, staying far, far away from rodents. Her obsessions include spooky podcasts, useless facts, and overheard conversations. She lives in New York.