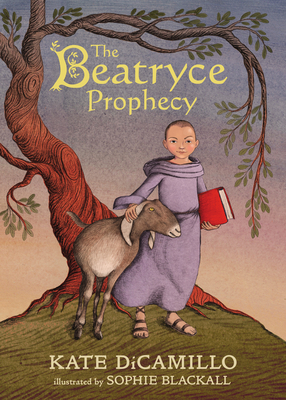 The Beatryce Prophecy
Hardcover

* Individual store prices may vary.
Other Editions of This Title:
Digital Audiobook (9/27/2021)
CD-Audio (10/26/2021)
Library Binding, Large Print (11/3/2021)
September/October 2021 Kids Indie Next List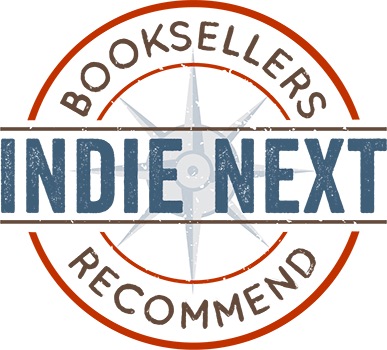 "Kate DiCamillo weaves a medieval tale that reads like a classic fable. This ode to stories will leave readers feeling comforted, like they are securely holding onto the ear of a beloved goat."
— Julie Jarema, Avid Bookshop, Athens, GA
View the List
Description
A 2021 People Magazine Best Books of Fall Winner!

From two-time Newbery Medalist Kate DiCamillo and two-time Caldecott Medalist Sophie Blackall comes a fantastical meditation on fate, love, and the power of words to spell the world.

We shall all, in the end, be led to where we belong. We shall all, in the end, find our way home.

In a time of war, a mysterious child appears at the monastery of the Order of the Chronicles of Sorrowing. Gentle Brother Edik finds the girl, Beatryce, curled in a stall, wracked with fever, coated in dirt and blood, and holding fast to the ear of Answelica the goat. As the monk nurses Beatryce to health, he uncovers her dangerous secret, one that imperils them all—for the king of the land seeks just such a girl, and Brother Edik, who penned the prophecy himself, knows why.

And so it is that a girl with a head full of stories—powerful tales-within-the-tale of queens and kings, mermaids and wolves—ventures into a dark wood in search of the castle of one who wishes her dead. But Beatryce knows that, should she lose her way, those who love her—a wild-eyed monk, a man who had once been king, a boy with a terrible sword, and a goat with a head as hard as stone—will never give up searching for her, and to know this is to know everything. With its timeless themes, unforgettable cast, and magical medieval setting, Kate DiCamillo's lyrical tale, paired with resonant black-and-white illustrations by Caldecott Medalist Sophie Blackall, is a true collaboration between masters.
Praise For The Beatryce Prophecy…
Somehow, DiCamillo manages to fit a medieval epic into just over 250 pages—and that includes many glorious black-and-white illustrations by Blackall that one can easily envision stitched upon a tapestry. DiCamillo fills her narrative with humor and love . . a gently feminist tale where stories carry the same power as magic and are, perhaps, one and the same.
—Booklist (starred review)

The story is told in language as clear and beautiful as an illuminated manuscript, with characters who spring instantly to life. The fairy-tale conventions give it a sense of timelessness and omnipresence. . . Blackall's luminous black-and-white illustrations and medieval-style spot art add to this feeling and are wonderful at conveying emotion through posture, pose, and delicate linework. . . . A book with an angelic soul: large, sharp, and uncompromising.
—Kirkus Reviews (starred review)

Set "during a time of war" when "terrible things happen everywhere," Newbery Medalist DiCamillo's engrossing medieval fable verges on darkness while examining what changes a world. . . . Tenderly illuminated by Caldecott Medalist Blackall's atmospheric, fine-lined b&w art, this compassionate tale rejoices in "the wonder of being known," the protective powers of understanding one's identity, and the strength found in the hard head of a beloved goat.
—Publishers Weekly (starred review)

The pairing of two-time Newbery Medalist DiCamillo and two-time Caldecott Medalist Blackall is a magical alchemy. Blackall's black-and-white pencil drawings and ornamented initials convey a medieval setting, while DiCamillo's elegant, honed prose weaves a beautiful tapestry of true friends, a feisty goat, and a road to a castle where destiny will unfold.
—The Horn Book (starred review)

Melding the language of prophecies with that of fairy tales and whispered dreams, Newbery Medal winner Kate DiCamillo's latest novel for young readers is both feminist and sweet. . . a gentle and wondrous tale that celebrates knowledge, kindness, and the boundless power of the imagination. . . . Delicate illustrations and rich fairy tales run throughout the book, which stirs hope and joy at every turn.
—Foreword Reviews (starred review)

The deeply satisfying conclusion finds villains properly vanquished, the prophecy fulfilled with a clever spin, and happily-ever-afters grounded on friendships and strong ethics all round.
—The Bulletin of the Center for Children's Books (starred review)

In The Beatryce Prophecy, the talents of two-time Newbery medalist Kate DiCamillo and two-time Caldecott medalist Sophie Blackall combine to create an unforgettable medieval epic that illustrates the magical and myriad ways that love and stories change the world. Delightfully unexpected allies find profound connection through a common belief in the importance of compassion, even in the face of evil. . . . With her trademark lyrical language and flair for storytelling, DiCamillo (Flora & Ulysses; Because of Winn-Dixie) writes like a patient knitter untangling a ball of yarn as she knits.
—Shelf Awareness, Kids' Maximum Shelf

The descriptive text results in vivid settings that could serve as a fictional component to a medieval unit. This title also fits the bill for teachers looking for a heroine that uses her brains and courage instead of a sword, and one who is not objectified for her physical attributes.
—School Library Connection

A monk finds a girl in a barn. She can't remember her name, but she can read, which means she belongs to someone rich and important. Could she be the girl prophesized to 'unseat a king?'
—People Magazine

A brilliant meditation on love, family, trust, and the stories that bind us to each other.
—The New York Journal of Books

I feel like Kate DiCamillo's books are birthed into the world at precisely the right time… at exactly the moment when we need them most. . . thus is the true power of the book: it is both timely and timeless.
—The Roarbots
Candlewick, 9781536213614, 256pp.
Publication Date: September 28, 2021
About the Author
Kate DiCamillo is one of America's most revered storytellers. She is a former National Ambassador for Young People's Literature and a two-time Newbery Medalist. Born in Philadelphia, she grew up in Florida and now lives in Minneapolis.

Sophie Blackall is the acclaimed illustrator of more than forty-five books for young readers and a two-time Caldecott Medalist. Born and raised in Australia, she now lives in Brooklyn.


Based on the cover of the book, what do you predict the story will be about?


Looking back on the book, why did the author choose to start with Answelica? Would this indicate that the author thinks that the goat is the most important character? Who do you think is the most important character?


There are clues throughout the book that the counselor is evil, as Beatryce describes him on page 234. What are some of these clues?


Why is the counselor, and thus the king, so afraid of Beatryce?


The phrase "a time of war" is repeated several times in the book. Why do you think the author chose to include this phrase when the literal war was not actually very important to the plot of the story?


A prophecy is the basis for the plot and Beatryce's journey. Do you think the prophecies were actually coming true? Use evidence from throughout the book to support your answer.


When Beatryce touches Answelica, it is like "an anchor for herself in a dark and fast-moving river" (page 85). Do you have a comfort object that helps settle you when you are feeling conflict?


Throughout the book, the author includes descriptions of sounds and smells, such as "He heard the buzz of a bee" (page 93). Why would the author want to include these elements?


Jack believes that Granny Bibspeak may have come back to life as a bee (page 93). If you could come back as an animal in a new life, what animal would you choose and why?


Cannoc has a tendency to find songs everywhere. Look at his songs on pages 108, 208, and 219–220. How do you think the songs sound?


On page 112, Jack Dory decides to lie to Cannoc because he "felt this was a situation for lying." Do you ever think it is OK to lie? Why or why not?


On page 118, Beatryce lists some reasons why she trusts her companions. What are some indications to you that you can trust someone?


On page 123, the innkeeper's wife says she knows nothing, but she also helps Brother Edik. Why does she act the way she does?


Cannoc decided to leave his spot as king. While many people strive to be famous and in power, he left it all behind. Why would he make this choice?


What are the differences between the two tutors described on pages 150–151, and how did their differences affect Beatryce?


On pages 157–158, Beatryce dreams a different dream than she has during the rest of the book. Why did her dream change?


How is the mermaid story (pages 205–207, 212–215, 222–224, 230–232, and 245) similar to Beatryce's story?


Beatryce chooses her mom to be queen. Do you think her mom was the best choice?


What do you believe the theme of The Beatryce Prophecy is?