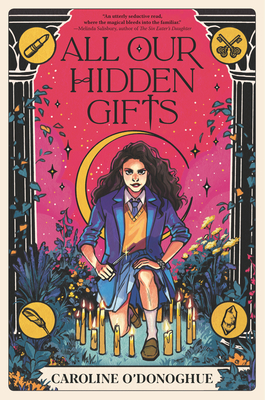 All Our Hidden Gifts
Hardcover

* Individual store prices may vary.
Other Editions of This Title:
Compact Disc (6/8/2021)
MP3 CD (6/8/2021)
Description
Maeve's strangely astute tarot readings make her the talk of the school, until a classmate draws a chilling and unfamiliar card—and then disappears.

After Maeve finds a pack of tarot cards while cleaning out a closet during her in-school suspension, she quickly becomes the most sought-after diviner at St. Bernadette's Catholic school. But when Maeve's ex–best friend, Lily, draws an unsettling card called The Housekeeper that Maeve has never seen before, the session devolves into a heated argument that ends with Maeve wishing aloud that Lily would disappear. When Lily isn't at school the next Monday, Maeve learns her ex-friend has vanished without a trace.

Shunned by her classmates and struggling to preserve a fledgling romance with Lily's gender-fluid sibling, Roe, Maeve must dig deep into her connection with the cards to search for clues the police cannot find—even if they lead to the terrifying Housekeeper herself. Set in an Irish town where the church's tight hold has loosened and new freedoms are trying to take root, this sharply contemporary story is witty, gripping, and tinged with mysticism.
Praise For All Our Hidden Gifts…
"An utterly seductive read, where the magical bleeds into the familiar."
—Melinda Salisbury, author of The Sin Eater's Daughter

"All Our Hidden Gifts is a magical surprise of a book, the perfect combination of heartfelt and thrilling, unpredictable and familiar. The startling and unique story lets us imagine and worry and love and reach for the truth right alongside Maeve. It is easy and exciting to get lost in this witchy, mysterious, and deeply layered story."
—Corey Ann Haydu, author of OCD Love Story and Ever Cursed

An immersive tale of brave, vulnerable teens facing threats both real and fantastic.
—Kirkus Reviews (starred review)

Ghostly menace, queer liberation, and sweet nonbinary romance all find room in this modern Irish contemporary. . . O'Donoghue (Scenes of a Graphic Nature) infuses fierce integrity and an understanding of self-worth into a hilarious voice. . .the novel's brilliant connections between friendship, boundaries, and the vulnerability of loneliness provide a vibrant compass for fans of Sarah Rees Brennan or Derry Girls.
—Publishers Weekly (starred review)

With a deft hand, O'Donoghue crafts a narrative that is steeped in both classic gothic atmosphere and contemporary representation. . .Stefanie Caponi's tarot card illustrations are hauntingly perfect companions to the text. Much like the novel, the cards appear deceptively familiar at first glance. The stakes are high, the narrative is nuanced, and the climax and resolution are refreshingly unexpected. Expect readers to fall into this blurred tale of the normal and the paranormal.
—School Library Journal
Walker Books US, 9781536213942, 384pp.
Publication Date: June 8, 2021
About the Author
Caroline O'Donoghue is an Irish author, journalist, and host of the acclaimed podcast Sentimental Garbage. She has contributed to Grazia, the Irish Times, the Irish Examiner, BuzzFeed, Vice, and The Times (London). She lives in London.