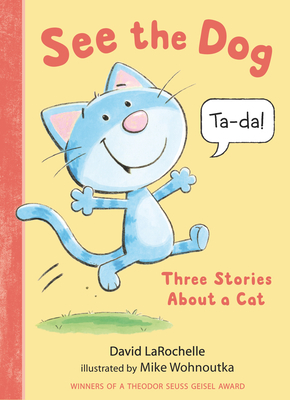 See the Dog
Three Stories About a Cat (See the Cat)
Hardcover

* Individual store prices may vary.
Description
What happens when a cat tries to be a dog? With this second wry primer, the creators of See the Cat return to demonstrate that standing in for a friend can be trickier than expected.

The dog is sick today, but have no fear—the cat is happy to take his place! But when the book (who is very bossy) tells her to dig a hole, the dirt-averse cat finds a way to accomplish the task while keeping her fur pristine. And when the book demands that she fetch a stick (in the water!) or guard a sheep (from a wolf!), the cat responds in very un-doglike ways. Can the book and the cat reach a happy ending? With simple, repetitive phrases and tongue-in-cheek humor, this spoof on a classic early reader pits a well-meaning but slightly dramatic cat against a highly persistent book in a comical battle of wits that will have kids yowling.
Praise For See the Dog: Three Stories About a Cat (See the Cat)…
Gouache illustrations capture the hilarity and readers will enjoy the three vignettes that provide a complete narrative arc of Cat's day subbing in for Dog. . . . Using simple language, humorous speech bubbles, and laugh-out loud funny illustrations ­LaRochelle has another winning early chapter book that readers will enjoy having read to them as well as conquering on their own.
—School Library Journal (starred review)

The playful rebellion against the repetitive Dick-and-Jane pattern makes for nonstop, rip-roaring fun. Using around 130 words and their variants, the careful yet deliciously over-the-top writing keeps the text accessible yet engaging. Wohnoutka's full-color cartoon illustrations hilariously accentuate the cat's histrionics. While most illustrations appear solely on the recto, a few well-placed double-page spreads add some delightful surprises. . . . See this book fly off the shelves.
—Kirkus Reviews (starred review)

The subversion of the static text with contradicting or simply goofy visuals cleverly brings the story to a meta level, but youngsters can still hone their burgeoning skills on the narrator's direct, simple sentences. Fans of See the Cat will be delighted to see the cat here, as will readers of Willems' We Are in a Book! (BCCB 10/10) and Scieszka's Battle Bunny (BCCB 12/13).
—The Bulletin of the Center for Children's Books

The seemingly straightforward text sets up the wonderfully comical gouache illustrations. . . A well-designed, irresistibly funny sequel for beginning readers.
—Booklist

LaRochelle's few but hilarious words and Wohnoutka's cheery illustrations are a winning combination.
—The Star Tribune

Early readers will eagerly recite and then read these total hoots again and again, which is the goal.
—Arkansas-Democrat Gazette

A clever premise, a rollicking pace and exuberant illustrations make 'See the Dog' a must-see choice.
—The Florida Times-Union

The sprightly fun is creatively written using simple text, making this a must-have confidence-builder for early readers with a keen sense of humor.
—The Toledo Blade

With repetition and lots of silliness, this book is sure to become a treasured favorite.
—Brightly
Candlewick, 9781536216295, 64pp.
Publication Date: September 14, 2021
About the Author
David LaRochelle is the author of many books for young readers, including Isle of You, illustrated by Jaime Kim, and How to Apologize and See the Cat: Three Stories About a Dog, both illustrated by Mike Wohnoutka. See David LaRochelle in White Bear Lake, Minnesota.

Mike Wohnoutka has illustrated more than thirty books for young readers, including How to Apologize and See the Cat: Three Stories About a Dog, both by David LaRochelle. He is also the author-illustrator of several picture books, including the Croc & Turtle series. See Mike Wohnoutka in Minneapolis.