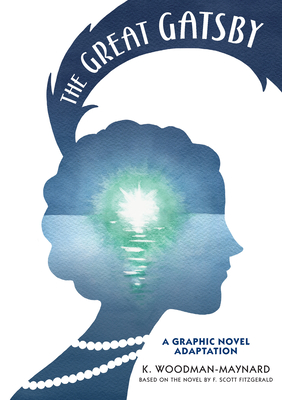 The Great Gatsby
A Graphic Novel Adaptation
Paperback

* Individual store prices may vary.
Other Editions of This Title:
Hardcover (1/5/2021)
Description
A sumptuously illustrated adaptation casts the powerful imagery of F. Scott Fitzgerald's great American novel in a vivid new format.

From the green light across the bay to the billboard with spectacled eyes, F. Scott Fitzgerald's 1925 American masterpiece roars to life in K. Woodman-Maynard's exquisite graphic novel—among the first adaptations of the book in this genre. Painted in lush watercolors, the inventive interpretation emphasizes both the extravagance and mystery of the characters, as well as the fluidity of Nick Carraway's unreliable narration. Excerpts from the original text wend through the illustrations, and imagery and metaphors are taken to literal, and often whimsical, extremes, such as when a beautiful partygoer blooms into an orchid and Daisy Buchanan pushes Gatsby across the sky on a cloud.

This faithful yet modern adaptation will appeal to fans with deep knowledge of the classic, while the graphic novel format makes it an ideal teaching tool to engage students. With its timeless critique of class, power, and obsession, The Great Gatsby Graphic Novel captures the energy of an era and the enduring resonance of one of the world's most beloved books.
Praise For The Great Gatsby: A Graphic Novel Adaptation…
The book is rendered in luxe colors of rose, gold, amethyst and aquamarine, making us feel as though we're watching the events of F. Scott Fitzgerald's 1925 novel through gems held up to the light ... readers ages 14 and older will find it hugely rewarding.
—The Wall Street Journal

...Woodman-Maynard uses muted single-color panels and pages to communicate the different moods of the story, from excessive parties to melancholy remembrances...Woodman-Maynard chooses to turn many metaphors into literal drawings, adding to the heightened euphoria of Gatsby's parties. Although most readers will know the story, Woodman-Maynard's artwork brings a new perspective to the character's histories and actions...This adaptation deftly pays homage to Fitzgerald's iconic phrases through the artwork and pushes readers to question Nick's status as narrator.
—Booklist

Debut graphic novelist Katharine Woodman-Maynard has done an admirable job of adapting and illustrating F. Scott Fitzgerald's classic novel of love lost...This adaptation of the book would be fantastic to use with a class as an imaginative overview to introduce the novel or as means to differentiate reading options. Used either way, it should generate lively discussion!
—School Library Connection

Synesthetes will delight as the Roaring Twenties come alive in mellifluous watercolors informed by both period ephemera and pure imagination. As visual metaphors wash over the page, fascinating experiments with figure and ground toggle between ­surrealism and pitiless reality. Snippets of text blend paraphrase and direct quotation, and key lines—the sort found in study guides—­appear verbatim. Like other graphic novelizations of canonical works, this adaptation explicitly intended to serve an auxiliary role stands as its own immersive accomplishment.
—School Library Journal

The Great Gatsby is a faithful version of Fitzgerald's story, with new insights that come from the merging of the written word and graphic arts—the mark of a successful adaptation."
—Foreword Reviews

Experience the great American novel as you've never seen it before. With excerpts from the original text and stunning illustrations throughout, this graphic novel makes the iconic book accessible to a whole new generation of readers.
—Brightly
Candlewick, 9781536216769, 240pp.
Publication Date: January 5, 2021
About the Author
K. Woodman-Maynard is a graphic novelist and graphic designer who works in a combination of digital and traditional mediums. She is co-creator of TKAMI: Talk to Kids About Mental Illness (TKAMI.org), a free resource for helping adults talk to kids about mental illness through comics. She studied animation at Harvard and worked as an animator in San Francisco before moving into comics and design. K. Woodman-Maynard is a native of Minnesota. She loves to experiment in the kitchen and hit the trails by ski or foot.
1. Gatsby is a mysterious figure, and only gradually do we get to know his real story. At the first Gatsby party that Nick attended, he heard various rumors about Gatsby: he killed a man; he was a German spy, maybe a bootlegger. How would you describe him? Discuss what you learned about him and how your opinion of him changed over the course of the book.
2. One of the themes of this book is the American Dream: the idea that we can be anyone we want to be, achieve anything we want. Gatsby rejected the person he was and devoted his life to reinventing himself. Talk about what this meant to him and whether this is still the American Dream.
3. Nick describes Tom, his classmate at Yale, as "one of those men who reach such an acute limited excellence at twenty-one that everything afterwards savors of anticlimax" (page 8). Have you known people who were like this in high school or college? What kind of life do you think they will have?
4. Woodman-Maynard does some interesting things in her book design. For instance, she uses a wavy, cloud-like shape for all the speech bubbles from Daisy, while Tom's speech bubbles are rounded rectangles. Did you notice that? Why do you think she did that? For another thing, she often places text on a building or car or other inanimate object. Is this effective?
5. When Daisy tells Nick about the birth of her daughter, she says, "When she was born and the nurse told me she was a girl—I wept. I said, 'I hope she'll be a fool—that's the best thing a girl can be in this world, a beautiful little fool'" (page 21). What does Daisy mean by this? Do you think it was true then? Now?
6. To prove the stories about his past, Gatsby carries two souvenirs: a medal from Montenegro and a photo of him and some friends at Oxford. What does this tell you about the man?
7. Some people might say that Daisy had a lot: a rich and handsome husband, a baby, a gorgeous house, plenty of money to travel and live the high life. But on page 87, when trying to get Nick to invite Daisy and Gatsby over for tea at the same time, Jordan says, "Daisy ought to have something in her life." What does she mean?
8. You have probably heard the expression "A picture is worth a thousand words." The picture on the bottom of page 115 of Gatsby standing in the doorway of his mansion is a good example of that. What do you think that image says?
9. Gatsby is sure that he can win Daisy back, but Nick says, "You can't repeat the past" (page 131). Can a person return to the past?
10. On pages 164–165, Daisy enters the speech bubble and folds in on herself. What do you think the scene says about her relationships with Tom and Gatsby at that point in the book?
11. Now that you have read an adaptation of this famous book, why do you think it is regarded as a great American classic? Think about some of the major themes it explores: obsession, the American Dream, reinventing oneself, the allure of wealth, class divisions. Are these themes still relevant today?