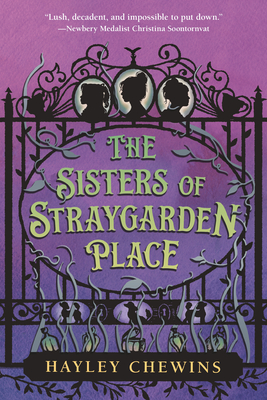 The Sisters of Straygarden Place
Paperback

* Individual store prices may vary.
Other Editions of This Title:
Hardcover (10/13/2020)
Description
A riveting middle-grade fantasy about sibling bonds, enchanted houses, and encroaching wildness, lyrically told in eerily beautiful prose

The grass grew taller than the house itself, surrounding it on all sides. It stuffed the keyholes and scraped against the roof. It shook the walls and made paintings shiver.

Seven years ago, the Ballastian sisters' parents left them in the magical Straygarden Place, a house surrounded by tall silver grass and floating trees. They left behind a warning saying never to leave the house or go into the grass. "Wait for us," the note read. "Sleep darkly." Ever since then, the house itself has taken care of Winnow, Mayhap, and Pavonine—feeding them, clothing them, even keeping them company—while the girls have waited and grown up and played a guessing game: Think of an animal, think of a place. Think of a person, think of a face. Until one day, when the eldest, fourteen-year-old Winnow, does the unthinkable and goes outside into the grass, and everything twelve-year-old Mayhap thought she knew about her home, her family, and even herself starts to unravel. With luscious, vivid prose, poet and author Hayley Chewins transports readers to a house where beloved little dogs crawl into their owners' minds to sleep, sick girls turn silver, and anything can be stolen—even laughter and silence.
Praise For The Sisters of Straygarden Place…
This is a magnificent tale of love, forgiveness, hope, the costs of magic, and the complexities of family, all told with such poetry, such strange and subtle horrors, and set in a world so finely etched in bizarre and beautiful detail, I haven't stopped thinking about it for days. It's all I can do not to flip right back to the beginning and start reading all over again.
—Kate Milford, New York Times best-selling author of the Greenglass House series

Chewins weaves a magical, gothic jewel of a tale about love, loss, and the bonds of sisterhood. Readers will be drawn into this darkly beautiful world from the very first page as they explore the mysteries of Straygarden Place and slip into the sinister silver grass alongside its heroines.
—R. M. Romero, Carnegie Medal–nominated author of The Dollmaker of Krakow

One of the most imaginative novels I have ever read, The Sisters of Straygarden Place is lush, decadent, and impossible to put down. Hayley Chewins kept my heart pounding from beginning to end, and her vivid worldbuilding had me peeking around corners to see what dark secrets she'd hidden there. Just like the Ballastian sisters, readers will not be able to leave Straygarden Place until they reach the very last page.
—Christina Soontornvat, author of A Wish in the Dark

Addictive, lush, and brimming with imagination. Chewins delivers a haunting tale of secrets, family, and love, where nothing is as it seems and an old and unsettling magic rules the world. Perfect for fans of Frances Hardinge, The Sisters of Straygarden Place is sure to keep young readers riveted long past their bedtimes.
—K. A. Reynolds, author of The Spinner of Dreams

Lyrical and imaginative, rich and riveting. This is Hayley Chewins at her best, writing about magical girls with secrets and sisters who rise above the odds. An absolute must-read!
—Christine Day, author of I Can Make This Promise, an American Indian Youth Literature Award Honor Book

Chewins' prose is exquisite, her eerie concepts heart-wrenching...Superb, spooky, and unforgettable.
—Kirkus Reviews (starred review)

Chewins (The Turnaway Girls) weaves a vivid, otherworldly tale of family and secrets, with a gothic setting that serves as a character in its own right. Through themes of identity, forgiveness, and longing, Mayhap's unpredictable quest becomes intensely personal, especially as the sisters reinvent their familial relationship.
—Publishers Weekly (starred review)

A strong opening and consistent sense of urgency makes this an ideal choice for reluctant readers interested in slightly spooky fantasy. Give to fans of Neil Gaiman's Coraline, Kenneth Oppel's The Nest, or The House in Poplar Wood by K.E. Ormsbee.
—School Library Journal

Chewins (The Turnaway Girls, BCCB 10/18) employs captivating, atmospheric prose that smoothly draws the thread of the story. Readers who enjoyed the imaginative variety and scarier elements of Valente's Fairyland series will be drawn to this darkly, gloriously weird tale with sisterhood at its heart.
—Bulletin of the Center for Children's Books
Candlewick, 9781536217858, 208pp.
Publication Date: May 23, 2023
About the Author
Hayley Chewins is a poet and the author of The Turnaway Girls, in which she "deftly reveals a tapestry of magic, power, and rebellion thread by ethereal thread," said Kirkus Reviews in a starred review. She grew up in Cape Town, South Africa, in a house full of books, and now lives in Johannesburg, South Africa, with her husband and her poodle.