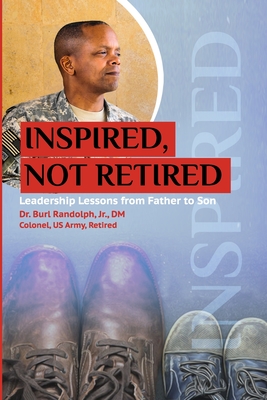 Inspired, Not Retired (Paperback)
Leadership Lessons from Father to Son
Createspace Independent Publishing Platform, 9781536818468, 288pp.
Publication Date: December 5, 2019
* Individual store prices may vary.
Description
Inspired, Not Retired is an excellent book. Dr. Burl W Randolph Jr. has managed to accomplish the almost impossible... he has managed to write a leadership book that is not only informative and useful but also entertaining
Aimee Ann, Red Headed Book Lover
This book will make you think differently about
leadership
.
This book will make you think differently about
retirement
.
This book will make you think differently about yourself.
Leaders are developed over time and with great care.
So, who is taking time and care with you?
Because leaders are not developed overnight, Inspired, Not Retired examines the leadership lessons a highly successful executive leader learned from his father, applied throughout his life, and took into a successful military retirement.
In this book, you will observe how the
virtues
a person learns from their parents as a child, can be developed into successful strategies for personal and professional growth. In this book, you will learn how
knowing yourself
can be your greatest leadership asset. From this book, you will be
Inspired
to remain active in all phases of your life, from childhood, to adulthood, and throughout your professional career. From this book, retirement in its conventional sense will only be a word.
Using whimsical stories from his childhood and throughout his life, Dr. Burl explains in an entertaining, relatable, and useful manner, the leadership Insights, Inspirations, and Applications he gained from his father's mentoring. That mentorship improved the father-son relationship that led to an extraordinary leadership journey.
Buy It. Read It. Apply It.
You will be
inspired
to begin or continue your leadership journey.