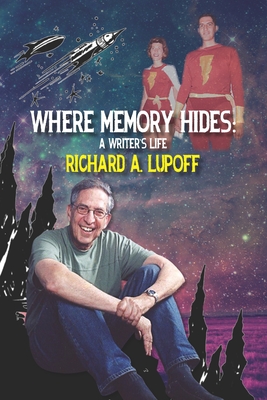 Where Memory Hides (Paperback)
A Writer's Life
Createspace Independent Publishing Platform, 9781537128870, 392pp.
Publication Date: September 12, 2016
* Individual store prices may vary.
Description
"Lupoff writes with intelligence, humor, wisdom, and a zest for life. He had a lot of fun writing this book, and it shows; because of it, we have a lot of fun reading it." Joe Gores, author of Hammett
Where Memory Hides is a guided tour through the life and career of mystery and science fiction's most versatile practitioner. Richard A. Lupoff has been a professional author for six decades, and a life-time fan of everything from pulp magazines to comic books, science fiction and mystery, and more. As the extensive bibliography (included in this book) demonstrates, Lupoff's credits run the gamut of fiction, nonfiction, mainstream publishing, and fan journals. In the 1960s, he penned All In Color For a Dime, a foundation-laying work for modern comic book fandom, and Edgar Rice Burroughs: Master of Adventure, a study of Tarzan's creator. The Comic Book Killer and Marblehead are among his best-known novels. His short story 12:01 PM, filmed twice in the 1990s, added a new sub-genre to science fiction and spawned a legion of imitators.
In Where Memory Hides, Lupoff regales readers with triumphs and tribulations from his six-decade plus career. He also offers insights on writing, haggling with agents, and literary criticism of authors such as Dashiell Hammett, H.P. Lovecraft, Edgar Rice Burroughs, and many others. This autobiography is available in two editions -- a standard trade paperback edition, and a paperback collector's edition with color graphics throughout.
..". (Lupoff's) books and stories, I can testify, having read a great many of them and published some myself, almost unfailingly display not only his intelligence and perceptivity, but also the grace and charm of his wit, the skill of his narrative technique, and the exemplary individuality of his ideas. That is to say, he's a damned good writer." Robert Silverberg, author of The Book of Skulls
..". Although in his 80s, Lupoff still writes with the enthusiasm of a young fan ..." Publisher's Weekly