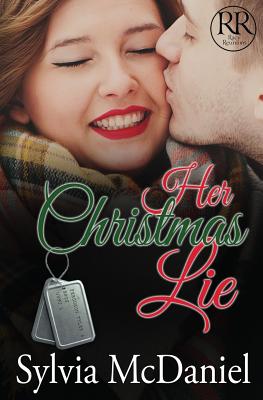 Her Christmas Lie
Paperback

* Individual store prices may vary.
Other Editions of This Title:
Paperback (6/1/2016)
Description
Tyler Ferguson thought losing your memory had some advantages, but mainly it created problems. When a roadside bomb in Kabul exploded the Humvee he'd been riding in, and wiped his memory of the last nine months in Afghanistan, he'd been given a medical leave to come home just in time for Christmas. And Tyler is so excited to see his fianc e, Kelsey Johnson.Kelsey can't believe it when she opens the door and there stands the man she still loves, but had broken off their engagement while he was deployed. Doubts of being able to live with Tyler in constant danger, of only seeing him several months a year had her ending the relationship. When she realizes he doesn't remember the breakup, she thinks that life has given her a second chance with the man she loves. At least until his memory returns.Can a wedding and Christmas heal Tyler and give Kelsey the strength she needs to be a military wife? Can a soldier forgive the girl he loves when she sends him a Dear John letter?
Createspace Independent Publishing Platform, 9781537215273, 110pp.
Publication Date: August 30, 2016
About the Author
Sylvia McDaniel is a best-selling, award-winning author of historical romance and contemporary romance novels. Known for her sweet, funny, family-oriented romances, Sylvia is the author of The Burnett Brides, a western historical western series, The Cuvier Widows, a Louisiana historical series, and several short contemporary romances. She is the former President of the Dallas Area Romance Authors, a member of the Romance Writers of America(R), and a member of Novelists Inc. Her novel, A Hero's Heart, was a 1996 Golden Heart Finalist. Several other books have placed or won in the San Antonio Romance Authors Contest and the LERA Contest, and she was a Golden Network Finalist. Married for nearly twenty years to her best friend, they have two dachshunds that are beyond spoiled and a good-looking, grown son who thinks there's no place like home. She loves gardening, shopping, knitting, and football (Cowboys and Bronco's fan), but not necessarily in that order. Look for her the first Tuesday of every month at the Plotting Princesses blogspot, and be sure to sign up for her newsletter to learn about new releases and contests. Every month a new subscriber is entered into a drawing for a free book! She can be found online at: www.sylviamcdaniel.com or on Facebook. You can write to Sylvia at P.O. Box 2542, Coppell, TX 75019.