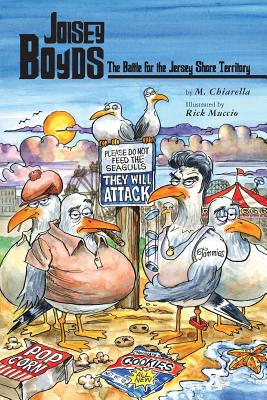 Joisey Boyds (Paperback)
The Battle for the Jersey Shore Territory
Createspace Independent Publishing Platform, 9781537216447, 100pp.
Publication Date: September 24, 2017
* Individual store prices may vary.
Description
Hurricane is one tough bird. The great black-backed gull survived a major storm with only a broken wing. His story is a legend among the gulls on the Jersey Shore, and Hurricane quickly becomes the leader of a gull gang nicknamed the Tommies.
The Tommies are looking forward to spending the summer hanging out at Seaside Heights and the Toms River Diner, but some birdbrains from Brooklyn begin muscling in on their turf. On the wild ride that follows, Hurricane leads the Tommies in an all-out war against the Brooklyn Bennies and their leader, Bruno Da Boss.
This action packed adventure reimagines the squabbling seagulls on the Jersey Shore as a group of wise guys worried about turf wars and territory. Two Philadelphia "shegulls" who have flown in for the summer try to tell the gangs how ridiculous they're being, but on the Shore, the loudest, brashest birds end up the winners.
It will take Hurricane's leadership, the shegulls' wisdom and an unexpected event to force the gangs to come together and work for the good of the entire group. Can Hurricane keep everyone on task, or are these wise guys destined to have their wings clipped?
About the Author
M. Chiarella first fell in love with reading and writing as her escape while growing up with her eight brothers and sisters in Ohio. After spending years doing technical writing for businesses, she has begun to take fictionalized story concepts she compiled over time and turn them into hard print. Joisey Boyds is the first of those endeavors. Chiarella was inspired to write Joisey Boyds by the antics of the seagulls she saw on the shore. The battle between the birds and the laughing children shooing them away reminded her of the conflicts in traditional "wise guy" movies.