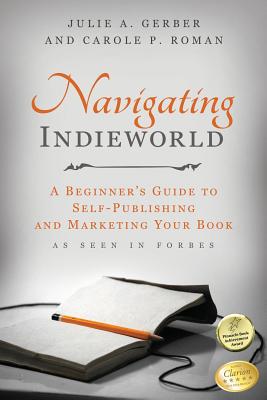 Navigating Indieworld (Paperback)
A Beginner's Guide to Self-Publishing and Marketing Your
Createspace Independent Publishing Platform, 9781537228068, 146pp.
Publication Date: September 4, 2016
Other Editions of This Title:
Paperback (9/4/2016)
* Individual store prices may vary.
Description
Social media guru, Julie A. Gerber and award-winning author of forty-three best-selling, independently published books, Carole P. Roman, team up to travel the winding road of self-publishing, promoting, and marketing a book. Join these two self-help experts as they share their vast store of experience in an easy to read, comprehensive guide, complete with end of chapter checklists to keep an author on track. Learn the importance of a beta reader and the value of a good editor. Know what's needed when preparing a list for choosing an illustrator. Compare the many ways to promote your book. Find out what each step can cost and where you can save. This guide takes new independent authors from the first draft, through publication and the complicated world of marketing. Included is a directory of resources to help get there faster. Navigating Indieworld will end up being the ultimate travel guide for writers on their journey to published author. Join us on Facebook at www.facebook.com/NavigatingIndieworld.
About the Author
Carole P. Roman is the award-winning author of forty books. She has found a second, third, and fourth career in writing, marketing, and publicizing her books and those of her author sons, Michael Phillip Cash and Eric Jay Cash. Both Captain No Beard: An Imaginary Tale of a Pirate's Life and Captain No Beard and the Aurora Borealis have received the Kirkus Star of Exceptional Merit. The first book in the series was named to Kirkus Reviews Best 2012. Captain No Beard and the Aurora Borealis has recently been given Kirkus Reviews' Best of 2015. Each book in the series has won numerous awards including the NABE Pinnacle Award, ERIK Award for 2013, Foreword Reviews Five Star and Finalist in the Book of the Year, and Reader's Views Children's Book of the Year 2013. Roman is also the author of the award-winning nonfiction culture series If You Were Me and Lived in... that explores customs and culture around the world, as well as her new series involving civilizations throughout time. She lives on Long Island, New York, with her husband and near her children and grandchildren. Julie A. Gerber is the founder of Away We Go Media, a social media management and consulting firm for authors. She is also a blogger at All The Hits and Misses, business manager/ assistant publisher at TopShelf Indie Authors & Books, and co-author of Tortured Souls: The House On Wellfleet Bluffs. She can usually be found refereeing her sons or glued to her desktop as she works from home. She lives in Georgia with her husband, two kids, and her little sidekick, a doting Pekingese rescue named Abby.